EV Charger News
Charging Station Site Number 95814_16

Status as of 1/30/2011: This site is out of service. It has been deleted from the active database.

Important! There may be more recent status comments in the "I Was There" reports and comments.
Click here to view or to add a comment.

Sacramento Air Quality Management District
777 12th St.
Sacramento - Downtown, California 95814

Site ID: 95814_16 Thomas Bros. Maps Page and Grid™: 297-D3

Restricted parking. Details: Limited hours; garage often fills up. Parking is often valet parking. Chargers are often blocked by valet or other ICEs.

Pay parking. Details: Expen$ive.

Charging facilities at this site:
Inductive:
3 - Small paddle
1 - Large paddle
Conductive:
1 - Avcon

<!- MapCase parameters: Keep list: , MapCase (Custom.jpg, Tiger, Costco): NNN Case number: 8-->

MAP OF CHARGING STATION LOCATION


Drag the map with your mouse, or double-click to center.




---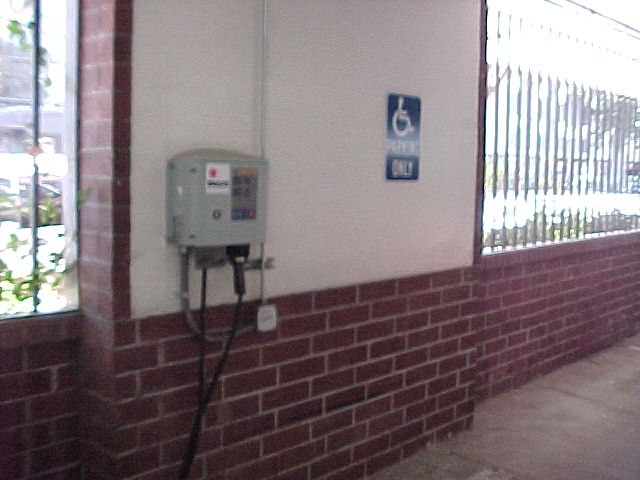 by Tom Dowling 8/25/04
---

Lat:  38.58222 (N 38°34.933') (N 38°34'56.0")   (WGS 84 datum)
Lon:-121.48937 (W121°29.362') (W121°29'21.7")
         
(V: Determined by GPS site visit.)

Status:
11/13/04: All chargers have been removed. Site is permanently out of service.
TAL charger S007007 has cracked handle, wrapped with silver duct tape. Charger is working OK.

Comments:
Public parking, but not a City garage, so EV parking permits are not honored. Pay parking for all.

Driving directions:

Go to Google Local for driving directions to/and from any location, and to find points of interest.


How to find the charging station location once you have found the site:
As you enter the garage, the chargers are in the back left corner, on both sides of the electrical panels.

Nearby charging locations:

Use the EVChargerMaps system to find nearby charging sites, and to leave comments about this site.


Note for the EV1 Club pages:
Zseq was blank; assigned 16.

Equipment model and serial number info:
L to R (5 units): TAL TCG2000 S0007007 cable 23
TAL TCG2000 S0007008 cable 24
TAL TCG2000 S0007016 cable 41 (paddle handle is cracked, but charger works)
Gen 1 Wall Mount WM2009815001R
ICS200B EV00607 TR0699005


Meter readings::
ICS200B talks, but not programmed for kWh readings. (8/23/04 twd)

Nixed record::
nix. chargers permanently removed, 2/21/05
---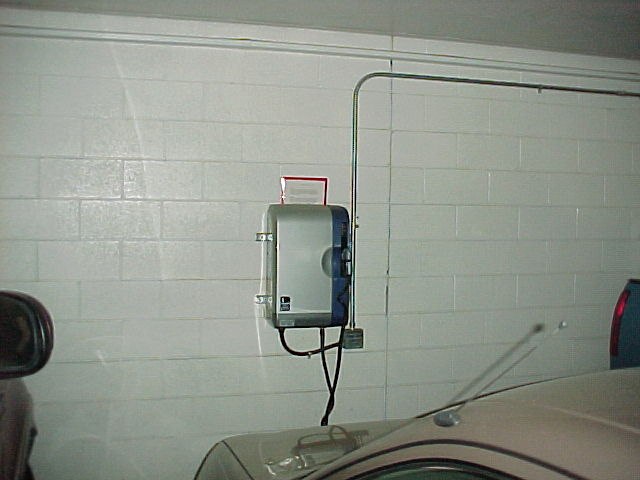 by Tom Dowling 8/25/04
---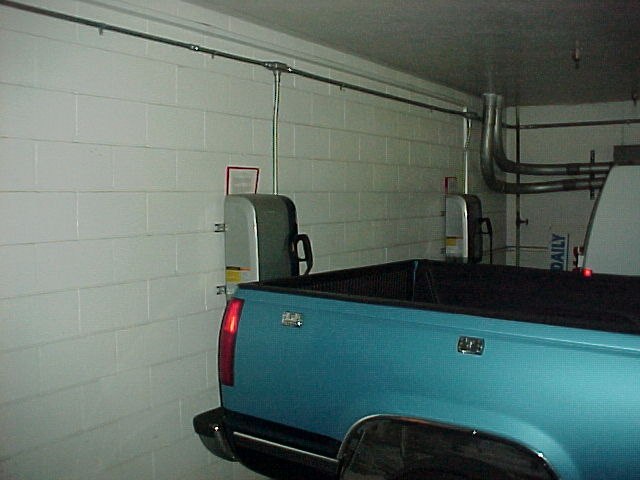 by Tom Dowling 8/25/04
---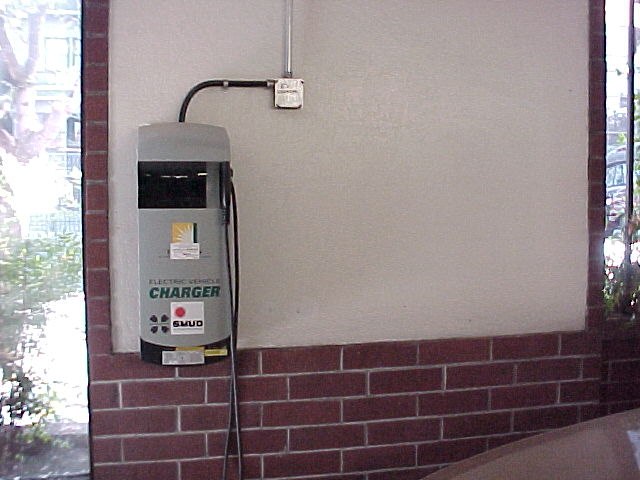 by Tom Dowling 8/25/04
---
Check out the "I Was There" reports for this site, or leave one of your own, using the EVChargerMaps system. "I Was there" reports are important, even (or perhaps especially) if all is well. Please submit a report whenever you visit a charging station.
You can also use this feature to find nearby charging stations.
Back to top of page

---
Generated on Sunday, 1/30/2011, at 10:47:28 PM PT from evcnall.fp7.

Revision History:
11/13/04: All chargers have been removed.
8/23/04: Added serial numbers and other details.
1/9/04: Changed charger counts, per Darell Singleton. Also changed to pay parking, added comment.
5/19/02: chgd Zseq from blank to 16.
5/2/02: Added per TDdb.
Do you see any discrepancies or have any information for us about this page?
Please add comments, using the EVChargerMaps system. Click here.