EV Charger News
Charging Station Site Number 95690_1

Status as of 1/30/2011: Entire location is out of service.

Important! There may be more recent status comments in the "I Was There" reports and comments.
Click here to view or to add a comment.

Walnut Grove Library
14177 Market St.
Walnut Grove, California 95690

Site ID: 95690_1 Thomas Bros. Maps Page and Grid™: 376-E2


Charging facilities at this site:
Inductive:
1 - Small paddle
Conductive:
1 - Avcon
Nominal supply voltage for this site: 208V

<!- MapCase parameters: Keep list: , MapCase (Custom.jpg, Tiger, Costco): NNN Case number: 8-->

MAP OF CHARGING STATION LOCATION


Drag the map with your mouse, or double-click to center.





Lat:  38.24100 (N 38°14.460') (N 38°14'27.6")   (WGS 84 datum)
Lon:-121.51397 (W121°30.838') (W121°30'50.3")
         
(V: Determined by GPS site visit.)

Elevation: 20 feet below sea level.

Status:
Per SMUD, chargers have been removed due to reconfiguration of the parking area.
Removal probably permanent.


Comments:
11/18/03: Signage now installed, both spaces.
Good location, on the Delta, not too far from I-5. Historic small town.
.


Driving directions:
At the intersection of Theater St. and Market St., off River Road, near Bridge St. From I-5, exit Twin Cities Road (CR-E13), then 4.2 mi SW, then L on River Rd. for 2.2 mi, then left on Theater St, 1 blcok to Market St.
Go to Google Local for driving directions to/and from any location, and to find points of interest.


How to find the charging station location once you have found the site:
At the corner of the building, to the right of the main entrance.

Nearby charging locations:
Rio Vista City Hall

Use the EVChargerMaps system to find nearby charging sites, and to leave comments about this site.


Things to do:
On Market St.: Tony's Steak House, Valley Oak Fast Food, Star Chow Mein, Orilla Del Rio Restaurant. On River Road, Mel's Mocha & Deli, Alma's Cafe, and other eateries. Library hours M, Tu, W, Th 9-12, 1-5; F, Sa 1-5; Su closed. Library is spacious, air conditioned, with Internet access, restrooms, lots of magazines and books for your reading pleasure.

Rating:
3 Raters:
Tom Dowling

Equipment model and serial number info:
Gen 2+ serial SM5276P0107010C, 2/01; cable serial 184
DS-50 conductive charging station.
---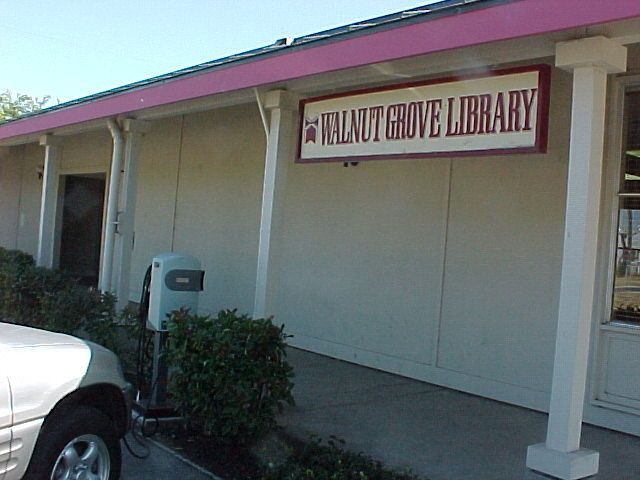 by Tom Dowling 8/20/03
---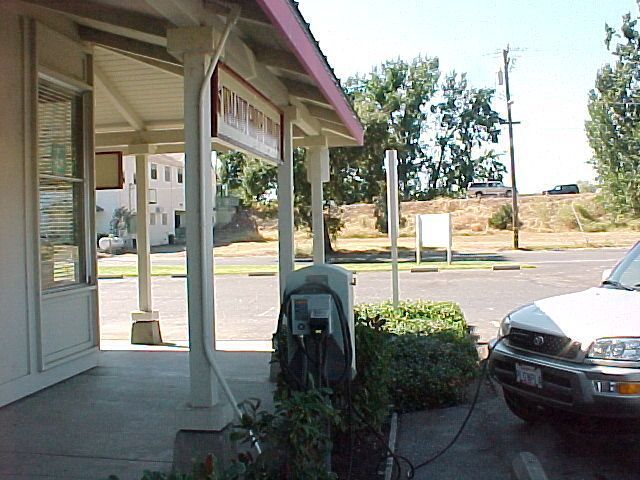 by Tom Dowling 8/20/03
---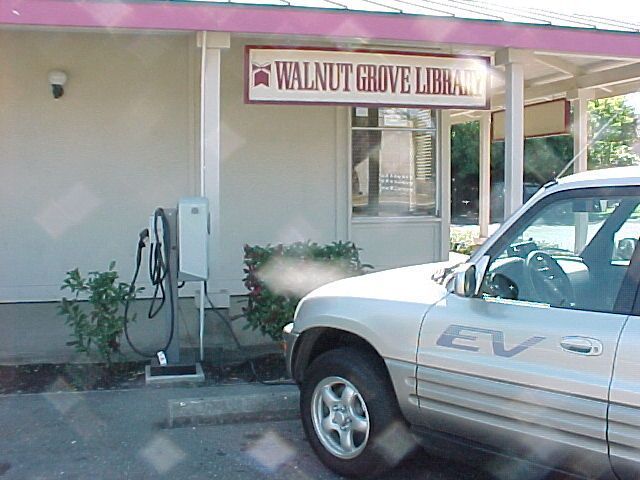 by Tom Dowling 8/20/03
---
Check out the "I Was There" reports for this site, or leave one of your own, using the EVChargerMaps system. "I Was there" reports are important, even (or perhaps especially) if all is well. Please submit a report whenever you visit a charging station.
You can also use this feature to find nearby charging stations.
Back to top of page

---
Generated on Sunday, 1/30/2011, at 10:48:06 PM PT from evcnall.fp7.

Revision History:
6/26/2008: Changed from OK to DOWN LOC.
6/14/06: Added nearby site, Rio Vista.
2/18/05: Corrected County -- Sacramento, not Solano.
1/16/04: Minor editing corrections.
11/29/03: minor lat/lon correction.
11/18/03: Updated status to reflect signage installation.
8/20/03: New site per SMUD. Visited by Tom Dowling 8/20/03,
Do you see any discrepancies or have any information for us about this page?
Please add comments, using the EVChargerMaps system. Click here.