EV Charger News
Charging Station Site Number 95678_1

Status as of 1/30/2011: This site is out of service. It has been deleted from the active database.

Important! There may be more recent status comments in the "I Was There" reports and comments.
Click here to view or to add a comment.

Roseville Galleria - Old Location
1151 Galleria Blvd.
Roseville, California 95678

Site ID: 95678_1 Thomas Bros. Maps Page and Grid™: 220-A5


Charging facilities at this site:
Inductive:
1 - Small paddle
Conductive:
1 - Avcon
Nominal supply voltage for this site: 208V

<!- MapCase parameters: Keep list: , MapCase (Custom.jpg, Tiger, Costco): NNN Case number: 8-->

MAP OF CHARGING STATION LOCATION


Drag the map with your mouse, or double-click to center.





Lat:  38.77388 (N 38°46.433') (N 38°46'26.0")   (WGS 84 datum)
Lon:-121.26997 (W121°16.198') (W121°16'11.9")
         
(V: Determined by GPS site visit.)

Elevation: 171 feet.

Status:
6/20/07: Charging stations have been removed. See comments.
2002-2-16: Vibeke Hastrup reports that repairs have been made. Thanks, EVII!
2002-2-11: Vibeke Hastrup reports that the connector on the conductive charger is broken, and will not function. It appears to have been dropped. Reported to EVII 2/11/02.

Comments:
7/10/07: New location is open ahead of schedule. See new listing... New Roseville Galleria location - near JCPenney
6/20/07: Construction is underway. Charging stations have been removed. Estimated re-installation in new garage early 2008.
9/19/06: Now it looks like the construction will take place in 2007, not 2006.
This site is expected to be out of service due to parking structure construction from about 6/1/2006 until about 11/15/2006, per Roseville Electric 3/7/2006.
Apparently the mall security people have been good at keeping these spots from being ICE'd out. On one occasion Karen had a direct confrontation with another lady who had parked a gas car in what is now the small-paddle slot. At first the lady refused to move, but then quickly complied when Karen began waving down the security truck!
-- Jack Bowers 4/2/03

Driving directions:

Go to Google Local for driving directions to/and from any location, and to find points of interest.


How to find the charging station location once you have found the site:
Near Restoration Hardware and Valet Parking, across from Sears.

Nearby charging locations:
Costco Roseville

Use the EVChargerMaps system to find nearby charging sites, and to leave comments about this site.


Things to do:
6/20/07: Starbucks has been removed as part of the construction. They expect to have a kiosk inside the mall soon.
7/19/03: There's now a Starbucks across from Restoration Hardware, and it's open at times when the mall is closed: m-th 7-930 fr-sa 7-1030 su 8-8. No wi-fi yet at this location.
Major shopping center. Nordstroms, restaurants, etc.

Rating:
5 Raters:
Tom Dowling (4); Tim Hastrup (5). Ed Huestis (4)

Adopt-a-Charger sponsor info:
Tim Hastrup 9/03

Equipment model and serial number info:
6/14/03: tal s0301063 evi ev00600 ser tr0798345 ics-200

Meter readings::
9/19/06: EVI 322 kWh
12/18/03: EVI 289 kwh, pedestal 8672 kwh
12/10/03: EVI 289 kwh
9/13/03: EVI 272 pedstal 7643
7/26/03: EVI 259 kwh, ped meter 7126
7/16/03: EVI 259 kwh ped 7007
6/14/03: EVI 259 kwh
3/02 EVI 125 kwh


Nixed record::
nixing -- notice period expired twd 5/7/08
---

by Tom Dowling 5/6/2001
---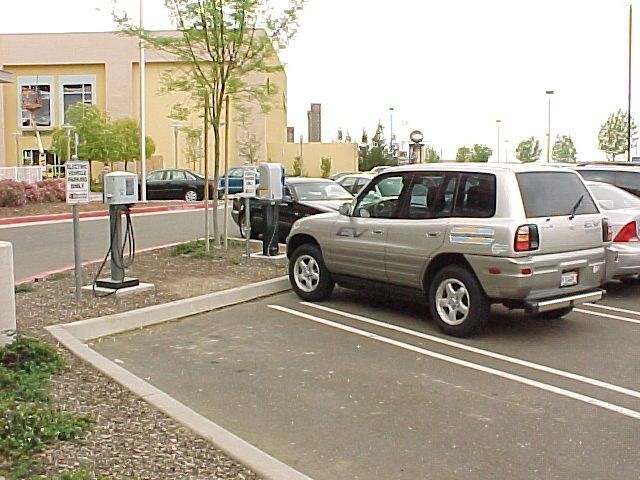 by Tom Dowling 4/1/2003
---
Check out the "I Was There" reports for this site, or leave one of your own, using the EVChargerMaps system. "I Was there" reports are important, even (or perhaps especially) if all is well. Please submit a report whenever you visit a charging station.
You can also use this feature to find nearby charging stations.
Back to top of page

---
Generated on Sunday, 1/30/2011, at 10:47:18 PM PT from evcnall.fp7.

Revision History:
5/7/08: nixing see nix note twd
7/12/2007: Added "I Was There" report.
7/11/07: Added comment about new location.
6/20/07: Changed status to DOWN LOC. See status and comments.
12/28/2006: Added "I Was There" report.
9/15/2006: Added "I Was There" report.
3/7/2006: Added new comment, and nearby site link.
2/21/2005: Added "I Was There" report.
11/17/2004: Added "I Was There" report.
6/5/2004: Added "I Was There" report.
5/16/2004: Added "I Was There" report.
5/3/2004: Added "I Was There" report.
5/1/2004: Added "I Was There" report.
1/24/04: Minor lat/lon/alt adjustments.
12/18/03: updated meter readings, revised charger location.
11/30/03: Minor lat/lon correction. Added alt.
9/1/03: Added comment.
8/27/03: Added new todo notes, rating.
6/5/03: LPI upgraded to SPI per Roseville Electric. 5/2/02: Updated per TDdb.
4/21/02: Imported from EV1 Club db.
Do you see any discrepancies or have any information for us about this page?
Please add comments, using the EVChargerMaps system. Click here.