EV Charger News
Charging Station Site Number 95667_1

Status as of 1/30/2011: In service.

Important! There may be more recent status comments in the "I Was There" reports and comments.
Click here to view or to add a comment.

El Dorado County Government Center, Building C lot
2850 Fair Lane
Placerville, California 95667

Site ID: 95667_1 Thomas Bros. Maps Page and Grid™: 245_D5


Charging facilities at this site:
Inductive:
1 - Small paddle
Conductive:
1 - Avcon
Nominal supply voltage for this site: 208V

<!- MapCase parameters: Keep list: , MapCase (Custom.jpg, Tiger, Costco): NNN Case number: 8-->

MAP OF CHARGING STATION LOCATION


Drag the map with your mouse, or double-click to center.





Lat:  38.72799 (N 38°43.680') (N 38°43'40.8")   (WGS 84 datum)
Lon:-120.82753 (W120°49.652') (W120°49'39.1")
         
(V: Determined by GPS site visit.)

Lat/Lon notes:
The street labeled private drive on the map is signed Fairlane Court. See driving directions.

Elevation: 1841 feet.

Status:
2/21/05: Avcon charging station tests OK now.
2/9/05: LPI has been replaced with SPI as part of the CARB/SMUD fleet charger redeployment program.
5/7/04: Avcon charge station has no power.


Comments:
One parking spot reserved for EV parking and charging. The AVC cord will reach that spot, although the AVC station is in front of the spot to the right of that spot.

Driving directions:
From Highway 50 Eastbound, exit at Forni Road/Placerville Drive offramp. Turn right at stop sign to Highway 50 overpass.. Turn right at traffic signal onto Fair Lane and proceed to the top of the hill. The Sheriff's Office, Buildings A and B will be on your right; Probation Department, Building C, and the Library will be on your left. To reach Building C, turn left from Fair Lane onto Fairlane Court. The chargers are located in the parking lot to the left of Building C.
Go to Google Local for driving directions to/and from any location, and to find points of interest.


How to find the charging station location once you have found the site:
Chargers are located in the parking lot to the left of Building C. Take the round-about to the right, and exit to the parking lot 3/4 of the way around the circle.
Click here for site map.

Nearby charging locations:

Use the EVChargerMaps system to find nearby charging sites, and to leave comments about this site.


Things to do:
Library hours:
Monday, Tuesday, Wednesday 10-8 Thursday, Friday, Saturday 10-5 Closed Sunday
Nearby: Fairgrounds and county offices, Carl's Jr., Denny's, Subway, Anthony's Vista Cafe.
-- Darrell Singleton 10/24/99

Adopt-a-Charger sponsor info:
Tom Dowling 5/04

Equipment model and serial number info:
New 2/05: TAL TCG2000 ser ial S0004015
ICS200B config EV00650, serial TR0898056
OLD: Avcon: ICS200B cfg EV00600 ser TR0899027; LPI: Gen 2 ser SM4770P9903012C-, cord 55084-088- 9341305937

Meter readings::
ICS200B 5617 kWh 2/21/05
---

Darrell Singleton, 2/9/2000. Old LPI configuration.
---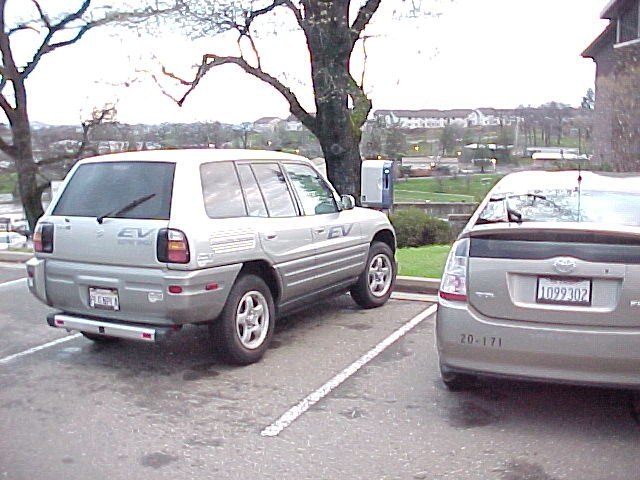 Tom Dowling, 2/21/05. New SPI configuration. AVC is in front of Prius.
The AVC spot is used by the Air District's Prius, but the cable can reach the spot in front of the SPI charger.
---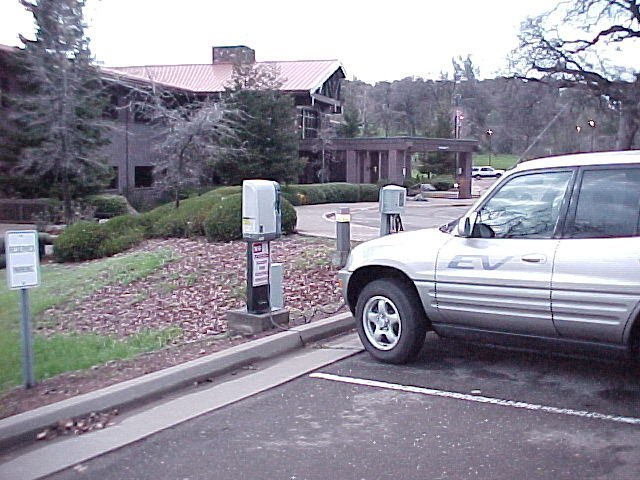 Tom Dowling, 2/21/05. New SPI configuration.
---
Check out the "I Was There" reports for this site, or leave one of your own, using the EVChargerMaps system. "I Was there" reports are important, even (or perhaps especially) if all is well. Please submit a report whenever you visit a charging station.
You can also use this feature to find nearby charging stations.
Back to top of page

---
Generated on Sunday, 1/30/2011, at 10:47:12 PM PT from evcnall.fp7.

Revision History:
7/12/2007: Added "I Was There" report.
12/28/2006: Added "I Was There" report.
9/15/2006: Added "I Was There" report.
2/21/2005: Added "I Was There" report.
2/21/05: Changed status from AVC PROB to OK. Revised driving directions and charger location. Adjusted lat/lon/alt.
2/9/05: Changed LPI from 1 to 0, SPI from 0 to 1.
11/17/2004: Added "I Was There" report.
5/16/2004: Added "I Was There" report.
11/29/03: Changed lat/lon/alt, but then reverted to original.
10/29/03: Added photo, new map, charger location, to-do, driving directions. Deleted EV1 Club link.
4/21/02: Imported from EV1 Club db
Do you see any discrepancies or have any information for us about this page?
Please add comments, using the EVChargerMaps system. Click here.