EV Charger News
Charger Location Number 95628_1
Status as of 1/26/04

Fair Oaks - Orangevale Community Library
11601 Fair Oaks Blvd.
Fair Oaks, California 95628

ID: 95628_1
Map grid:
Inductive: 1 - Small paddle
Conductive: 1 - Avcon

208V
<!- CMap --><!- Custom Map, click thru to Tiger -->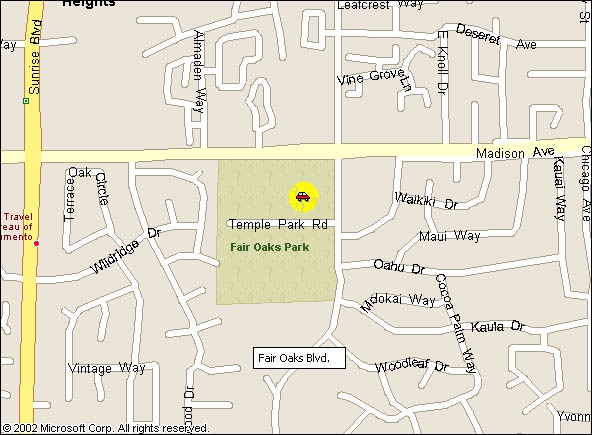 Click on map to link to Tiger map browser, where you can zoom in or out.
<!- /CMap --> Lat: 38.66292 (N 38°39.775')
Lon:-121.26340 (W121°15.804')
(V: Determined by GPS site visit.)
Altitude: 162 feet.

Costco Warehouse Number 765 -- click for detailed information, including Costco map, store hours, and phone number. (Opens in new window.)

(Above for testing purposes only... test page...)
8/30/03: SPI stops with an E1 error after a few minutes of charging. Reported to CFCI about 8/11/03. Still a problem 9/26/03, reported again.
Avcon connector has been scuffed up by a lawnmower or some such, but still works, although it is difficult to remove trom the inlet. Charger base is surrounded by grass.
Driving Directions:
Westbound on Madison Ave., turn left at Fair Oaks Blvd.
Entrance is the second driveway on your right.
Eastbound on Madison Ave., turn right onto Fair Oaks Blvd.
Entrance is the second driveway on your right.
Charger Location:
Chargers in upper parking lot, to the right of the Library entrance.
To do:
Nearby, at the conrners of Fair Oaks and Madison:
Taka's Sushi
Beverly Crafts & Fabrics
Steve's Pizza & Pasta
Pastry Heaven
Arby's
Carl's Jr.
Green Burrito
Supercuts
Library hours M 4-8; Tu 1-8; W, Th 11-8; F, Sa 1-5; Su Closed
Excellent library, restrooms, when open.
Fair Oaks Park right behind chargers.
Rating: 3 (Tom Dowling 8/03)
---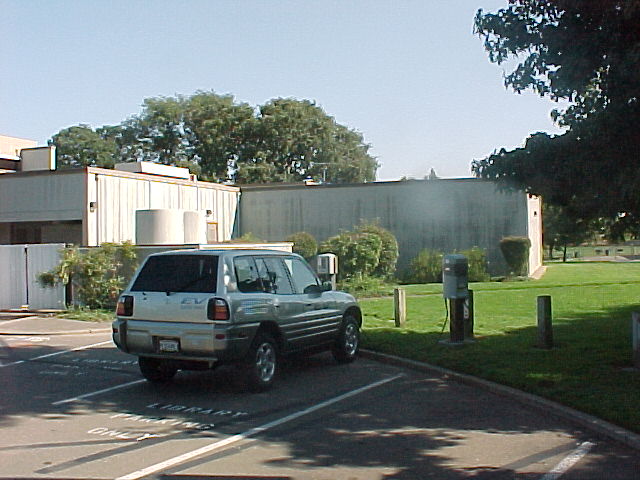 by Tom Dowling
---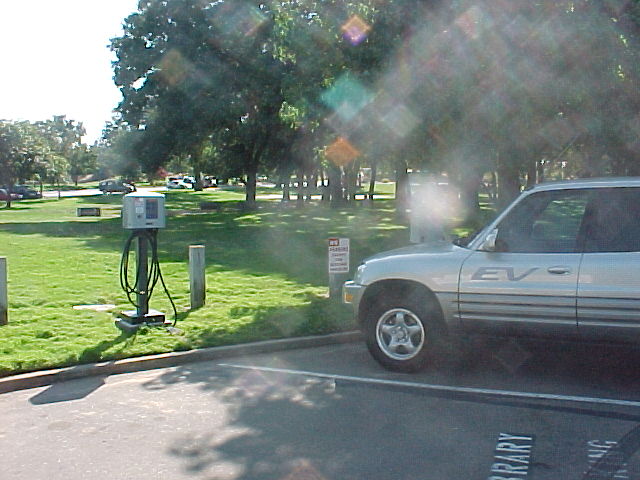 by Tom Dowling


<!- IWT -->
---
Check out the "I Was There" reports for this site.
<!- /IWT -->
---
Generated on Monday, January 26, 2004 8:38:55 from EVCNAll 040126.fp5.
Revision History:
10/29/03: Added new map.
10/9/03: problem resolved.
9/26/03: updated problem status.
9/1/03: updated rating.
8/30/03: updated status
8/18/03: minor revisions
8/26/02: Added

Do you see any discrepancies or have any information for us about this page?
Please send us your comments.