EV Charger News
Charging Station Site Number 95472_1

Status as of 1/30/2011: In service.

Important! There may be more recent status comments in the "I Was There" reports and comments.
Click here to view or to add a comment.

Harmony Farm Supply
3244 Hwy 116 N
Sebastopol, California 95472

Site ID: 95472_1 Thomas Bros. Maps Page and Grid™: 404-F4

Restricted parking. Details: segreenberg reports: Note that the chargers are behind locked gates when the business is closed. "Spring" hours listed on the web site are M-S 7:30am to 6pm, Sunday 8am to 5pm, closed holidays. Check at 707-823-9125 or harmonyfarm.com to make sure they're open.

Charging facilities at this site:
Conductive:
1 - Avcon
3 - Other
Other types: 5-20, TT30 (120V)

<!- MapCase parameters: Keep list: , MapCase (Custom.jpg, Tiger, Costco): NNN Case number: 8-->

MAP OF CHARGING STATION LOCATION


Drag the map with your mouse, or double-click to center.





Lat:  38.43858 (N 38°26.315') (N 38°26'18.9")   (WGS 84 datum)
Lon:-122.85871 (W122°51.523') (W122°51'31.4")
         
(M: Adjusted to apparent location on MapBlast map.)

Comments:
Per Nick Carter 4/23/03

Driving directions:
Harmony Farm Supply is located on the West side of I-116 (Gravenstein Highway), just North of the intersection of Graton Road and Frei Road, about 4 miles North of Sebastopol downtown. From 101, take Guerneville Road heading West, until reaching the T-junction at I-116. Turn left and Harmony farm is less than a mile on the right hand side.
See www.harmonyfarm.com/HFSmap.jpg for further directions.
Go to Google Local for driving directions to/and from any location, and to find points of interest.


How to find the charging station location once you have found the site:
Chuck Hursch, 5/05: The first photo is looking north along the west side of Hi-116 showing the Harmony sign, while the left side of the image peers west into the Harmony lot. I took this picture so as to give EV drivers looking for this site a heads up as to what the entrance looks like as they are driving by at 45mph. It appears that the Harmony sign also has one aimed at southbound drivers, like for our driving instructions on the webpage. It usually takes me a couple of passes down the road to find this place, since I'm not there that often, and I don't remember well what the entrance looks like.
The second picture shows the EV charging station along with all the inverters, etc. of this fabulous grid-tied solar setup (if you're interested, this link should get you a few details). The charging station is on the north (right side) side of the building seen in the first photo.

Nearby charging locations:

Use the EVChargerMaps system to find nearby charging sites, and to leave comments about this site.

---

Photo by Chuck Hursch, 1/05 -- see charging station location comments above.
---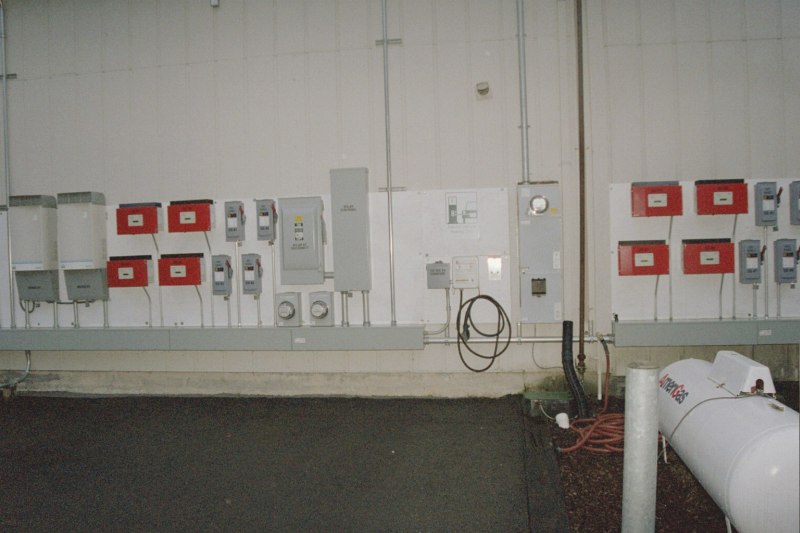 Photo by Chuck Hursch, 1/05 -- see charging station location comments above.
---
Check out the "I Was There" reports for this site, or leave one of your own, using the EVChargerMaps system. "I Was there" reports are important, even (or perhaps especially) if all is well. Please submit a report whenever you visit a charging station.
You can also use this feature to find nearby charging stations.
Back to top of page

---
Generated on Sunday, 1/30/2011, at 10:45:49 PM PT from evcnall.fp7.

Revision History:
9/28/10: Added restricted hours note.
7/29/05: Added photos, and charger location comments.
8/27/03: corrected spelling from Sebastapol to Sebastopol.
7/7/03: Added driving directions.
6/8/03: New site
Do you see any discrepancies or have any information for us about this page?
Please add comments, using the EVChargerMaps system. Click here.