EV Charger News
Charging Station Site Number 95129_1

Status as of 1/30/2011: In service.

Important! There may be more recent status comments in the "I Was There" reports and comments.
Click here to view or to add a comment.

Honda of Stevens Creek
4590 Stevens Creek Blvd.
San Jose, California 95129

Site ID: 95129_1 Thomas Bros. Maps Page and Grid™: 853-A1

Restricted parking. Details: Information needed.

Charging facilities at this site:
Conductive:
1 - Avcon
1 - Other
Other types: 1 - EVI MCS-100 (NEMA 5-20R and NEMA 14-50R receptacles), with an Avcon claw cable plugged in to the 14-50R receptacle. This cable is comprised of an Avcon claw at one end, and a NEMA 14-50P on the other end, plugged in to the 14-50R.
Also, I don't know whether a car equipped with an Avcon inlet could charge from this arrangement the way it is now. It does not seem to be set up to detect the diode & resistor in a vehicle's Avcon inlet, and therefore would not close the contactor to start charging.
--Eddie Da Rocha 4/07

<!- MapCase parameters: Keep list: , MapCase (Custom.jpg, Tiger, Costco): NNN Case number: 8-->

MAP OF CHARGING STATION LOCATION


Drag the map with your mouse, or double-click to center.




---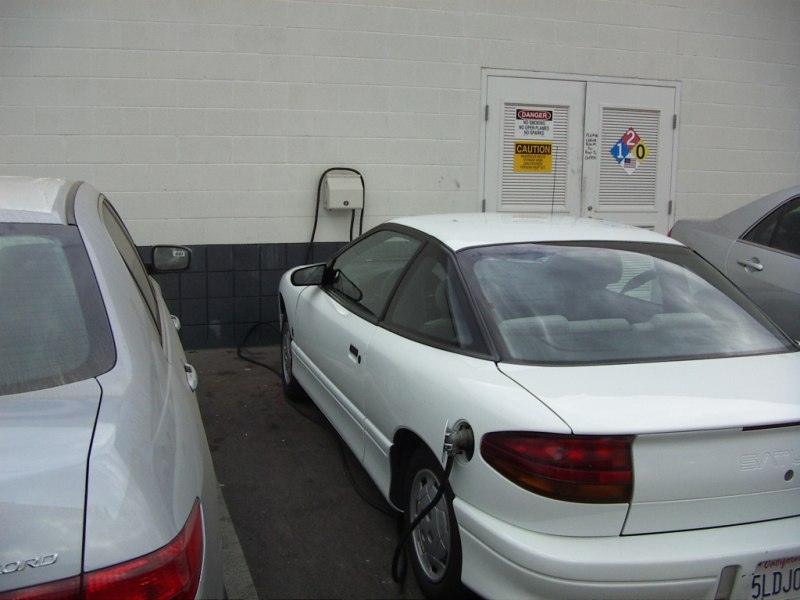 MCS-100 in action. Eddie Da Rocha, 3/07
---

Lat:  37.32164 (N 37°19.298') (N 37°19'17.9")   (WGS 84 datum)
Lon:-121.98336 (W121°59.002') (W121°59'0.1")
         
Lat/Lon notes:
Adjusted via Precisifier by Eddie da Rocha, 4/07.
Change Latitude from[37.32296] to[37.32164].Change Longitude from[-121.98351] to[-121.98336].(Moving it about 483 feet South.)Because: You're showing it at the front of the property, when it's actually at the back of the property.
Driving directions:
Exit I-280 at Saratoga Ave.

Go to Google Local for driving directions to/and from any location, and to find points of interest.

Nearby charging locations:

Use the EVChargerMaps system to find nearby charging sites, and to leave comments about this site.

Contact information:
Call 408-247-2550 to check availability.
Rating:
3 Raters:
Eddie Da Rocha, 3/07
---

14-50 to Avcon cable for MCS-100. Eddie Da Rocha, 3/07. Note that cord is not properly secured to plug.
---

MCS-100 front panel. Eddie Da Rocha, 3/07. Eddie's cord, not the site cord, is in use in this photo.
---
Check out the "I Was There" reports for this site, or leave one of your own, using the EVChargerMaps system. "I Was there" reports are important, even (or perhaps especially) if all is well. Please submit a report whenever you visit a charging station.
You can also use this feature to find nearby charging stations.
Back to top of page

---
Generated on Sunday, 1/30/2011, at 10:45:35 PM PT from evcnall.fp7.

Revision History:
7/13/2007: Added "I Was There" report.
5/3/2007: Added "I Was There" report.
5/3/07: added photos, changed lat/lon, added lat/lon note.
7/10/03: Corrected contact phone
10/27/02: Add restricted parking. TWD
4/30/02: added per TDdb 2/2/02: www.HondaEV.org:
Do you see any discrepancies or have any information for us about this page?
Please add comments, using the EVChargerMaps system. Click here.