EV Charger News
Charging Station Site Number 95110_1

Status as of 1/30/2011: In service.

Important! There may be more recent status comments in the "I Was There" reports and comments.
Click here to view or to add a comment.

San Jose Convention Center
410 S. Almaden Blvd.
San Jose, California 95110

Site ID: 95110_1 Thomas Bros. Maps Page and Grid™: 834-B7

Restricted parking. Details: Information needed.

Charging facilities at this site:
Conductive:
2 - Other
Other types: 5-20 in Coulomb stations. There may also be an external 5-20.

<!- MapCase parameters: Keep list: , MapCase (Custom.jpg, Tiger, Costco): NNN Case number: 8-->

MAP OF CHARGING STATION LOCATION


Drag the map with your mouse, or double-click to center.





Lat:  37.33001 (N 37°19.801') (N 37°19'48.1")   (WGS 84 datum)
Lon:-121.88975 (W121°53.385') (W121°53'23.1")
         
(V: Determined by GPS site visit.)

Status:
New Coulomb J1772 stations installed July, 2010.
Chargers were removed permanently in May, 2009.


Driving directions:
The most direct entrance is from S. Almaden Blvd.
Parking in downtown San Jose.
Free weekday EV parking in San Jose
Go to Google Local for driving directions to/and from any location, and to find points of interest.


How to find the charging station location once you have found the site:
Proceed straight past the toll booth. Turn left on aisle red S11. Cross the garage to far wall at the end of the aisle. The charger is on the wall 2 stalls to the right by the lobby entry doors. It is EV only space striped green. There is an Electric Vehicle Only parking sign on the wall. The charger can be accessed from one adjacent space if that space is unoccupied.
-- Mike Thompson 6/20/01
It is on the left hand side next to an walk-in entrance to the center. It is at least half way down the lot as you drive in and you need to stay to the right for a bit b/c the left side doesn't go all the way through end to end.
-- Steve Oddo 6/20/2001
Enter the Convention center parking garage. Take the ramp up one level. Charger is on the wall in area red S11 by the lobby entry doors.
-- Mike Thompson 6/21/2001
There are three ways to get in, Market St., Almaden Blvd. and San Carlos Street. Forget about San Carlos, that is the Hilton Hotel parking area. You need to move barriers if you go in that way.
Almaden St. Entrance (Recommended)
Enter the parking structure at S1. Keep right until S11. Make a left at first pole with S11. Go down all the way and make a right. The EV charging spot is next to the second S11 pole on the left. It's a green striped spot with an electric vehicle parking only sign Charger is mounted on the wall between two spots. The right hand spot could be used if it's not iced.
Market Street Entrance
As you enter from Market, make an immediate left. You are at L4. Make a right at the yellow public parking sign about 9 parking spaces down. Go up the ramp to the next level. Make a right at the top of the ramp and go down about 14 spaces and turn left into the stall right next to the second pole with S11 on it.
The charger is a large paddle GEN1 charger and is functioning.
-- Michael Schwabe 6/21/01

Nearby charging locations:

Use the EVChargerMaps system to find nearby charging sites, and to leave comments about this site.


Things to do:
There is excellent access to downtown San Jose with many shops and restaurants within a short walking distance, particularly along Park Avenue. The Montgomery Theater, Center for Performing Arts, Parkside Hall, Civic Auditorium are all within a block.

Contact information:
Garage manager 408-794-1090

Driver reports requested verify external 5-20.

Rating:
5 Raters:
Don Gillis 9/03

Adopt-a-Charger sponsor info:
Don Gillis 8/03, 9/03

Equipment model and serial number info:
Coulomb
WAS TAL, USPS DCS-55.
---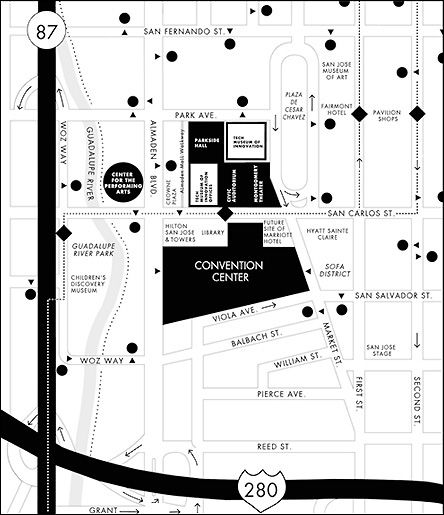 Map by Bruce Parmenter 8/10/03.
---

Parking spot by Michael Schwabe, 6/22/01. LPI was replaced by SPI on 4//04.
---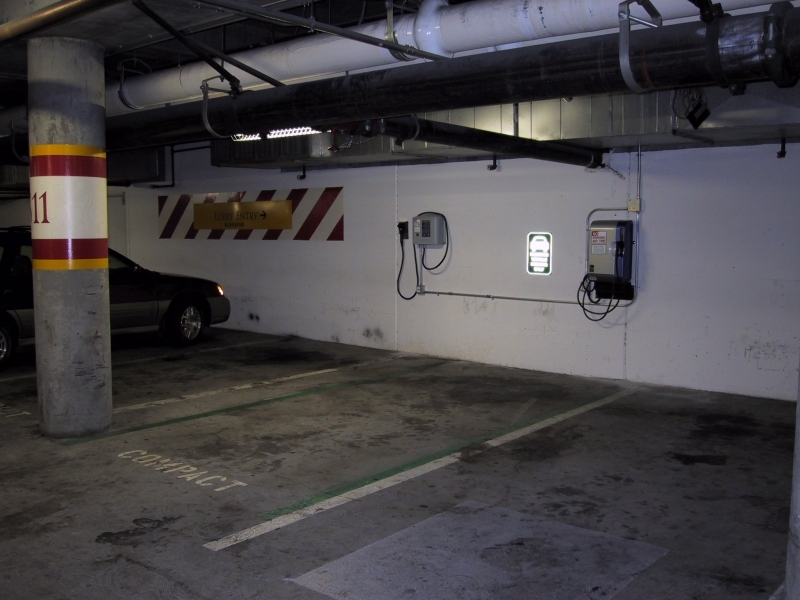 New SPI installed by Electric Auto Association (EAA) on 4/3/04., Photo by Don Gillis.
---
Check out the "I Was There" reports for this site, or leave one of your own, using the EVChargerMaps system. "I Was there" reports are important, even (or perhaps especially) if all is well. Please submit a report whenever you visit a charging station.
You can also use this feature to find nearby charging stations.
Back to top of page
View the

information for this site. (Historical -- no longer updated.)

---
Generated on Sunday, 1/30/2011, at 10:45:37 PM PT from evcnall.fp7.

Revision History:
10/10/10: Changed to OK. Now has J1772 Charging stations.
7/31/09: Changed to DOWN LOC. See status.
5/26/09: Added contact info.
7/13/2007: Added "I Was There" report.
3/8/2007: Added "I Was There" report.
3/25/2006: Added "I Was There" report.
9/5/2005: Added "I Was There" report.
9/18/2004: Added "I Was There" report.
7/13/2004: Added caution comment.
5/16/2004: Added "I Was There" report.
5/3/2004: Added "I Was There" report.
4.4.04: New photo of SPI. Removed 1 LPI, added 1 SPI, 1 AVC.
3/21/04: Published IWT report.
9/27/03: Added rating.
8/30/03: Added comments and photos.

Do you see any discrepancies or have any information for us about this page?
Please add comments, using the EVChargerMaps system. Click here.