EV Charger News
Charging Station Site Number 95050_1

Status as of 1/30/2011: In service.

Important! There may be more recent status comments in the "I Was There" reports and comments.
Click here to view or to add a comment.

Costco Santa Clara
1601 Coleman Ave.
Santa Clara, California 95050

Site ID: 95050_1 Thomas Bros. Maps Page and Grid™: 833-F3


Charging facilities at this site:
Inductive:
1 - Small paddle
Conductive:
1 - Avcon
1 - Other
Other types: 5-20
Nominal supply voltage for this site: 208V

<!- MapCase parameters: Keep list: CSH, DS, CSF, MapCase (Custom.jpg, Tiger, Costco): NNY Case number: 7-->

MAP OF CHARGING STATION LOCATION


Drag the map with your mouse, or double-click to center.





Costco Warehouse number 129
Click on the Costco map above to go to the Costco Web page for this site, with store hours, phone numbers, and warehouse features.

---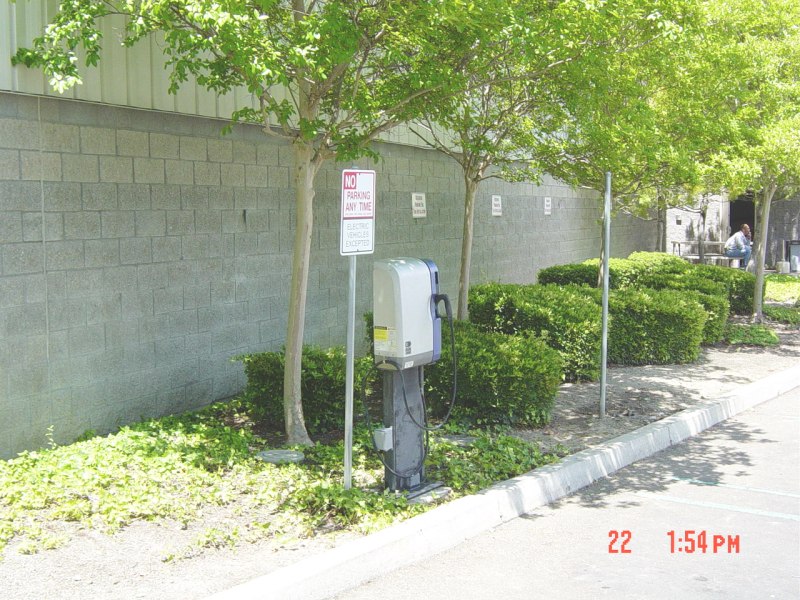 by Michael Mora, 5/06
---

Lat:  37.35618 (N 37°21.371') (N 37°21'22.3")   (WGS 84 datum)
Lon:-121.93908 (W121°56.345') (W121°56'20.7")
         
(V: Determined by GPS site visit.)

Status:
5/23/06: Repairs completed 5/22/06; SPI and AVC chargers replaced, 5-20 added.
5/17/06: Repairs to AVC and SPI scheduled for completion by 5/22/06.
12/16/05: Avcon down ("dead") per Philippe Habib. See "I Was There" reports.
Minor problem: the SPI paddle 's plastic covering is cracked. I tie wrapped the paddle it still works.
--Bruce Parmenter 8/16/03.

Comments:
5/23/06: Site repaired and reconfigured. AVC charging station moved to LH spot, Gen 2+ replaced w/ TAL in 2d spot from left. 5-20 added. 3rd spot from left returned to general parking. Upgraded signage.
2002-1-24: Youngchul Park 11/26/01: Changed to Gen II+ charger... LPI to SPI.

Driving directions:
The Costco on Coleman is legally in Santa Clara, and is thus entered on the Club charger list. Most people think of it as being in San Jose since it is a couple of blocks west of the runways at San Jose Airport.

-- Karen Casner 5/23/2001
Located near the intersection of Coleman and De La Cruz west of the San Jose airport. Accessible from 101 (take De La Cruz southbound) and 880 (take Coleman northbound) Access northbound (enter or exit) from Brokaw west of Coleman.

-- Terry Dowling 3/11/99
Go to Google Local for driving directions to/and from any location, and to find points of interest.


How to find the charging station location once you have found the site:
Right against the side of the building way around to the left PAST the tire store
--Pete 12/02

1 conductive, 1 inductive charger left of and beyond Tire service. Icing is a possibility and charger can usually only be reached from one space. Since this space is fairly far from tire service, the ice'r may be hard to get moved.
-- Terry Dowling 3/11/99


Nearby charging locations:

Use the EVChargerMaps system to find nearby charging sites, and to leave comments about this site.


Things to do:
McDonalds and Staples Office Supply store within walking distance. Not much else near by. Located between railroad tracks and SJ airport
Note: after 9pm Costco closes, 10 pm McDonalds closes. Not much to do after that and no restrooms around after 10pm.
--Bruce Parmenter 8/16/03.

Contact information:
Manager Stephanie Murphy, 408-567-9000 x232

Driver reports requested to verify and test repairs, and verify serial numbers; photos also requested.

Rating:
4 Raters:
Bruce Parmenter(3); Pete (4) 12/02; Jerry Pohorsky (3) 11/03; Ed Thorpe(5) 4/04.

Adopt-a-Charger sponsor info:
Jerry Pohorsky 9/03, 11/03, 1/04

Equipment model and serial number info:
EVI ICS-200B sn TR0798104 config EV00607
TAL serial S0004013
---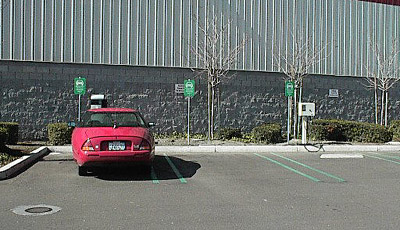 by Terry Dowling , 3/99.
---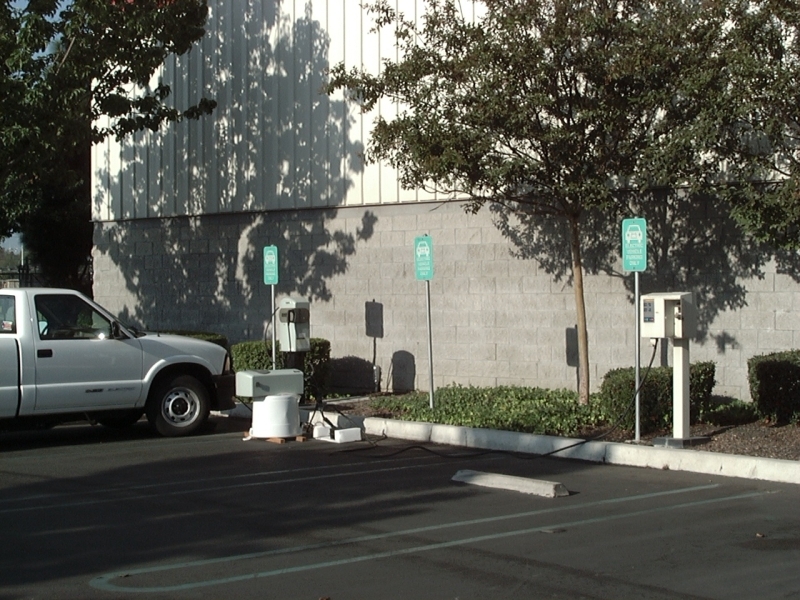 by Jerry Pohorsky, 11/03.
---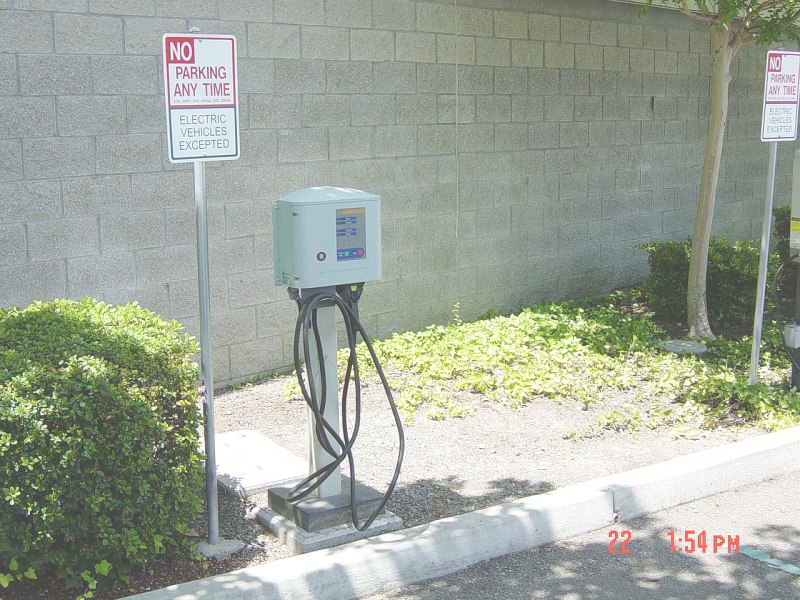 by Michael Mora, 5/06
---
Check out the "I Was There" reports for this site, or leave one of your own, using the EVChargerMaps system. "I Was there" reports are important, even (or perhaps especially) if all is well. Please submit a report whenever you visit a charging station.
You can also use this feature to find nearby charging stations.
Back to top of page

---
Generated on Sunday, 1/30/2011, at 10:45:42 PM PT from evcnall.fp7.

Revision History:
7/13/2007: Added "I Was There" report.
3/8/2007: Added "I Was There" report.
5/27/06: Added Michael Mora photos.
5/23/06: Changed status to OK. Added 5-20 OC.
5/17/06: Added contact info.
3/25/2006: Added "I Was There" report.
12/16/2005: Added "I Was There" report.
12/16/05: Changed status to AVC DOWN. There is still a minor problem with the SPI.
9/5/2005: Added "I Was There" report.
9/18/2004: Added "I Was There" report.
5/16/2004: Added "I Was There" report.
5/4/2004: Added "I Was There" report.
5/3/2004: Added "I Was There" report.
5/1/2004: Added "I Was There" report.
2/23/04: Corrected custom map error.
2/15/04: Added warehouse number.
1/20/04: Updated IWT.
11/3/03: Added second photo.
9/1/03 updated location on site, rating.
8/30/03: Updated status and to do list.
8/23/03: Added charger location and driving direction details, updated comments, added photo, removed EV1 Club reference.
7/11/02: Verified SPI and AVC operational as of 5/21/02. Tom Dowling
4/22/02: 1LPI chgd to 1SPI per Magnecharge list dated 02/01/27. 4/22/02: Imported from EV1 Club db
Do you see any discrepancies or have any information for us about this page?
Please add comments, using the EVChargerMaps system. Click here.