EV Charger News
Charging Station Site Number 94939_1

Status as of 1/30/2011: In service.

Important! There may be more recent status comments in the "I Was There" reports and comments.
Click here to view or to add a comment.

Golden Gate Ferry Terminal
101 East Sir Francis Drake Blvd..
Larkspur, California 94939

Site ID: 94939_1 Thomas Bros. Maps Page and Grid™: 586-H5

Restricted parking. Details: ICEing likely M-F 7-5 see status note.

Pay parking. Details: Information needed.

Charging facilities at this site:
Inductive:
1 - Small paddle
Conductive:
1 - Avcon
Nominal supply voltage for this site: 208V

<!- MapCase parameters: Keep list: , MapCase (Custom.jpg, Tiger, Costco): NNN Case number: 8-->

MAP OF CHARGING STATION LOCATION


Drag the map with your mouse, or double-click to center.




---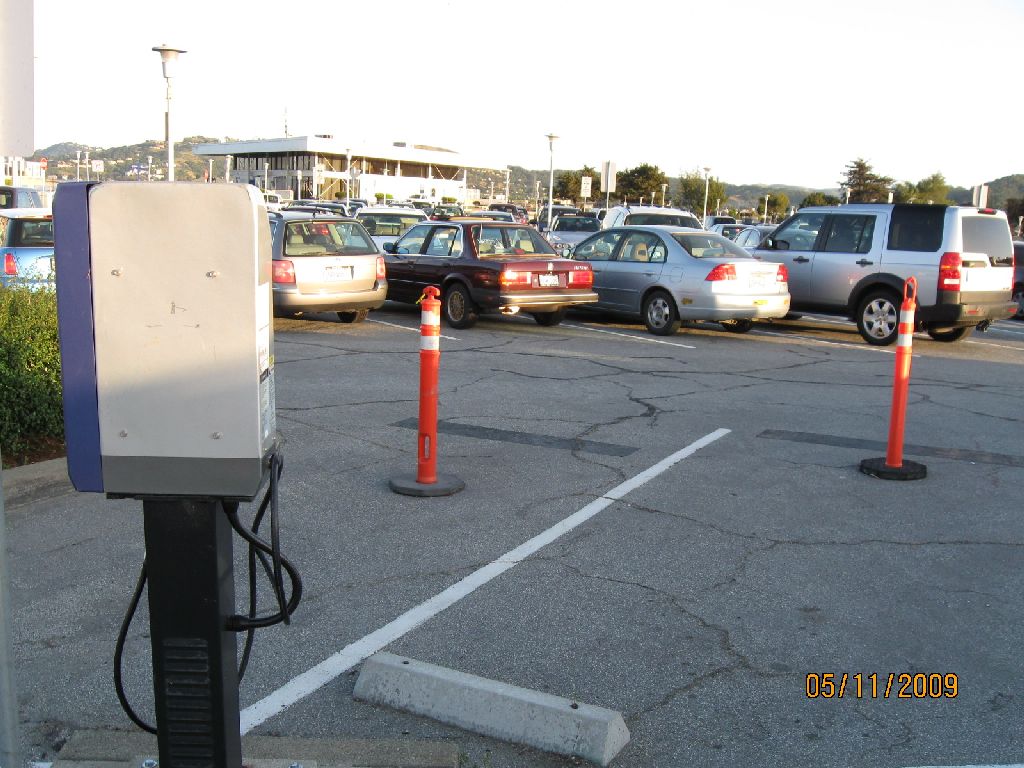 by Michael Mora, 5/09.
---

Lat:  37.94495 (N 37°56.697') (N 37°56'41.8")   (WGS 84 datum)
Lon:-122.50959 (W122°30.575') (W122°30'34.5")
         
(V: Determined by GPS site visit.)

Lat/Lon notes:
GPS readings by Chuck Hursch, 3/04

Status:
5/18/08: Spots are more likely to be open outside prime time M-F. Weekends, evenings are better... unless there is Ferry service to a Giants weekend day game....
7/12/07: EV Parking Only signs are not being enforced. ICEing probable. EAA is working on correcting this problem.
3/8/07: SPI replaced with unit from Southern California, EAA supplied. Back up and running.
12/31/06: SPI is out of service again. No lights, test/reset does not work. Power is apparently on. Working on repair strategy. Need to verify power at the charger first.
11/14/05: SPI had power, but was defective. SPI has been replaced by the Electric Auto Association (EAA), thanks to donation of the replacement charger by an EV driver.
10/26/05: EAA dispatched Jerry Moore, contractor, to check the power situation.
10/21/05: SPI is down. No lights. Attempting to verify if power is on.
9/4/02: Power was off . Contacted supervisor, Ken, who had it turned back on.

Comments:
Re: aligning the chargers with the spots. It looked to me as though they actually improved utility by "misaligning" the parking places. Before, the TAL paddle could only reach the eastern spot, now it can reach both (since the current western spot used to be the eastern spot, and the TAL is roughly centered between the two current spots). The cord on the Avcon is so long that it can still reach either spot (depending on where the port is on the vehicle, I guess), even though it's not in front of either one... -- Steve Greenberg 10/26/05

Driving directions:
Entrance to charging site parking lot is at first light east of U.S.101 / Sir Francis Drake interchange, where there is a Golden Gate Transportation / Larkspur Ferry sign
Go to Google Local for driving directions to/and from any location, and to find points of interest.


How to find the charging station location once you have found the site:
Charging site is in Row I (eye) of cars. Upon entering the parking lot, drive between rows H and I towards the ferry building to reach the chargers.
7/17/05: Note that the EV space to the left of the space with the TAL moved to the right of the space with the TAL. Now the TAL cable can reach both spots, and so can the AVCON, (if barely) since its cable is so long.

Nearby charging locations:

Use the EVChargerMaps system to find nearby charging sites, and to leave comments about this site.


Things to do:
Ride the ferry to San Francisco!
There is a shopping center (Larkspur Landing) on the other side of Sir Francis Drake Blvd. - there is a footbridge across the road. Shopping center area includes several stores, restaurants, a theater complex, a California State Automobile Association Office (CSAA - AAA) and Marin Airporter.
Bon Air shopping center (which contains a Mollie Stones and Longs Drugs plus several other shops) is on the other side of U.S. 101 to the west (can take bike path under the freeway about half a mile to the shopping center).
Parking is very tight when the SF Giants have day games. On 5/24/06, although attendents were directing cars to all sorts of normally illegal spots, one EV spot was still clear. SF Giants day games, remainder of 2006: 5/24; 6/7; 6/21; 6/29; 7/19; 8/2; 8/23; 9/14; 9/27.

Contact information:
Rebecca J. Wessling
Terminal Operations
Superintendent Ferry Division
GGBH&TD
101 East Sir Francis Drake Blvd.
Larkspur, CA 94939- 1899
415 925 5571 phone
415 925 5510 fax
rwessling@goldengate.org
She facilitated the signage posting for me; I provided the sign, she posted it at the charger.
--Greg Simon, 10/05.

Maintenance guy I talked to was Ron Ghirabaldi, cell phone >> 415-748-0575. Email is rghirabaldi@goldengate.org
--Steve Greenberg, 10/05.


Rating:
4 Raters:
Amy Nielsen 6/14/03(4); Arthur Jones (5) 12/29/02.; Chuck Hursch (3) 10/22/03; Darell Dickey 10/03 (4); Steve Greenberg 9/04 (4); Greg Simon 9.04 (3)

Adopt-a-Charger sponsor info:
Chuck Hursch 9/03, 10/03, 11/03, 12/03, 1/04, 2/04, 3/04, 4/04, 5/04, 6/04, 7/04, 8/04, 9/04, 10/04, 11/04, 12/04, 1/05, 2/05, 3/05, 4/05, 5/05, 6/05, 7/05, 8/05, 9/05, 10/05

Equipment model and serial number info:
Position A (LH):
EVI ICS200B installed about 9/03.
TAL SN? installed about 2001, removed about 9/03.
Gen I floor mount installed about 3/99, removed about 2001.

Position B (RH):
Replacement TAL #5 S0110039 installed 11/09.
Replacement TAL #4 S0304089 installed about 3/08(?)
Replacement TAL #3 S0301008 installed 3/07.
previous TAL #2 S0310049 installed 11/05, removed 3/07.
original TAL #1 ser# unknown installed about 2001, removed 11/05.
Gen I floor mount installed about 3/99, removed about 2001.

Meter readings::
Avc 50.2 kWh 6/24/05, 9/22/05
---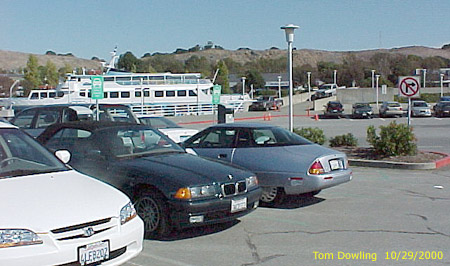 by Tom Dowling
---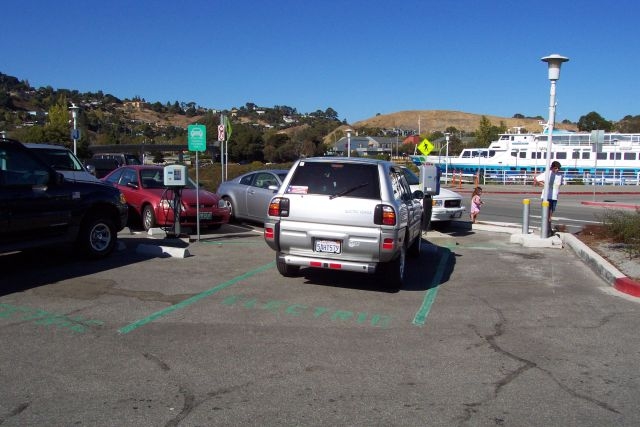 by Darell Dickey 10/03.
---

by Darell Dickey 10/03.
---
Check out the "I Was There" reports for this site, or leave one of your own, using the EVChargerMaps system. "I Was there" reports are important, even (or perhaps especially) if all is well. Please submit a report whenever you visit a charging station.
You can also use this feature to find nearby charging stations.
Back to top of page
View the

information for this site. (Historical -- no longer updated.)

---
Generated on Sunday, 1/30/2011, at 10:44:59 PM PT from evcnall.fp7.

Revision History:
6/9/09: Added photo by Michael Mora, changed from PROB LOC to OK.
5/18/08: Added status comments. Tesla has charged here!
7/13/2007: Added "I Was There" report.
7/12/07: Changed to PROB LOC. See status.
3/8/07: Changed back to OK. See status.
1/2/07: Changed to SPI DOWN. See status.
11/19/05: Changed status to OK. SPI replaced.
10/26/05: Changed to SPI DOWN.
10/22/05: Updated IWT reports, charger location.
10/21/05: Changed status to SPI down.
3/21/04: Revised lat/lon, added driving directions, added custom map by Chuck Hursch.
1/14/04: Added charger location, updated "to do" list.
10/19/03: Added two photos.
9/21/03: Added things to do.
9/20/03: Changed from 2 SPI to 1 SPI, 1 AVC.
9/1/2003: Added ratings.
10/25/02: added comment.
Do you see any discrepancies or have any information for us about this page?
Please add comments, using the EVChargerMaps system. Click here.