EV Charger News
Charging Station Site Number 94621_2

Status as of 1/30/2011: In service.

Important! There may be more recent status comments in the "I Was There" reports and comments.
Click here to view or to add a comment.

Oakland Airport
Daily B lot
1 Airport Way
Oakland, California 94621

Site ID: 94621_2 Thomas Bros. Maps Page and Grid™: 690-D2


Pay parking. Details: Information needed.

Charging facilities at this site:
Inductive:
1 - Small paddle
1 - Large paddle
Conductive:
1 - Avcon
Nominal supply voltage for this site: 208V

<!- MapCase parameters: Keep list: , MapCase (Custom.jpg, Tiger, Costco): NNN Case number: 8-->

MAP OF CHARGING STATION LOCATION


Drag the map with your mouse, or double-click to center.





Lat:  37.71536 (N 37°42.922') (N 37°42'55.3")   (WGS 84 datum)
Lon:-122.21450 (W122°12.870') (W122°12'52.2")
         
(V: Determined by GPS site visit.)

Status:
SPI down per Greg Simon 7/12/06.
Corrected and OK 3/26/02.
No power to the chargers on 2/14/02.

Comments:
5/14/04: Formerly known as Economy Lot .
7/11/02: resolved per Michael Schwabe 3/26/02.
There was no power to the chargers on 2/14/02. I contacted someone from Parking Operations who drives a small paddle RAV4 EV and he said he would get someone out to check it. - MS
2002-2-14: Bay Area Air Quality Management District, verified by Michael Schwabe.
See further notes, below.

Driving directions:
Follow signs to Economy Lot. Right on Alan Shepard Way, Right on John Glenn, left into the parking lot. Make an immediate left and go down to the end of the parking row. Chargers are on the left near a group of modular offices.
Go to Google Local for driving directions to/and from any location, and to find points of interest.


How to find the charging station location once you have found the site:
The corner of the parking lot closest to the terminal, just a 2-minute walk to the terminal.

Nearby charging locations:

Use the EVChargerMaps system to find nearby charging sites, and to leave comments about this site.


Things to do:
Oakland Terminal. See Airport Web site with maps, parking rates, etc.

Equipment model and serial number info:
Small Paddle GM Charger, model WM7200, S/N: SM5276PO115022C.
---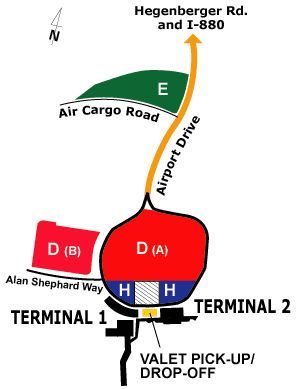 Parking lot map.
---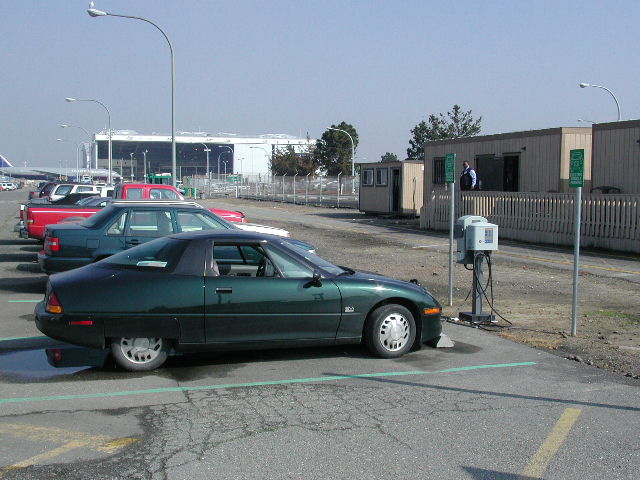 by Michael Schwabe.
---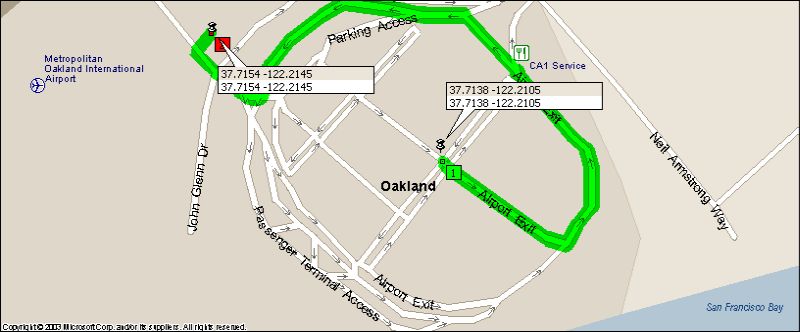 Another parking lot map. Location marked 2 is this site; location marked 1 is site 94621_3.
---
Check out the "I Was There" reports for this site, or leave one of your own, using the EVChargerMaps system. "I Was there" reports are important, even (or perhaps especially) if all is well. Please submit a report whenever you visit a charging station.
You can also use this feature to find nearby charging stations.
Back to top of page

---
Further notes about this site are available by clicking here.

---
Generated on Sunday, 1/30/2011, at 10:45:06 PM PT from evcnall.fp7.

Revision History:
7/13/2007: Added "I Was There" report.
3/8/2007: Added "I Was There" report.
7/28/06: Changed from OK to SPI down per Greg Simo.
3/25/2006: Added "I Was There" report.
9/5/2005: Added "I Was There" report.
9/18/2004: Added "I Was There" report.
6/5/2004: Added "I Was There" report.
6/4/04: Added an SPI to this location. See IWT report.
5/16/2004: Added "I Was There" report.
5/14/04: Resolved name question. See comments.
8/31/03: Added request for location name clarification, added maps.
8/23/03: Revised comments.
7/11/02: verified operational by Michael Schwabe 3/26/02.
4/30/02: added per TDdb
Do you see any discrepancies or have any information for us about this page?
Please add comments, using the EVChargerMaps system. Click here.