EV Charger News
Charging Station Site Number 94596_2

Status as of 1/30/2011: In service.

Important! There may be more recent status comments in the "I Was There" reports and comments.
Click here to view or to add a comment.

Downtown Walnut Creek Parking Garage
1300 S. Main St.
Walnut Creek, California 94596

Site ID: 94596_2 Thomas Bros. Maps Page and Grid™: 612-C6


Charging facilities at this site:
Inductive:
1 - Small paddle
Conductive:
1 - Avcon
Nominal supply voltage for this site: 208V

<!- MapCase parameters: Keep list: , MapCase (Custom.jpg, Tiger, Costco): NNN Case number: 8-->

MAP OF CHARGING STATION LOCATION


Drag the map with your mouse, or double-click to center.





Lat:  37.89478 (N 37°53.687') (N 37°53'41.2")   (WGS 84 datum)
Lon:-122.05883 (W122°03.530') (W122°03'31.8")
         
(C: Computed from Address using MapBlast.)

Comments:
Also known as Macerich Mall; also known as Broadway Plaza.

Driving directions:
Broadway Plaza, opposite the Stanfords Restaurant and Bar, 1300 So. Main St., and directly behind the Macy's.
Go to Google Local for driving directions to/and from any location, and to find points of interest.


How to find the charging station location once you have found the site:
In the parking garage on the first floor. Best entrance to parking is at the end of Botelho Dr., where it crosses So. Main St. and goes straight into the parking garage. Or enter from sol Main at Botelho.
Chargers are on the first floor, immediately to the right as you enter. There may be temporary barriers that need to be moved to get in.

Nearby charging locations:

Use the EVChargerMaps system to find nearby charging sites, and to leave comments about this site.


Things to do:
Lots to do here as this is the hub of Walnut creek. Restuarant's, shopping, movies, etc.
Barnes and Noble (great place to spend time!), Sharper Image, Bose, Nordstrom's, Macy's Crate and Barrell, Pottery Barn, Restoration Hardware, and on and on.

Rating:
5 Raters:
Michael Schwabe 10/03

Adopt-a-Charger sponsor info:
Michael Schwabe 10/03, 1/04

Equipment model and serial number info:
TAL S0304088 4-6/03

Meter readings::
ICS200B 1409 kwh 4/04
---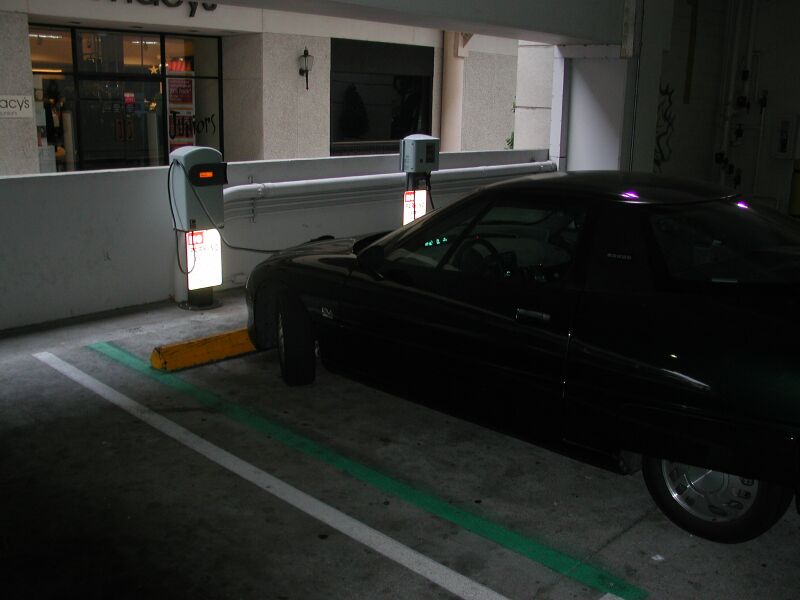 By Michael Schwabe
---
Check out the "I Was There" reports for this site, or leave one of your own, using the EVChargerMaps system. "I Was there" reports are important, even (or perhaps especially) if all is well. Please submit a report whenever you visit a charging station.
You can also use this feature to find nearby charging stations.
Back to top of page

---
Generated on Sunday, 1/30/2011, at 10:45:55 PM PT from evcnall.fp7.

Revision History:
7/13/2007: Added "I Was There" report.
3/8/2007: Added "I Was There" report.
3/25/2006: Added "I Was There" report.
9/5/2005: Added "I Was There" report.
9/18/2004: Added "I Was There" report.
6/6/04: Added model, serial, voltage, meter info.
6/5/2004: Added "I Was There" report.
5/16/2004: Added "I Was There" report.
5/3/2004: Added "I Was There" report.
2/6/04: Added IWT.
9/25/03: Added comment.
9/16/03: Replaced LPI with SPI.
9/1/03: Added more charger location info, rating.
6/8/02: Added charger location, clarified driving directions.
10/25/02: Added photo from Michael Schwabe. 5/20/02: Added site per 5/10/02 EVcn
Do you see any discrepancies or have any information for us about this page?
Please add comments, using the EVChargerMaps system. Click here.