EV Charger News
Charging Station Site Number 94596_1

Status as of 1/30/2011: All Avcon conductive charging stations at this location are out of service. Other facilities may be available here. Check status and comments below.

Important! There may be more recent status comments in the "I Was There" reports and comments.
Click here to view or to add a comment.

BART Walnut Creek
200 Ygnacio Valley Blvd.
Walnut Creek, California 94596

Site ID: 94596_1 Thomas Bros. Maps Page and Grid™: 612-B4

Restricted parking. Details: In theory, BART validation is required.

Charging facilities at this site:
Inductive:
1 - Small paddle
Conductive:
1 - Avcon
6 - Other
Other types: 3 x L6-30 (240V), 1 x 6-30(240V), 2 x 5-20(120V)
Nominal supply voltage for this site: 240V

<!- MapCase parameters: Keep list: , MapCase (Custom.jpg, Tiger, Costco): NNN Case number: 8-->

MAP OF CHARGING STATION LOCATION


Drag the map with your mouse, or double-click to center.




---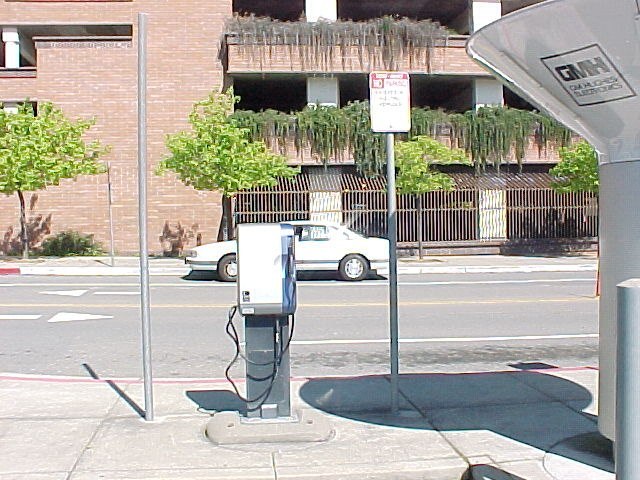 By Tom Dowling, 3/05 -- new configuration
---

Lat:  37.90469 (N 37°54.281') (N 37°54'16.9")   (WGS 84 datum)
Lon:-122.06677 (W122°04.006') (W122°04'0.4")
         
(C: Computed from Address using MapBlast.)

Status:
5/6/07: Avcon unpowered. See I Was There report.


Driving directions:
Note this is the Walnut Creek BART station, on the South end of Walnut Creek, NOT the Pleasant Hill BART station, which is on the North end of Walnut Creek.
Directions: take Ygnacio Valley exit off Hwy 680 North or Hwy 24, use center lane, drive straight in, near entrance
. From I-680 South, just North of the SR-24 interchange, exit Ygnacio Valley Road East, and enter the BART parking lot on your left.

Go to Google Local for driving directions to/and from any location, and to find points of interest.


How to find the charging station location once you have found the site:
Parking spots numbered 2086 and2087. These spots are next to, but not in, the yellow reserved section.
The one pedestal-mounted TAL charger is in the outdoor parking lot right on Ygnacio Valley Road, not in the parking structure. There are also three obsolete MagneChargers there, with blue or purple covers. The Avcon charging station is immediately to the left of the SPI.
Look for the real TAL small-paddle charger. There older MagneChargers here as well.
Two EV parking spots, one SPI & one AVC. All OC conductive outlets are turned OFF.
-- Tom Dowling 6/21/98



Nearby charging locations:

Use the EVChargerMaps system to find nearby charging sites, and to leave comments about this site.


Things to do:
Take a ride on BART! There are shops within walking distance.

Contact information:
BART charger problems 510-464-6615 (power off, etc.)

Rating:
4 Raters:
Jamie Pehling (4) Tom Dowling(3)

Equipment model and serial number info:
TAL S0007008, cable #00024, redeployed from Sacramento AQMD.

Meter readings::
ICS no voice 3/05.
---

By Bruce Parmenter -- old configuration, and before spots were numbered.
---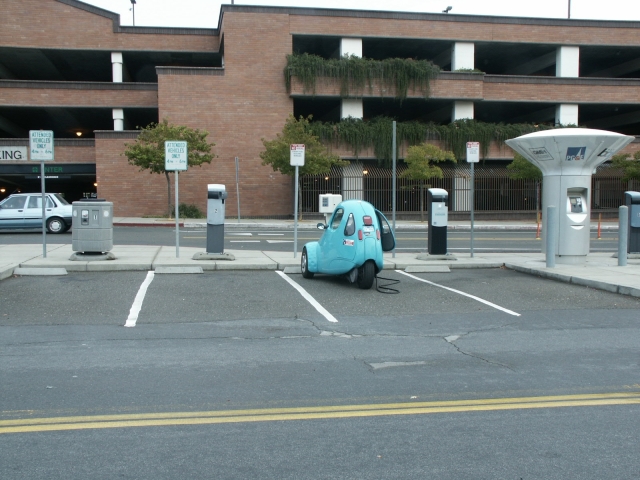 By Ed Thorpe, 1/04 -- old configuration, and before spots were numbered.
---
Check out the "I Was There" reports for this site, or leave one of your own, using the EVChargerMaps system. "I Was there" reports are important, even (or perhaps especially) if all is well. Please submit a report whenever you visit a charging station.
You can also use this feature to find nearby charging stations.
Back to top of page
View the

information for this site. (Historical -- no longer updated.)

---
Generated on Sunday, 1/30/2011, at 10:45:54 PM PT from evcnall.fp7.

Revision History:
7/13/2007: Added "I Was There" report.
5/6/2007: Added "I Was There" report.
Changed to AVC DOWN.
3/25/2006: Added "I Was There" report.
9/5/2005: Added "I Was There" report.
3/6/05: Changed SPI from 0 to 1, LPI from 1 to 0,
9/18/2004: Added "I Was There" report.
5/16/2004: Added "I Was There" report.
5/3/2004: Added "I Was There" report.
9/1/03: Added comments, updated rating.
6/8/2003: Changed LPI from 2 to 1, added comments, added OC.
Do you see any discrepancies or have any information for us about this page?
Please add comments, using the EVChargerMaps system. Click here.