EV Charger News
Charging Station Site Number 94591_1

Status as of 1/30/2011: One or more small-paddle chargers at this location have a problem. Some small-paddle service may be available here, however. Other facilities may also be available here. Check status and comments below.

Important! There may be more recent status comments in the "I Was There" reports and comments.
Click here to view or to add a comment.

Costco Vallejo
198 Plaza Dr.
Vallejo, California 94591

Site ID: 94591_1 Thomas Bros. Maps Page and Grid™: 510-E7


Charging facilities at this site:
Inductive:
2 - Small paddle
Nominal supply voltage for this site: 208V

<!- MapCase parameters: Keep list: CSH, DS, CSF, MapCase (Custom.jpg, Tiger, Costco): NNY Case number: 7-->

MAP OF CHARGING STATION LOCATION


Drag the map with your mouse, or double-click to center.





Costco Warehouse number 132
Click on the Costco map above to go to the Costco Web page for this site, with store hours, phone numbers, and warehouse features.

---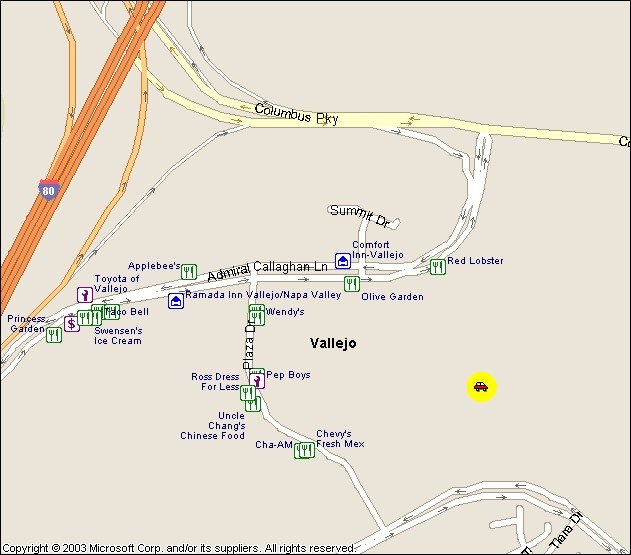 Additional map
---

Lat:  38.13372 (N 38°08.023') (N 38°08'01.4")   (WGS 84 datum)
Lon:-122.21340 (W122°12.804') (W122°12'48.2")
         
(V: Determined by GPS site visit.)

Status:
6/30/09: darell reports: As others have reported, the left SPI lights up (appears to function), but will not charge the car. The right one works great. As I arrived at 7am, there was no competition for the space.
10/9/04: Verified operational by Ed Huestis; charged RAV4 EV here on both chargers.
10/6/04: CFCI reports that both chargers were repaired on or about 8/30/04.
8/6/03: Both chargers down. Reported to CFCI for repair.
LH charger displays 0.0 but goes to flashing DELAY when charging is attempted. RF charger has power -- test and reset work ok -- but no display, and will not charge vehicle.
10/12/03: One charger dead. Reported.
9/16/03: Repaired and operational again.
9/9/03: One charger has broken paddle, one is inoperable, per Rod Stelling. Reported to CFCI for repair.
7/11/02: Chargers have been accessible again since at least 5/31/02.
5/10/02: OLD NEWS, NOW OBSOLETE: Costco in Vallejo is undergoing remodeling/construction. Construction is making the chargers inaccessible. - EH

Comments:
For the nearest charger headed towards Sacramento, see Fairfield in the Sacramento area list. There are also other chargers in Vallejo -- see the Bay Area list. No conductive stations here.

Driving directions:
From I-80, take the Columbus Parkway exit East, then turn right on Callaghan, then Left on Plaza Drive. Costco is on your left.
Note from Darell 6/30/09: Don't follow your GPS to this location. My 2009 Garmin maps still don't know about the Costco Driveway, and wanted me to go cross-country from a gated condo complex to the East.

Go to Google Local for driving directions to/and from any location, and to find points of interest.


How to find the charging station location once you have found the site:
Two Gen 2+ chargers on the left side of the building.

Nearby charging locations:

Use the EVChargerMaps system to find nearby charging sites, and to leave comments about this site.


Things to do:
Theaters and many restaurants nearby, as well as a Comfort Inn. Lots of shops and restaurants in the vicinity. Also an AAA office across the street, in case you are a member and are in need of maps during business hours.

Rating:
5 Raters:
Arthur Jones 1/03 (5); Rob Stelling 9/03 (4)

Equipment model and serial number info:
Gen 2 + (2). LH: SM5276P0029052A- cord serial 765
RH: SM5276P0115021C cord serial number tag missing



---
Check out the "I Was There" reports for this site, or leave one of your own, using the EVChargerMaps system. "I Was there" reports are important, even (or perhaps especially) if all is well. Please submit a report whenever you visit a charging station.
You can also use this feature to find nearby charging stations.
Back to top of page

---
Generated on Sunday, 1/30/2011, at 10:45:53 PM PT from evcnall.fp7.

Revision History:
6/30/09: Added status report. SPI problem -- 1 OK, 1 down.
7/13/2007: Added "I Was There" report.
3/8/2007: Added "I Was There" report.
3/25/2006: Added "I Was There" report.
9/5/2005: Added "I Was There" report.
10/16/04: Added status entry confirming driver verification.
10/6/04: Changed status to OK. Need driver confirmation.
9/18/2004: Added "I Was There" report.
8/6/04: Changed status to DOWN LOC.
5/16/2004: Added "I Was There" report.
5/15/2004: Added "I Was There" report.
5/3/2004: Added "I Was There" report.
2/15/04: Added warehouse number.
12/16/03: Updated charger location, driving diretions, to do, comments, deleted EV1 Club link.
12/14/03: Added IWT, serial numbers.
10/12/03: Revised status again.
9/16/03: Revised status again.
9/10/03: Revised status..
9/1/03: Added rating.
10/27/02: Corrected old news. TWD.
10/25/02: Both chargers had been vandalized, but are now repaired or replaced. Darrell Singleton 9/28/02.
7/11/02: Change to RESOLVED by Tom Dowling
4/21/02: SPI=2 verified per Magnecharge list dated 02/02/27.
Do you see any discrepancies or have any information for us about this page?
Please add comments, using the EVChargerMaps system. Click here.