EV Charger News
Charging Station Site Number 94590_2

Status as of 1/30/2011: All Avcon conductive charging stations at this location are out of service. Other facilities may be available here. Check status and comments below.

Important! There may be more recent status comments in the "I Was There" reports and comments.
Click here to view or to add a comment.

Vallejo Ferry Terminal
495 Mare Island Way
Vallejo, California 94590

Site ID: 94590_2 Thomas Bros. Maps Page and Grid™: 529-H5


Charging facilities at this site:
Inductive:
2 - Small paddle
Conductive:
1 - Avcon
1 - Tesla Connector
Tesla Connector Ampacity: 32A
Nominal supply voltage for this site: 240V

<!- MapCase parameters: Keep list: , MapCase (Custom.jpg, Tiger, Costco): NNN Case number: 8-->

MAP OF CHARGING STATION LOCATION


Drag the map with your mouse, or double-click to center.





Lat:  38.10063 (N 38°06.038') (N 38°06'02.3")   (WGS 84 datum)
Lon:-122.26210 (W122°15.726') (W122°15'43.6")
         
(V: Determined by GPS site visit.)

Status:
9/2010: Tesla breaker reset, OK.
6/30/09: Tesla station breaker tripped. Avcon damaged, inoperative. SPI both OK.
5/09: To be verified.
8/9/04: Now the Avcon unit on the left has been vandalized as well. There is no Avcon service available at this location now. Tom Dowling.
4/1/03 Marc Geller: Both AVCONs at the Vallejo Ferry Parking have problems. One (on the left) is the victim or vandalism rendering it useless. The other has a handle that doesn't like to stay put in the charger inlet, clicking the charger off unless it is held in place by wedging the cable under the car wheel, which I have done successfully.

Comments:
12/17/03: Small paddle swapout completed, per Ed Huestis 12/17/03.
8/29/03: Due for upgrade to small paddle by 10/31/03, per Ed Huestis 8/29/03.


Driving directions:
From Highway 80, take the 780/680 exit heading Westward. Follow the signs for Vallejo and the Ferry. This site is very close to the Vallejo City Hall, where there is another charger.
MapBlast driving directions from I-80 West Exit I-80 via ramp at sign reading "Tennessee St to Mare Island" and go South for 0.3 miles Bear right on Tennessee St and go West for 1.8 miles Turn left on Mare Island Way and go South for 0.3 miles.
MapBlast directions from I-80 East Exit I-80 via ramp to I-780 and go North for 0.4 miles Bear right on I-780 and go West for 1000 feet Continue on Curtola Pky and go West for 1.5 miles Bear right on Mare Island Way and go Northwest for 0.8 miles.
Go to Google Local for driving directions to/and from any location, and to find points of interest.


How to find the charging station location once you have found the site:
The chargers are in the parking lot directly across the street from the Ferry Terminal, in the middle of the front row, next to the sidewalk.


Nearby charging locations:

Use the EVChargerMaps system to find nearby charging sites, and to leave comments about this site.


Things to do:
Access to Restaurants and shops via pedestrian skybridge (Marin Brewing Company, Asian Restaurants)
Muggs Coffee Emporium is inside the Ferry Terminal. Downtown Vallejo is about half a mile away.
You can catch the Ferry to San Francisco here. See www,baylinkferry.com

Contact information:
Dwayne Wood, Maintenance, City of Vallejo 707-648-4302 dwayne at ci dot vallejo dot ca dot us

Rating:
4 Raters:
Darell Dickey 10/02
---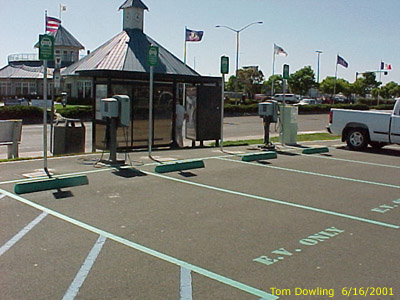 by Tom Dowling, 6/01.
---
Check out the "I Was There" reports for this site, or leave one of your own, using the EVChargerMaps system. "I Was there" reports are important, even (or perhaps especially) if all is well. Please submit a report whenever you visit a charging station.
You can also use this feature to find nearby charging stations.
Back to top of page
View the

information for this site. (Historical -- no longer updated.)

---
Generated on Sunday, 1/30/2011, at 10:46:01 PM PT from evcnall.fp7.

Revision History:
6/12/10: Changed to OK, removed AVC (damaged beyond repair)
7/30/09 added contact info.
7/5/09: Changed from unknown voltage to 240V.
6/30/09: changed to PROB LOC. See status. TSL and AVC down
5/09: Unverified. Avcon may have been repaired. Tesla station reported, but not verified.
9/5/04: Changed status to AVC DOWN.
8/12/04: Changed status to PROB LOC.
9/1/03: Added rating.
8/29/03: Added SPI upgrade comment.
6/8/03: Added Avcon problem note.

Do you see any discrepancies or have any information for us about this page?
Please add comments, using the EVChargerMaps system. Click here.