EV Charger News
Charging Station Site Number 94590_1

Status as of 1/30/2011: Entire location is out of service.

Important! There may be more recent status comments in the "I Was There" reports and comments.
Click here to view or to add a comment.

Vallejo City Hall
555 Santa Clara Street
Vallejo, California 94590

Site ID: 94590_1 Thomas Bros. Maps Page and Grid™: 529-J5


Charging facilities at this site:
Inductive:
1 - Small paddle
Conductive:
1 - Avcon

<!- MapCase parameters: Keep list: , MapCase (Custom.jpg, Tiger, Costco): NNN Case number: 8-->

MAP OF CHARGING STATION LOCATION


Drag the map with your mouse, or double-click to center.





Lat:  38.10217 (N 38°06.130') (N 38°06'07.8")   (WGS 84 datum)
Lon:-122.26080 (W122°15.648') (W122°15'38.9")
         
(V: Determined by GPS site visit.)

Status:
7/4/09: Cables cut and removed from both charging stations. Site is down.
12/17/03: Small-paddle swap-out complete per Ed Huestis.
Due for upgrade to small paddle by 10/31/03 per Ed Huestis 8/29/03/


Comments:
There is another charger site quite nearby, at the Vallejo Ferry Terminal.


Driving directions:
From Highway 37, turn south onto Sacramento Street and proceed for 2.0 miles. Turn right onto Georgia Street, proceed west for one block, then turn right again onto Santa Clara Street. City Hall is about a block to the north on the left; turn into the parking lot entrance just past the building.
From Highway 29, turn west on Georgia Street, proceed for three blocks, then turn right onto Santa Clara Street as above.
From I-80, take the I-780 West/Curtola Parkway exit. Proceed to the intersection with Highway 29, then turn north onto 29 and follow the directions above.

Go to Google Local for driving directions to/and from any location, and to find points of interest.


How to find the charging station location once you have found the site:
There is one TAL SPI and one EVI conductive unit mounted between a pair of lined and signed spaces. It's located in a courtyard parking lot on the back of the City Hall building. To reach it, take the first available left after entering the lot, followed by the next available left. The chargers are located on the north side of this small lot.

Nearby charging locations:

Use the EVChargerMaps system to find nearby charging sites, and to leave comments about this site.


Things to do:
The Kennedy Library is right across the parking lot from the chargers. It's the same parking lot.... no streets to cross or anything like that. Tom Dowling 8/05
While I didn't have time to explore the area, City Hall is located on the edge of downtown Vallejo, so I would expect that there are a number of restaurants and shops within easy walking distance. -- Jerry Hudgins 3/27/01

Rating:
4 Raters:
Ed huestis, 5/05

Equipment model and serial number info:
ICS-200A, TAL


Meter readings::
ICS-200A 65.3 kWh 5/12/05
---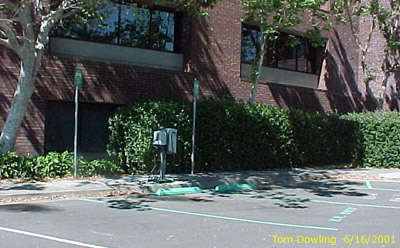 by Tom Dowling 6/01.
---
Check out the "I Was There" reports for this site, or leave one of your own, using the EVChargerMaps system. "I Was there" reports are important, even (or perhaps especially) if all is well. Please submit a report whenever you visit a charging station.
You can also use this feature to find nearby charging stations.
Back to top of page

---
Generated on Sunday, 1/30/2011, at 10:45:53 PM PT from evcnall.fp7.

Revision History:
7/5/09: changed from OK to DOWN LOC.
7/13/2007: Added "I Was There" report.
3/8/2007: Added "I Was There" report.
3/25/2006: Added "I Was There" report.
9/5/2005: Added "I Was There" report.
8/16/2005: Added "I Was There" report.
8/16/05: Updated ChLoc and ToDo.
12/17/03: Change from 1 LPI to 1 SPI, add comment., charger location, driving directions, to do, and photo. Delete EV1 Club link.
8/30/03: Added comment.

Do you see any discrepancies or have any information for us about this page?
Please add comments, using the EVChargerMaps system. Click here.