EV Charger News
Charging Station Site Number 94588_2

Status as of 1/30/2011: All small-paddle chargers at this location are out of service. Other facilities may be available here. Check status and comments below.

Important! There may be more recent status comments in the "I Was There" reports and comments.
Click here to view or to add a comment.

Stoneridge Mall
One Stoneridge Mall (Near Nordstrom/J.C. Penney)
Pleasanton, California 94588

Site ID: 94588_2 Thomas Bros. Maps Page and Grid™: 693-H5


Charging facilities at this site:
Inductive:
1 - Small paddle
Conductive:
1 - Avcon
Nominal supply voltage for this site: 208V

<!- MapCase parameters: Keep list: , MapCase (Custom.jpg, Tiger, Costco): NNN Case number: 8-->

MAP OF CHARGING STATION LOCATION


Drag the map with your mouse, or double-click to center.





Lat:  37.69673 (N 37°41.804') (N 37°41'48.2")   (WGS 84 datum)
Lon:-121.92847 (W121°55.708') (W121°55'42.5")
         
(V: Determined by GPS site visit.)

Elevation: 346 feet.

Status:
6/26/08: SPI charger has no power. Site reports circuit cut by construction. Working to get repaired. Facilities is working this issue.
2/26/06: Avcon station replaced, now opeational.
5/30/04: Avcon station reported out of order -- see IWT report.
1/10/04: Mall management reports that power problem has been corrected.
12/18/03: Power to chargers was off.
1/03: ICEing is still a problem. Also, voltage is quite low, measured at 190V.

Comments:
2/28/06: Site has been reconfigured -- EAA project. Two old Gen I chargers removed. Avcon moved from handicapped space on right of SPI to old Gen I space on left of SPI. Spaces were (L to R) LPI, LPI, SPI, AVC. Now blank, AVC, SPI, blank. Also improved signage, with red on white NO PARKING EXCEPT ELECTRIC VECHICLES signs Mall has stated they will yellow-stripe the spaces.
SPI charger fed from panel EV, circuits 4 and 6.Driving directions:
Exit I-680 at Stoneridge exit. Use entrance to parking area from circle road, opposite the Sheraton Hotel.
Go to Google Local for driving directions to/and from any location, and to find points of interest.


How to find the charging station location once you have found the site:
Parking lot section A4.
There are two J.C. Penney's stores at this mall. The chargers are by the Penney's next to Nordstrom's, in the main mall area, not by the Penney's Home Center on the periphery of the mall.

Nearby charging locations:
Dublin Toyota
San Ramon Valley Conference Center

Use the EVChargerMaps system to find nearby charging sites, and to leave comments about this site.


Things to do:
Major mall -- shops and restaurants.
The Sheraton Pleasanton (formerly Wyndham Garden) Hotel is opposite the chargers, at 5990 Stonerdige Mall Road., an easy walk.
New BART station under construction near the Sheraton.
Check the Mall Web site for shops, hours, etc.
Sheraton Web site.


Contact information:
Steve Jackson, Facilities Manager, 925-737-4107

Rating:
3 Raters:
Tom Dowling 10/03(3); James Eniti 12/03 (2); Ed Huestis 1/04 (1); Tom Dowling 2/06 (4)

Equipment model and serial number info:
LH (A): ICS200B EV00607 TR1299014
RH (B):TIC SPI S0304089


Meter readings::
A: 5490 kWh 2/28/06

---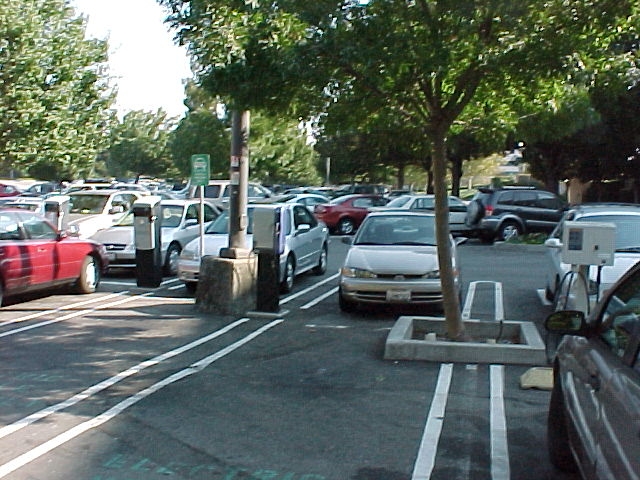 by Tom Dowling after SPI installation 9/03.
---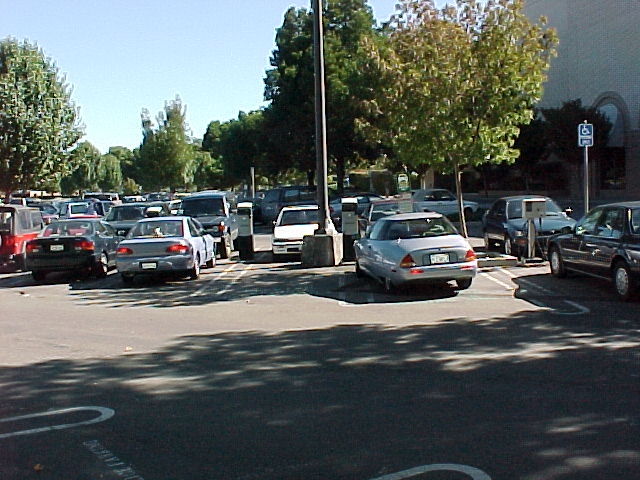 by Tom Dowling -- pre-SPI -- note some ICEing problems.
---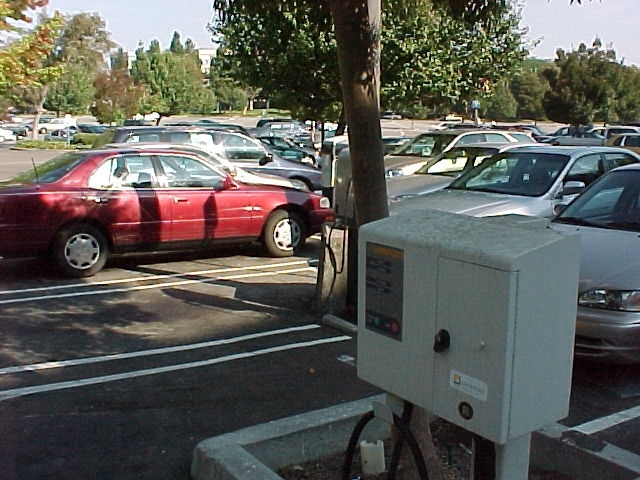 Another post-SPI photo by Tom Dowling -- Still some ICEing problems, but SPI is less likely to be ICEd.



---
Check out the "I Was There" reports for this site, or leave one of your own, using the EVChargerMaps system. "I Was there" reports are important, even (or perhaps especially) if all is well. Please submit a report whenever you visit a charging station.
You can also use this feature to find nearby charging stations.
Back to top of page
View the

information for this site. (Historical -- no longer updated.)

---
Generated on Sunday, 1/30/2011, at 10:45:14 PM PT from evcnall.fp7.

Revision History:
6/30/2008: Chaned contact from Harry Prahl to Steve Jackson. Added Sheraton Hotel info. Added breaker info.
6/26/2008: Changed from OK to SPI DOWN.
7/13/2007: Added "I Was There" report.
3/8/2007: Added "I Was There" report.
3/25/2006: Added "I Was There" report.
2/28/06: Changed status to OK. Changed LPI count from 2 to 0. Added info to charger location/
1/3/2006: Changed status to AVC DOWN
1/3/2006: Added "I Was There" report.
9/5/2005: Added "I Was There" report.
9/18/2004: Added "I Was There" report.
6/5/2004: Added "I Was There" report.
6/4/04: Changed status to PROB LOC. See status comments.
5/16/2004: Added "I Was There" report.
5/3/2004: Added "I Was There" report.
3/3/04: Updated to do information.
1/24/04: Updated status to OK.
1/15/04: Updated IWT.
1/14/04: Added contact information.
12/18/03: Add IWT, rater information; status changed to down.
11/29/03: Add altitude.
9/16/03: Replaced 1 LPI with SPI.
9/16/03: Added second photo.
9/1/03: Updated charger location, status, added photo, deleted EV1 Club link.
5/5/02: added comments, kw, new LL per TD iwt 4/8/02
Do you see any discrepancies or have any information for us about this page?
Please add comments, using the EVChargerMaps system. Click here.