EV Charger News
Charging Station Site Number 94577_1

Status as of 1/30/2011: There is a problem at this location, but this location is partially in service. Check status and comments below.

Important! There may be more recent status comments in the "I Was There" reports and comments.
Click here to view or to add a comment.

Costco San Leandro
1900 Davis St.
San Leandro, California 94577

Site ID: 94577_1 Thomas Bros. Maps Page and Grid™: 690-G2


Charging facilities at this site:
Inductive:
2 - Small paddle

<!- MapCase parameters: Keep list: CSH, DS, CSF, MapCase (Custom.jpg, Tiger, Costco): NNY Case number: 7-->

MAP OF CHARGING STATION LOCATION


Drag the map with your mouse, or double-click to center.





Costco Warehouse number 118
Click on the Costco map above to go to the Costco Web page for this site, with store hours, phone numbers, and warehouse features.

---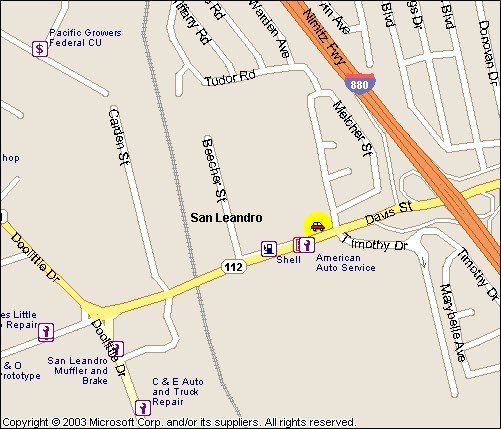 By Chuck Hursch
---

Lat:  37.71820 (N 37°43.092') (N 37°43'05.5")   (WGS 84 datum)
Lon:-122.17928 (W122°10.757') (W122°10'45.4")
         
(C: Computed from Address using MapBlast.)

Status:
3/04: Still a problem with one charger. See the IWT reports.
12/31/03: PROB LOC: Eric Padua: Attempted to charge RAV4 EV at the charger further away from the tire center, but was not functional, despite using reset button. There appears to be power to the charger but charging would not commence after inserting paddle. Could not switch to the other charger as this was ICE'd.

Comments:
2002-2-1: MagneCharge site: changed from LPI to SPI. 2/14/02: It's been verified that there are no AVC stations here.

Driving directions:

Go to Google Local for driving directions to/and from any location, and to find points of interest.


How to find the charging station location once you have found the site:
The charger s are located near the Tire Center, so it is not right next to the entrance. There are actually 4 spaces there, two which have chargers, and two which are used by the tire center. These have signs to that effect. They also have bases poured for more chargers.

-- Michael Schwabe 8/8/98

Nearby charging locations:

Use the EVChargerMaps system to find nearby charging sites, and to leave comments about this site.


Driver reports requested to report when problem is resolved.

Rating:
5 Raters:
Eric Padua 12/03



---
Check out the "I Was There" reports for this site, or leave one of your own, using the EVChargerMaps system. "I Was there" reports are important, even (or perhaps especially) if all is well. Please submit a report whenever you visit a charging station.
You can also use this feature to find nearby charging stations.
Back to top of page
View the

information for this site. (Historical -- no longer updated.)

---
Generated on Sunday, 1/30/2011, at 10:45:38 PM PT from evcnall.fp7.

Revision History:
7/13/2007: Added "I Was There" report.
3/8/2007: Added "I Was There" report.
3/25/2006: Added "I Was There" report.
9/5/2005: Added "I Was There" report.
7/29/05: Added custom map.
9/18/2004: Added "I Was There" report.
5/16/2004: Added "I Was There" report.
5/3/2004: Added "I Was There" report.
5/1/2004: Added "I Was There" report.
2/15/04: Added warehouse number.
1/4/04: Updated IWT and status.
8/23/03: Added charger location, revised comments, removed EV1 Club reference.
4/22/02: 2LPI chgd to 2SPI per Magnecharge list dated 02/01/27.
4/22/02: Imported from EV1 Club db
Do you see any discrepancies or have any information for us about this page?
Please add comments, using the EVChargerMaps system. Click here.