EV Charger News
Charging Station Site Number 94558_1

Status as of 1/30/2011: In service.

Important! There may be more recent status comments in the "I Was There" reports and comments.
Click here to view or to add a comment.

Napa Premium Outlets
629 Napa Factory Stores Drive
Napa, California 94558

Site ID: 94558_1 Thomas Bros. Maps Page and Grid™: 449-E6


Charging facilities at this site:
Inductive:
1 - Small paddle
Conductive:
1 - Avcon

<!- MapCase parameters: Keep list: , MapCase (Custom.jpg, Tiger, Costco): NNN Case number: 8-->

MAP OF CHARGING STATION LOCATION


Drag the map with your mouse, or double-click to center.





Lat:  38.29540 (N 38°17.724') (N 38°17'43.4")   (WGS 84 datum)
Lon:-122.30283 (W122°18.170') (W122°18'10.2")
         
(V: Determined by GPS site visit.)

Elevation: 60 feet below sea level.

Status:
5/19/08: SPI charger was replaced 1/08, and all is well now. EAA project replaced the charger.
7/7/07: SPI charger works only for a short time. See "I Was There" reports.

Comments:
4/9/02: Mschwabe visit
9/29/99, Jerry Hudgins: I stopped at the mall office and spoke with the general manager. She was enthusiastic about the EV1 and said that, like Petaluma Village, they would be giving a free book of mall discount coupons to any EV driver that stopped by.


Driving directions:
From Highway 29, take the First Street exit and head west on First Street. Just past the 29 interchange, take a hard left onto Freeway Drive and head south. The outlet mall is on the right, immediately past the softball field. Proceed past the traffic light at the Factory Stores Drive intersection, then turn right into the mall lot at the entrance near the Liz Claiborne Outlet sign. Proceed to the south corner at the back of the mall, where there's a squat tower with a "Napa Premium Outlets" sign.
-- Jerry Hudgins 9/29/99

Map and detailed directions.
Go to Google Local for driving directions to/and from any location, and to find points of interest.


How to find the charging station location once you have found the site:
The charging station is on the left-hand face of the tower. It consists of one wall-mounted Gen 2 charger [replaced by TAL 6/04. --Ed] and one Avcon conductive charger, positioned between a pair of lined and signed parking spaces.
-- Jerry Hudgins 9/29/99
These chargers are located on the back side of the outlet mall stores. This is the truck loading area, after you pass the mall itself. You would have to walk around the corner to the right to get to the stores. [Actually there is a door just to the left which leads into the foodcourt and the stores.-- Nick Carter.]
The chargers are easily visible, one Avcon, one Gen 2, slated for replacement with a Gen 2+. There would be no reason to find these ICEd as they are out of the mall parking area.
-- Rob Stelling, 5/03.
You can also get to the charging station by turning right onto Kilburn Drive, then take the first right into the rear parking lot, then right in the parking lot. The chargers are at the corner of the lot, on your left.
Tom Dowling, 6/04.

Nearby charging locations:

Use the EVChargerMaps system to find nearby charging sites, and to leave comments about this site.


Things to do:
Factory Stores do not open until 10 am.
Closing Mon-Thu 8 pm, Fri-Sat 9 pm, Sun 6 pm.
There is a free tram which runs almost every day of the week from the Outlets to the downtown in a big loop which also includes the Copia food and wine center and the Wine Train station, so it's easy to hop on and visit Napa. I think it runs every half hour or so.
-- Nick Carter 5/3/04.
There's a glass door to the left of the charging station that leads into the food court. There are many shops of various types, a small food court, and plenty of seating. For more information and a current store listing, see: Web site.
-- Jerry Hudgins 9/29/99
There is nothing else here but the outlet stores. Nothing nearby but housing and a school, etc.
--Rob Stelling 5/04

Web site.

Contact information:
Ms. Jess Enless, property manager
(707) 226-9876
Fax 707-226-5516
Traci A. Gee-Ege, General Manager, Napa Premium Outlets.
(707) 226 9876 x102
tgee@cpgi.com
FAX: 707-226-5516
The box to the left of the chargers normally has forms in it and they have the master because I filled one in when I was there on my recent Vacaville trip. Hopefully it'll be refilled soon - I encourage everyone to fill one in - to show that EVs do still exist and their facility is being used, plus you receive a discount coupon booklet in return. -- Nick Carter 5/03.


Rating:
4 Raters:
Michael Schwabe 4/02 (4), Fred Hilchey 9/02 (4), Lauren 3/03 (1)

Equipment model and serial number info:
ICS200B ser#?; TAL ser S0201027, 1-3/02, cable 038
Panel HPAB TAL Breakers 16-18; ICS breakers 28-30

Meter readings::
ICS 278 kWh 6/8/04
---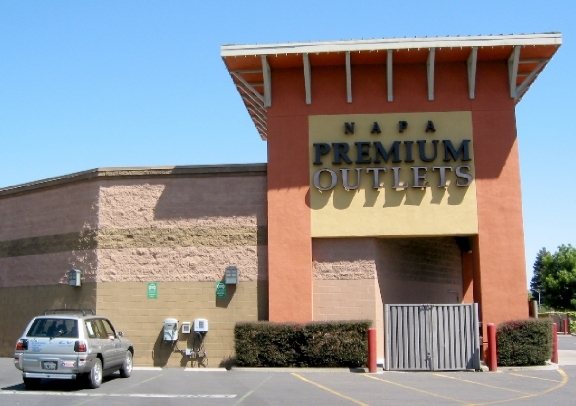 Overview by Rob Stelling, 5/04.
---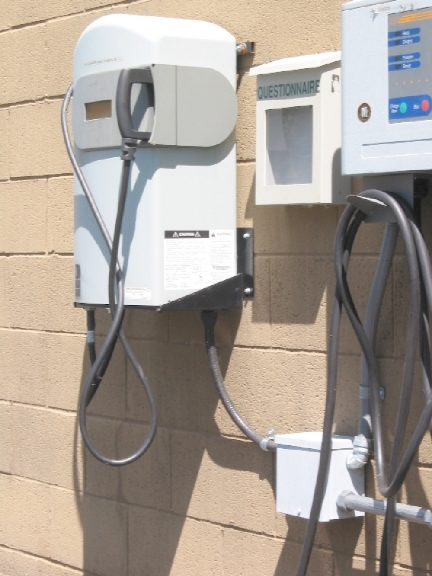 Closeup by Rob Stelling, 5/04.
---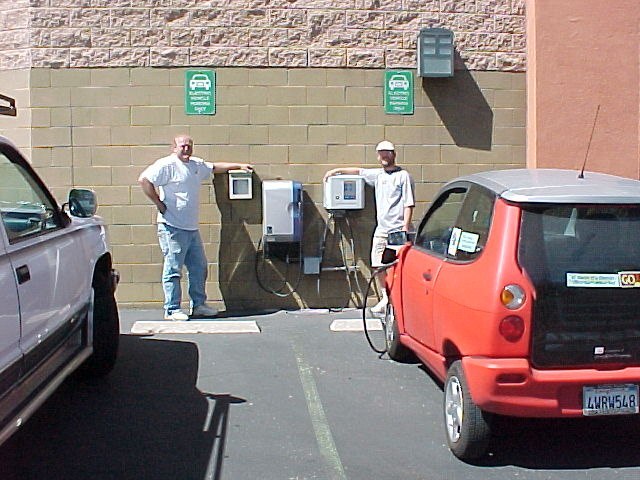 New SPI installation completed 6/8/04. Left Jerry Moore, EAA member and contractor, Right Nick Carter,. EAA North Bay Chapter President.
---
Check out the "I Was There" reports for this site, or leave one of your own, using the EVChargerMaps system. "I Was there" reports are important, even (or perhaps especially) if all is well. Please submit a report whenever you visit a charging station.
You can also use this feature to find nearby charging stations.
Back to top of page

---
Generated on Sunday, 1/30/2011, at 10:45:03 PM PT from evcnall.fp7.

Revision History:
5.19.08: Changed from SPI DOWN to OK. (Has been OK since 1/08.)
7/13/2007: Added "I Was There" report.
7/7/2007: Added "I Was There" report.
3/8/2007: Added "I Was There" report.
3/25/2006: Added "I Was There" report.
9/5/2005: Added "I Was There" report.
9/18/2004: Added "I Was There" report.
7/6/04: updated contacts and driving directions.
6/8/04: Added models and serials; changed from 1 LPI to 1 SPI.. added to charger location directions, updated lat/lon.
5/16/2004: Added "I Was There" report.
5/3/2004: Added "I Was There" report.
4/28/04: Updated contact information.
3/18/04: Added contact information.
9/1/03: Added text from EV1 Club site, deleted EV1 Club link., added ratings.
5/5/02: Added mschwabe comment.

Do you see any discrepancies or have any information for us about this page?
Please add comments, using the EVChargerMaps system. Click here.