EV Charger News
Charging Station Site Number 94550_1

Status as of 1/30/2011: In service.

Important! There may be more recent status comments in the "I Was There" reports and comments.
Click here to view or to add a comment.

Las Positas College
3033 Collier Canyon Road
Livermore, California 94550

Site ID: 94550_1 Thomas Bros. Maps Page and Grid™: 695-D3


Charging facilities at this site:
Inductive:
1 - Small paddle
Conductive:
1 - Avcon

<!- MapCase parameters: Keep list: , MapCase (Custom.jpg, Tiger, Costco): NNN Case number: 8-->

MAP OF CHARGING STATION LOCATION


Drag the map with your mouse, or double-click to center.





Lat:  37.71255 (N 37°42.753') (N 37°42'45.2")   (WGS 84 datum)
Lon:-121.80011 (W121°48.007') (W121°48'0.4")
         
(V: Determined by GPS site visit.)

Status:
1/25/05: LPI replaced with SPI.
2002-2-24: Bay Area Air Quality Management District, verified by Michael Schwabe.

Driving directions:
Interstate 580 to Airway Blvd north (away from Livermore Airport). At "T" make a right onto N. Canyons Parkway. Make a left onto Collier Canyon Rd. Follow Collier Canyon Rd until you see Los Positas' arch and electronic sign on the right.
Go to Google Local for driving directions to/and from any location, and to find points of interest.


How to find the charging station location once you have found the site:
Enter the college and make an immediate left. Follow the road and watch for some temporary modular buildings at the far end of Lot F. Chargers are directly in front of center module.

Nearby charging locations:

Use the EVChargerMaps system to find nearby charging sites, and to leave comments about this site.


Things to do:
There is a drink machine near by.

Contact information:
Jim Soles, head of Maintenance Chabot/Las Positas Community College District, cell phone is 510-715- 4234

Equipment model and serial number info:
Installed TAL S0001017 on 1/21/05. Removed GenII SM 4770 P9911 005C.
---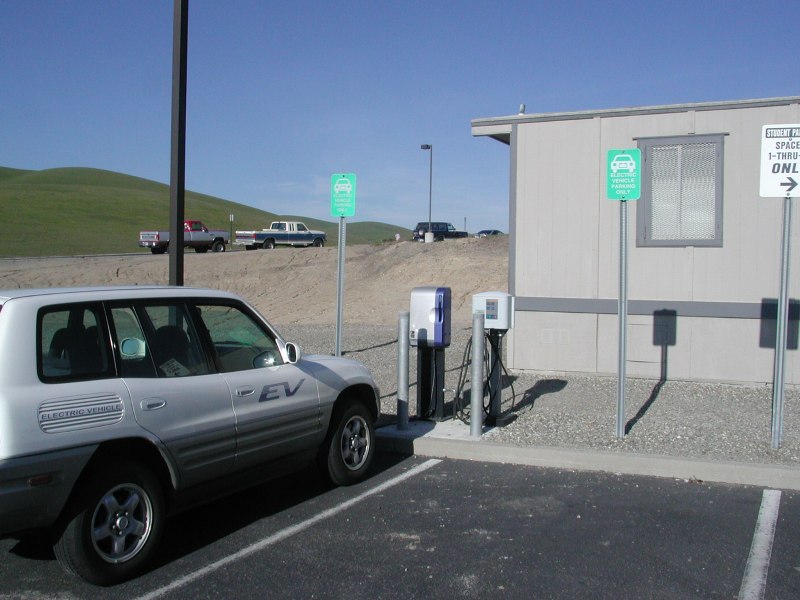 Closeup by Michael Schwabe after SPI install, 1/05.
---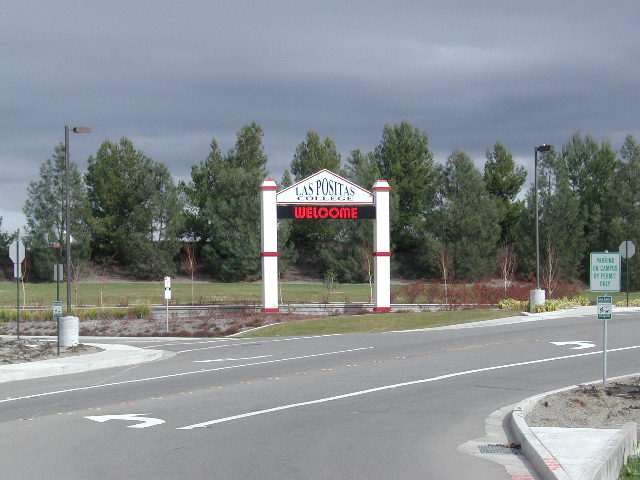 Campus entrance, by Michael Schwabe
---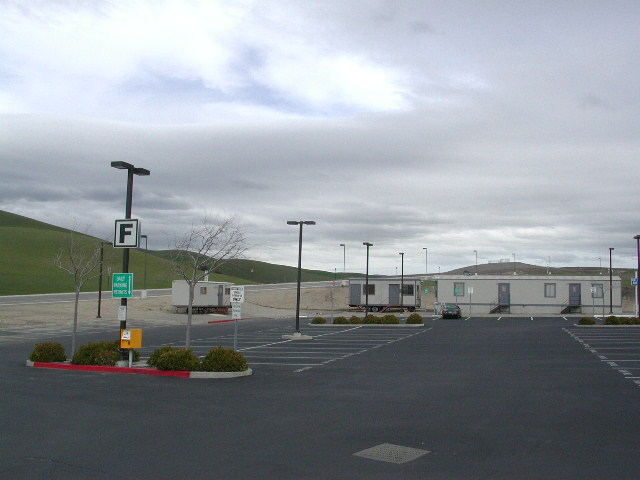 Site overview by Michael Schwabe.
---
Check out the "I Was There" reports for this site, or leave one of your own, using the EVChargerMaps system. "I Was there" reports are important, even (or perhaps especially) if all is well. Please submit a report whenever you visit a charging station.
You can also use this feature to find nearby charging stations.
Back to top of page

---
Further notes about this site are available by clicking here.

---
Generated on Sunday, 1/30/2011, at 10:44:59 PM PT from evcnall.fp7.

Revision History:
2/3/05: Updated model and serial nos, added new photo.
1/25/05: LPI replaced with SPI as part of CARB/SMUD redeployment project.
11/6/03: Editing correction in Status field -- repair incorrect URL.
7/3/03: Revised photos
7/11/02: Corrected notes, changed 580 to 680 per Karen Casner note of 4/6/02. twd.
4/30/02: added per TDdb
Do you see any discrepancies or have any information for us about this page?
Please add comments, using the EVChargerMaps system. Click here.