EV Charger News
Charging Station Site Number 94545_1

Status as of 1/30/2011: Entire location is out of service.

Important! There may be more recent status comments in the "I Was There" reports and comments.
Click here to view or to add a comment.

California State University East Bay
25800 Carlos Bee Blvd.
Hayward, California 94545

Site ID: 94545_1 Thomas Bros. Maps Page and Grid™: 712-C4


Charging facilities at this site:
Inductive:
1 - Large paddle
Conductive:
1 - Avcon
1 - Other
Other types: L?-??
See notes
Nominal supply voltage for this site: 208V

<!- MapCase parameters: Keep list: , MapCase (Custom.jpg, Tiger, Costco): NNN Case number: 8-->

MAP OF CHARGING STATION LOCATION


Drag the map with your mouse, or double-click to center.





Lat:  37.65339 (N 37°39.203') (N 37°39'12.2")   (WGS 84 datum)
Lon:-122.05363 (W122°03.218') (W122°03'13.1")
         
(V: Determined by GPS site visit.)

Status:
5/27/05, - charging is down as stations are being relocated - new locations not yet determined. -- Ed Thorpe.
2002-2-14: Bay Area Air Quality Management District, verified by Michael Schwabe.
See "Further notes" below for additional details, including "I was there report" 3/6/02.


Comments:
3/20/03: Additional EV outlet is a pseudo L6-30. It has the ground hook slot reversed, so cannot connect. Talked with facilities people, and apparently this has no power; was diverted for a kiosk. Provided them with a proper L6-30 recepticle and they are investigating providing proper power, even if they need to tap into other charging station and put in an A/B switch. Parking loosely enforced, but will ticket violators. Encountered 3 times when ICEd during month of Feb. Location is nice because Avcon cord can cover 3-4 parking spaces even though only one designated for EVs.
Parking only free for single designated space (also noted on pavement). Adjacent space has parking meter, just like regular parking spaces.
-- Ed Thorpe 8/28/02


Driving directions:

Go to Google Local for driving directions to/and from any location, and to find points of interest.


How to find the charging station location once you have found the site:
Actually only one designated space for EVs, with both Ind & Cond charging stations.

Nearby charging locations:

Use the EVChargerMaps system to find nearby charging sites, and to leave comments about this site.


Rating:
5 Raters:
Ed Thorpe 9/02
---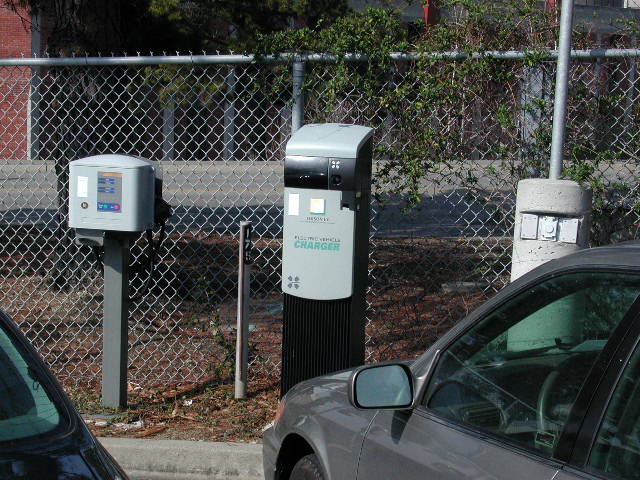 Site photo by Michael Schwabe.
---

Twistlock (unidentified type) photo by Michael Schwabe
---
Check out the "I Was There" reports for this site, or leave one of your own, using the EVChargerMaps system. "I Was there" reports are important, even (or perhaps especially) if all is well. Please submit a report whenever you visit a charging station.
You can also use this feature to find nearby charging stations.
Back to top of page

---
Further notes about this site are available by clicking here.

---
Generated on Sunday, 1/30/2011, at 10:44:54 PM PT from evcnall.fp7.

Revision History:
5/27/08: Changed from OK to DOWN LOC.
9/9/03: Corrected status format.
9/1/03 updated comments, added rating.
7/3/03: Revised photos
6/6/03: Added comments
4/30/02: added per TDdb
Do you see any discrepancies or have any information for us about this page?
Please add comments, using the EVChargerMaps system. Click here.