EV Charger News
Charging Station Site Number 94520_2

Status as of 1/30/2011: This site is out of service. It has been deleted from the active database.

Important! There may be more recent status comments in the "I Was There" reports and comments.
Click here to view or to add a comment.

Sun Valley Mall
(East garage, ground floor)
One Sun Valley Mall (Near Macy's Home Store)
Concord, California 94520

Site ID: 94520_2 Thomas Bros. Maps Page and Grid™: 592-C3


Charging facilities at this site:
Inductive:
2 - Large paddle
Conductive:
2 - Avcon
Nominal supply voltage for this site: 208V

<!- MapCase parameters: Keep list: , MapCase (Custom.jpg, Tiger, Costco): NNN Case number: 8-->

MAP OF CHARGING STATION LOCATION


Drag the map with your mouse, or double-click to center.





Lat:  37.96775 (N 37°58.065') (N 37°58'03.9")   (WGS 84 datum)
Lon:-122.05850 (W122°03.510') (W122°03'30.6")
         
(V: Determined by GPS site visit.)

Elevation: 45 feet.

Status:
All chargers removed, per Ed Thorpe, 4/07.

Comments:
4/07: All chargers have been removed, per Ed Thorpe.
9/15/05: Mall management has declined to give permission for a large-paddle charger to be upgraded to small paddle -- twd.
First time in 3 years, ICED on busy Day-after- Thanksgiving shopping. Space became available within 15 minutes.
--Makuto Tsuda 11/02

Driving directions:
Willow Pass Road exit off Hwy 680, enter mall, follow parking lot along Hwy 680, enter street level of parking structure. Across from Macys rear entrance.
Go to Google Local for driving directions to/and from any location, and to find points of interest.


How to find the charging station location once you have found the site:
Between Red 1 and Red 2 opposite Macy's Mens and Home Furnishings store

Nearby charging locations:

Use the EVChargerMaps system to find nearby charging sites, and to leave comments about this site.


Things to do:
Major mall -- shops and restaurants

Rating:
5 Raters:
Makuto Tsuda 11/02

Nixed record::
nixing notice period expired
---

by Tom Dowling
---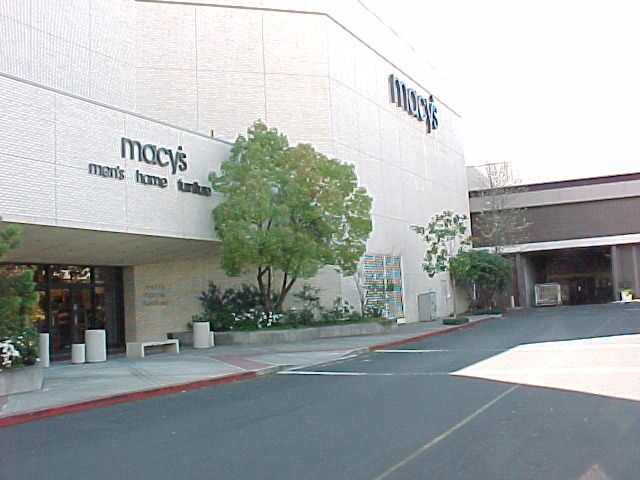 by Tom Dowling
---

by Tom Dowling
---
Check out the "I Was There" reports for this site, or leave one of your own, using the EVChargerMaps system. "I Was there" reports are important, even (or perhaps especially) if all is well. Please submit a report whenever you visit a charging station.
You can also use this feature to find nearby charging stations.
Back to top of page
View the

information for this site. (Historical -- no longer updated.)

---
Generated on Sunday, 1/30/2011, at 10:44:48 PM PT from evcnall.fp7.

Revision History:
5/7/08: nixing notice period expired.
7/13/2007: Added "I Was There" report.
5/6/2007: Added "I Was There" report.
5/6/07: Changed status to DOWN.
11/29/03: Minor lat/lon/alt changes.
9/16/03: Added comment.
9/1/03: added rating, comment.
11/8/02: replaced pic2b, added drive dirs. twd.

Do you see any discrepancies or have any information for us about this page?
Please add comments, using the EVChargerMaps system. Click here.