EV Charger News
Charging Station Site Number 94305_2

Status as of 1/30/2011: In service.

Important! There may be more recent status comments in the "I Was There" reports and comments.
Click here to view or to add a comment.

Stanford University, Track House Lot
Stanford Campus, L95
Palo Alto, California 94305

Site ID: 94305_2 Thomas Bros. Maps Page and Grid™: 811-C2


Pay parking. Details: Information needed.

Charging facilities at this site:
Inductive:
1 - Small paddle
Conductive:
1 - Avcon
Nominal supply voltage for this site: 240V

<!- MapCase parameters: Keep list: DC, MapCase (Custom.jpg, Tiger, Costco): YNN Case number: 4-->

MAP OF CHARGING STATION LOCATION


Drag the map with your mouse, or double-click to center.





Zoomed-in campus map by Bruce Parmenter. 8/9/03. Track House is at L-95, in the center of the map.


Lat:  37.43208 (N 37°25.925') (N 37°25'55.5")   (WGS 84 datum)
Lon:-122.16352 (W122°09.811') (W122°09'48.7")
         
(V: Determined by GPS site visit.)

Comments:
Nearby Track House has active 120 VAC outlets on the side . (Permission to use 120 VAC outlets is not secured.)

Driving directions:
See the campus map above. In the vicinity of L-95 on the map.
Go to Google Local for driving directions to/and from any location, and to find points of interest.


How to find the charging station location once you have found the site:
Location is E-10/11 on the Stanford Campus map. Specifically it is called "L-95" (lot 95) on the map. It's bordered by Galvez Street, Campus Drive East, and Nelson Road. Can enter the lot traveling north on Galvez St toward El Camino Real (away from campus) -- immediately turn right at the 1st driveway after you cross Campus Drive East. If traveling south on Galvez, you cannot enter the lot directly from Galvez St (there's a median in the road). Traveling south on Galvez St (toward campus), turn left at Nelson Rd and then immediately turn right into the parking lot. The chargers are next to the kiosk where visitors purchase parking permits ($1.50/hr M-F 6am-4pm).

It appears that during evenings and weekends that you can park for free. Since this lot is within an easy walk of Stanford Stadium, Sunken Diamond, Maples Pavilion, adjacent to the track, and an easy walk to Frost Amphlitheater, the lot may fill up quickly. So watch out for home football, baseball, basketball games, track meets, or outdoor concerts. However, it's a great location with easy access to El Camino (via Galvez St).
-- Kim Rogers 7/30/03

Nearby charging locations:

Use the EVChargerMaps system to find nearby charging sites, and to leave comments about this site.


Things to do:
Trackhouse store is nearby for snacks.
Near Stanford Stadium.
Campus Center and Embaradero Shopping Center are withing walking distance, a few blocks away, with plenty to do and places to eat.
Track House Sports Shop phone 650-327-8870.

Rating:
3 Raters:
Bruce Parmenter 8/03 (4); Curtis Pierce 8/03 (3) 12/03(2); Youngchul Park 1/04 (2); Ron Freund 5/04 (3)

Adopt-a-Charger sponsor info:
Sally Ahnger 5/04

Equipment model and serial number info:
TAL, ICS200B sn of TR08-01-019 config EV00601
---

Overview by Kim Rogers 7/30/03.
---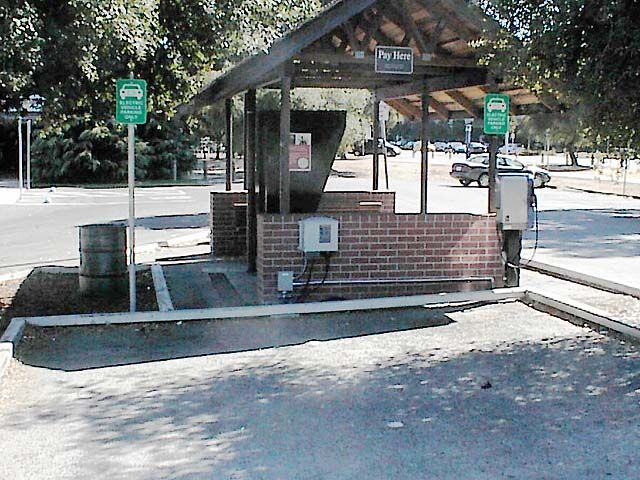 Parking spots by Bruce Parmenter 8/9/03.
---
Check out the "I Was There" reports for this site, or leave one of your own, using the EVChargerMaps system. "I Was there" reports are important, even (or perhaps especially) if all is well. Please submit a report whenever you visit a charging station.
You can also use this feature to find nearby charging stations.
Back to top of page

---
Generated on Sunday, 1/30/2011, at 10:45:12 PM PT from evcnall.fp7.

Revision History:
5/2/2008: Revised map notes. twd
7/13/2007: Added "I Was There" report.
3/8/2007: Added "I Was There" report.
3/25/2006: Added "I Was There" report.
9/5/2005: Added "I Was There" report.
9/18/2004: Added "I Was There" report.
7/10/04: Added serial number.
6/5/2004: Added "I Was There" report.
5/18/2004: Added "I Was There" report.
5/16/2004: Added "I Was There" report.
5/3/2004: Added "I Was There" report.
5/1/2004: Added "I Was There" report.
12/14/03: Updatded rating again.
9/26/03: Updated rating.
9/1/03: Added rating.
8/27/03: Added photos and comments; added lat/lon per Bruce Parmenter visit.

Do you see any discrepancies or have any information for us about this page?
Please add comments, using the EVChargerMaps system. Click here.