EV Charger News
Charging Station Site Number 94305_1

Status as of 1/30/2011: Entire location is out of service.

Important! There may be more recent status comments in the "I Was There" reports and comments.
Click here to view or to add a comment.

Stanford University, Tressider Lot
Stanford Campus, L39
Palo Alto, California 94305

Site ID: 94305_1 Thomas Bros. Maps Page and Grid™: 790-H7


Pay parking. Details: Information needed.

Charging facilities at this site:
Inductive:
1 - Small paddle
Conductive:
1 - Avcon

<!- MapCase parameters: Keep list: , MapCase (Custom.jpg, Tiger, Costco): NNN Case number: 8-->

MAP OF CHARGING STATION LOCATION


Drag the map with your mouse, or double-click to center.





Lat:  37.42348 (N 37°25.409') (N 37°25'24.5")   (WGS 84 datum)
Lon:-122.17103 (W122°10.262') (W122°10'15.7")
         
(V: Determined by GPS site visit.)

Lat/Lon notes:
GPS reading by Bruce Parmenter 8/9/03.

Status:
9/18/08: rayan reports: Both chargers have black plastic bags over them, with zip car signage above.
12/19/05: Michael Mora reports that conductive charger has been replaced.
8/9/03 Conductive charger out of order, reported for repair: Repetitous 'please adjust tension on cable' error message. Won't put power out. -- Bruce Parmenter, Ed Thorpe.

Comments:
Tressider is the Student Union building.
Parking meters: 10 mins for $.25, 8am-4pm except Sat. & Sun. Free other times.

Driving directions:
See campus map. In the vicinity of J-7 on the map.
Go to Google Local for driving directions to/and from any location, and to find points of interest.


How to find the charging station location once you have found the site:
Location is J-7 on the Stanford Campus map. Specifically it is called "L-39" (parking lot 39) on the map. It is located at Mayfield Ave & Lagunita Dr. The chargers are immediately across the street from the Tressider Union building, and have a parking meter. This lot is also near the Faculty Club and the Bechtel International Center. This lot is on the southern side of the campus. Pretty easy access from Junipero Serra Blvd (which turns into Foothill Expressway when you cross Page Mill Rd). So from Junipero Serra Blvd, turn into Campus Drive East and then left (north) onto Mayfield Ave. Turn right onto Lagunita Drive, and stay on the road (don't turn into the parking lot area). Lagunita will loop to the left, you will see the Tresidder Union on your right. Just past the handicaped parking you will see the EV Chargers. There is a paved walkway between the handicap parking and the EV chargers.
-- Kim Rogers 7/30/03.

Located in L39, north side, next to the vertical divider between the A and P lots, where Lagunita Dr letter is on map, near the letter "T".
Ed Thorpe, 8/5/03

Nearby charging locations:

Use the EVChargerMaps system to find nearby charging sites, and to leave comments about this site.


Things to do:
Tressider (student Union) is nearby for snacks, possibly change.

Driver reports requested to obtain serial number of replacement conductive charging station, and confirm operational; also need serial number of TAL charger.

Rating:
3 Raters:
Ed Thorpe 8/03 (3); Bruce Parmenter 8/03 (1); Arthur Keller 3/04(3)

Equipment model and serial number info:
TAL, ICS200B sn TR08-01-020 config EV00601
---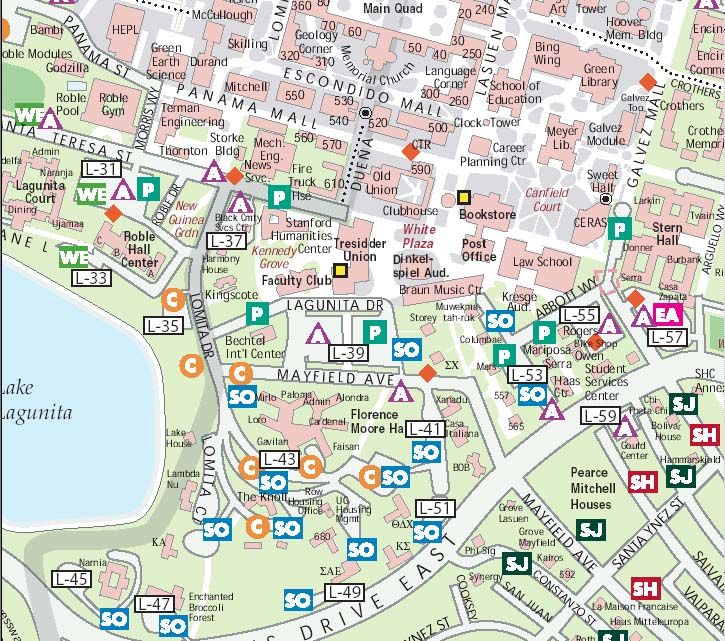 Zoomed-in campus map, by Bruce Parmenter, 8/9/03. Tressider is L-39, above Mayvfield Ave., in the center of the map.
---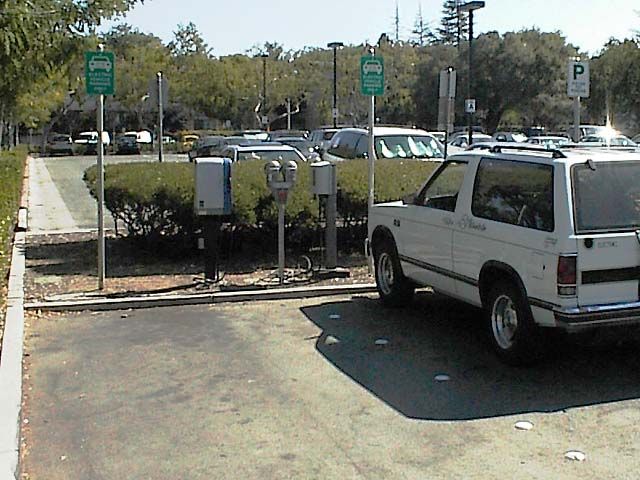 Parking spots, by Bruce Parmenter 8/9/03.
---
Check out the "I Was There" reports for this site, or leave one of your own, using the EVChargerMaps system. "I Was there" reports are important, even (or perhaps especially) if all is well. Please submit a report whenever you visit a charging station.
You can also use this feature to find nearby charging stations.
Back to top of page

---
Generated on Sunday, 1/30/2011, at 10:45:13 PM PT from evcnall.fp7.

Revision History:
9/25/08 Changed status from OK to DOWN LOC. See status comments.
7/13/2007: Added "I Was There" report.
3/8/2007: Added "I Was There" report.
3/25/2006: Added "I Was There" report.
12/19/05: Updated status details, changed status to OK from PROB LOC.
9/5/2005: Added "I Was There" report.
9/18/2004: Added "I Was There" report.
7/11/04: Added serial number.
5/16/2004: Added "I Was There" report.
5/3/2004: Added "I Was There" report.
5/1/2004: Added "I Was There" report. and Thos Bros. coordinates, updated rating informaiton.
9/1/03: Added rating.
8/27/03: Added charger location info.

Do you see any discrepancies or have any information for us about this page?
Please add comments, using the EVChargerMaps system. Click here.