EV Charger News
Charging Station Site Number 94133_1

Status as of 1/30/2011: In service.

Important! There may be more recent status comments in the "I Was There" reports and comments.
Click here to view or to add a comment.

Hyatt at Fisherman's Wharf
555 North Point St.
San Francisco, California 94133

Site ID: 94133_1 Thomas Bros. Maps Page and Grid™: 647-J3

Restricted parking. Details: Information needed.

Pay parking. Details: Information needed.

Charging facilities at this site:
Inductive:
1 - Large paddle
Conductive:
1 - Avcon
Nominal supply voltage for this site: 208V

<!- MapCase parameters: Keep list: , MapCase (Custom.jpg, Tiger, Costco): NNN Case number: 8-->

MAP OF CHARGING STATION LOCATION


Drag the map with your mouse, or double-click to center.





Lat:  37.80619 (N 37°48.371') (N 37°48'22.3")   (WGS 84 datum)
Lon:-122.41522 (W122°24.913') (W122°24'54.8")
         
(C: Computed from Address using MapBlast.)

Comments:
12/09/03, Frank Guillen: The Hyatt management would not allow use of charger unless you¹re a guest at the hotel.
Steve Casner, 9/02: The good part of valet parking is that the attendants will move other cars to allow access to the chargers. The bad part is that it costs $30 per night (as of 9/2002). Also, be aware that the attendants may pull the paddle when they think charging is finished rather than leaving it in place to provide support if the car needs it, so you would be well advised to leave a note and/or talk to the attendant.
ParkingQuest map, photo, and info.

Driving directions:

Go to Google Local for driving directions to/and from any location, and to find points of interest.


How to find the charging station location once you have found the site:
The Hyatt entrance is on North Point just west of Taylor. The chargers are located in the underground garage which is all valet parking, although the attendants have asked me to drive the car down myself each time I have been there. The large paddle inductive charger is on the end of the central section of parking spaces nearest the entrance, and the Avcon is one pillar further in.

Nearby charging locations:

Use the EVChargerMaps system to find nearby charging sites, and to leave comments about this site.


Things to do:
Knuckles Bar & Grill is in the Hyatt. Many restaurants, shops, and a variety of entertainments are within walking distance in the Fisherman's Wharf area.

Rating:
4 Raters:
Steve Casner 9/02
---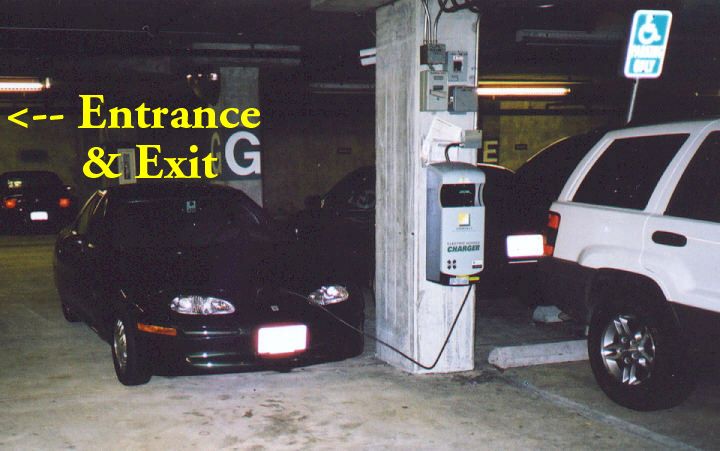 LPI by Steve Casner
---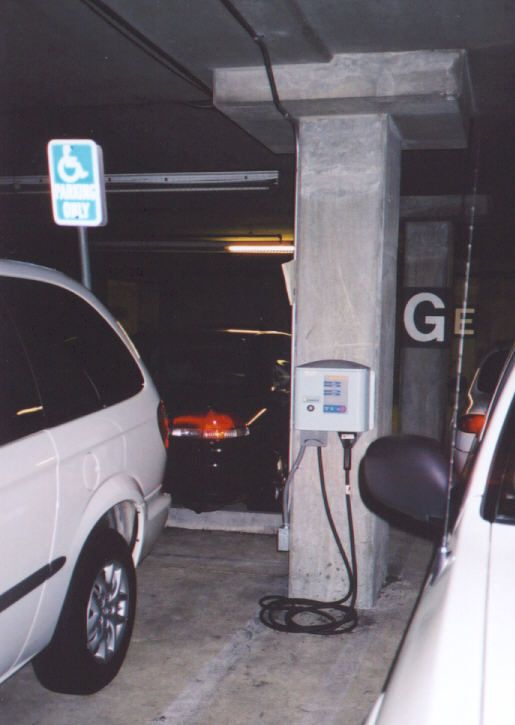 AVC by Steve Casner
---
Check out the "I Was There" reports for this site, or leave one of your own, using the EVChargerMaps system. "I Was there" reports are important, even (or perhaps especially) if all is well. Please submit a report whenever you visit a charging station.
You can also use this feature to find nearby charging stations.
Back to top of page
View the

information for this site. (Historical -- no longer updated.)

---
Generated on Sunday, 1/30/2011, at 10:45:24 PM PT from evcnall.fp7.

Revision History:
7/13/2007: Added "I Was There" report.
3/8/2007: Added "I Was There" report.
9/5/2005: Added "I Was There" report.
9/18/2004: Added "I Was There" report.
5/16/2004: Added "I Was There" report.
5/15/2004: Added "I Was There" report.
129/03: Added new comment.
9/1/03: Marked pay parking.
8/18/03: deleted out of date comments.
6/8/03: Added comments from Steve Casner
05/03/02: updated per TDdb.
04/21/02: imported from EV1 Club db.
Do you see any discrepancies or have any information for us about this page?
Please add comments, using the EVChargerMaps system. Click here.