EV Charger News
Charging Station Site Number 94129_3

Status as of 1/30/2011: In service.

Important! There may be more recent status comments in the "I Was There" reports and comments.
Click here to view or to add a comment.

Presidio: Main post
Anza Ave.. near Owen St.
San Francisco, California 94129

Site ID: 94129_3 Thomas Bros. Maps Page and Grid™: 648-A5


Charging facilities at this site:
Conductive:
2 - Other
Other types: 5-20 (2)

<!- MapCase parameters: Keep list: , MapCase (Custom.jpg, Tiger, Costco): NNN Case number: 8-->

MAP OF CHARGING STATION LOCATION


Drag the map with your mouse, or double-click to center.




---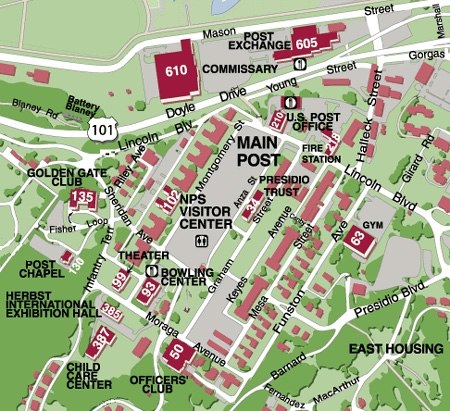 Streets and Trips map -- see IWT report.
---

Lat:  37.80034 (N 37°48.020') (N 37°48'01.2")   (WGS 84 datum)
Lon:-122.45778 (W122°27.467') (W122°27'28.0")
         
(C: Computed from Address using MapBlast.)

Lat/Lon notes:
Google Earth, per Steve Greenberg, 3/06.

Status:
3/06: 3 Yazaki chargers removed; now just two 5-20 120V receptacles. Th!nk Neighbors charge here.

Comments:
Location of Main Post is east part of Presidio where many important buildings gathered. The Main Post lies at the heart of the Presidio and marks the site of the Spanish presidio (garrison) established in 1776. This historic site served as a Spanish military base for 45 years, was under Mexican control for 25 years and, starting in 1846, was an important U.S. Army post for over 140 years. The Presidio's oldest existing buildings, dating back to 1861 and the Civil War, are found on the Main Post.

Driving directions:

Go to Google Local for driving directions to/and from any location, and to find points of interest.


How to find the charging station location once you have found the site:
Large parking lot in front of the Main Post

Nearby charging locations:

Use the EVChargerMaps system to find nearby charging sites, and to leave comments about this site.


Driver reports requested -- Need photos, driving directions, additional details.



---
Check out the "I Was There" reports for this site, or leave one of your own, using the EVChargerMaps system. "I Was there" reports are important, even (or perhaps especially) if all is well. Please submit a report whenever you visit a charging station.
You can also use this feature to find nearby charging stations.
Back to top of page

---
Generated on Sunday, 1/30/2011, at 10:45:28 PM PT from evcnall.fp7.

Revision History:
7/13/2007: Added "I Was There" report.
3/8/2007: Added "I Was There" report.
3/20/2006: Added "I Was There" report.
3/20/06: Added IWT. Removed 3 YAZ chargers. Added lat/lon. 10/16/04: New map, correction to OC types.
10/19/03: new site added, per Marc Geller.

Do you see any discrepancies or have any information for us about this page?
Please add comments, using the EVChargerMaps system. Click here.