EV Charger News
Charging Station Site Number 94086_2

Status as of 1/30/2011: In service.

Important! There may be more recent status comments in the "I Was There" reports and comments.
Click here to view or to add a comment.

Fry's Electronics
1077 E. Arques Ave.
Sunnyvale, California 94086

Site ID: 94086_2 Thomas Bros. Maps Page and Grid™: 812-H7


Charging facilities at this site:
Inductive:
1 - Small paddle
Conductive:
1 - Avcon

<!- MapCase parameters: Keep list: , MapCase (Custom.jpg, Tiger, Costco): NNN Case number: 8-->

MAP OF CHARGING STATION LOCATION


Drag the map with your mouse, or double-click to center.





Lat:  37.38204 (N 37°22.922') (N 37°22'55.3")   (WGS 84 datum)
Lon:-122.00169 (W122°0.1010') (W122°0.'06.1")
         
(V: Determined by GPS site visit.)

Status:
7/25/07: SPI was reported to have intermittent problems, and has been replaced.
11/21/06: New Avcon charging station installed, replacing defective small-paddle charger. Remaining small-paddle charger requires paddle to be inserted with the cable facing away from the center of a RAV4 EV.
5/4/06: Charger closest to store is now reported inoperative. May need to be reset. See IWT report.
4/04: Still a small problem with the charger closest to the store. PROB LOC. See IWT reports.
1/20/04: Changed to OK per Jerry Pohorsky report.
1/3/04: PROB LOC: The charger closest to the store has been inoperable (no LEDs) for the last two weeks -- Dallas Hodgson.


Comments:
11/21/06: Change from 2 SPI to 1 SPI, 1 AVC, add new photo.
5/1/04: See IWT reports for more details on problem with charger closest to the store. It will operate if inserted carefully in one direction.
2/15/04: Problem with charger closest to the store. May be a problem charging RAV4 EVs only. S10E reports working OK. Problem reported to CFCI for possible repair.
1/3/04: Dallas Hodgson: Fry's Sunnyvale EV sites are commonly ICE'd. In the past, there's been some police presence here but none during the holidays. Rude or disrespectful ICE drivers are common; prepare to fight for your charging space.
4/9/02: The chargers are the prime parking spots. There are 4 spots marked EV only even though there are only two chargers. This works out ok since at least 2 of the spots were ICEd when I got there.
- Arnold de Leon
01/24/02: Youngchul Park 11/26/01. Changed to Toyoda (TAL) chargers -- LPI (2) to SPI (2). The former "EV Parking only" signs were removed with the old Gen I chargers, so ICEing increased dramatically. Now, thanks to Alec Proudfoot, there are four NO PARKING AT ANY TIME - electric vehicles excepted signs, and ICEing seems to be back under control. 2/19/02: Ken Adelman reports new signs working very well.

Driving directions:
Fry's is located less than a mile from hiway 101. Take the Lawrence Expressway exit going south. Take a right on Scott Blvd. It is on the right side of the road two blocks down. Dru Sutton -- 11/11/98 Located at the northwest corner of Arques and Santa Trinata. Chargers are right near the main entrance, just next to the "police only" spaces. Accessible from 101 (take Lawrence south and west on Arques). Two inductive chargers reachable from 4 marked spaces. Icing is an ordinary occurrence, but usually one or more spaces are available. -- Terry Dowling 3/11/99
Go to Google Local for driving directions to/and from any location, and to find points of interest.


How to find the charging station location once you have found the site:
There are two chargers with 4 parking spots. Signs are now in place indicating EV parking only. The parking spot is right in front of the store entrance. There is always a crowd around the car when charging here. Charging available 24 hours.

Nearby charging locations:

Use the EVChargerMaps system to find nearby charging sites, and to leave comments about this site.


Things to do:
Lunch at Fry's electronics is surprisingly good.
There aren't any other stores within walking distance.

Rating:
4 Raters:
Alec Proudfoot 9/02 (5); Dallas Hodgson 1/04 (2); Karen Casner 3/04(4)

Adopt-a-Charger sponsor info:
Dallas Hodgson 1/04

Equipment model and serial number info:
TAL S0310049 replacement 9installed 7/25/07
TAL S0101033 operational, then intermittent problems -- removed 7/25/07
TAL SO101059. defective, replaced with Avcon 11/06
EVI ICS-200B Configuration #EV00607, Serial number: TR0998039
---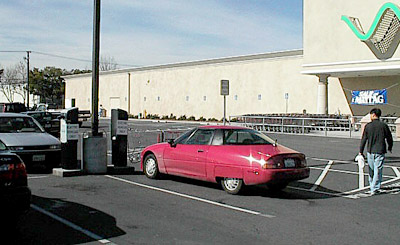 Terry Dowling, 3/99
---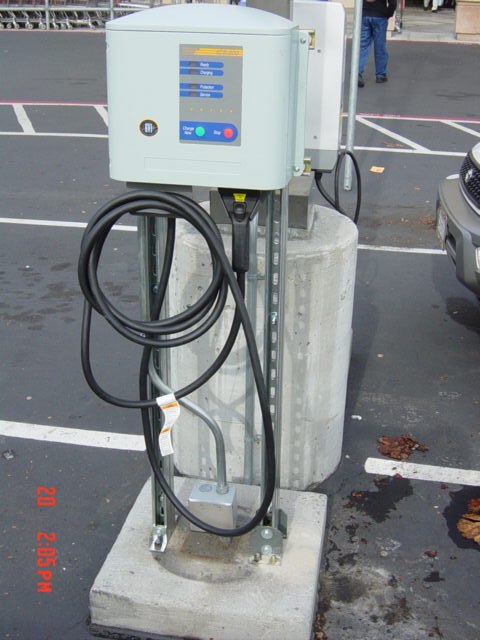 Michael Mora, 11/06



---
Check out the "I Was There" reports for this site, or leave one of your own, using the EVChargerMaps system. "I Was there" reports are important, even (or perhaps especially) if all is well. Please submit a report whenever you visit a charging station.
You can also use this feature to find nearby charging stations.
Back to top of page

---
Generated on Sunday, 1/30/2011, at 10:45:50 PM PT from evcnall.fp7.

Revision History:
7/25/2007: Added "I Was There" report.
7/13/2007: Added "I Was There" report.
3/8/2007: Added "I Was There" report.
5/3/2006: Added "I Was There" report.
3/25/2006: Added "I Was There" report.
9/5/2005: Added "I Was There" report.
9/18/2004: Added "I Was There" report.
5/16/2004: Added "I Was There" report.
5/3/2004: Added "I Was There" report.
5/1/2004: Added "I Was There" report.
2/15/04: Updated IWT, added photo.
1/20/04: Updated IWT, status.
1/3/04: Updated comments, charger location, status, driving directions, to do. Removed EV1 Club link.
9/1/03: Added rating.
6/5/03: removed change notation.
5/2/02: Added Comment
4/30/02: updated per TDdb
4/22/02: Imported from EV1 Club db

Do you see any discrepancies or have any information for us about this page?
Please add comments, using the EVChargerMaps system. Click here.