EV Charger News
Charging Station Site Number 93101_1

Status as of 1/30/2011: In service.

Important! There may be more recent status comments in the "I Was There" reports and comments.
Click here to view or to add a comment.

City of Santa Barbara - Downtown Lot #7
1115 Anacapa St.
Santa Barbara, California 93101

Site ID: 93101_1 Thomas Bros. Maps Page and Grid™: 996-A3


Pay parking. Details: Information needed.

Charging facilities at this site:
Inductive:
1 - Small paddle
Conductive:
1 - Avcon
Nominal supply voltage for this site: 208V

<!- MapCase parameters: Keep list: , MapCase (Custom.jpg, Tiger, Costco): NNN Case number: 8-->

MAP OF CHARGING STATION LOCATION


Drag the map with your mouse, or double-click to center.




---

by Tom Dowling
---

Lat:  34.42318 (N 34°25.391') (N 34°25'23.5")   (WGS 84 datum)
Lon:-119.70247 (W119°42.148') (W119°42'08.9")
         
(V: Determined by GPS site visit.)

Elevation: 64 feet.

Status:
Operational as of 3/26/06

Comments:
Parking Fee: First 75min free. $1.00 each additional hour, up to $15 per day max. Also free on holidays or late evening when the booth is not staffed.

Driving directions:
Going on #101 North pass the 'downtown' exit, but exit on Bath St. continue until Figueroa St. Turn Right. Pass State Street look for Parking Lot entrance on your Left-hand side.
Go to Google Local for driving directions to/and from any location, and to find points of interest.


How to find the charging station location once you have found the site:
The chargers are on the first level, southwest corner.

Nearby charging locations:

Use the EVChargerMaps system to find nearby charging sites, and to leave comments about this site.


Things to do:
Lots of Shopping and Restaurants along State street. Also good point to access public transit around the Santa Barbara area.
---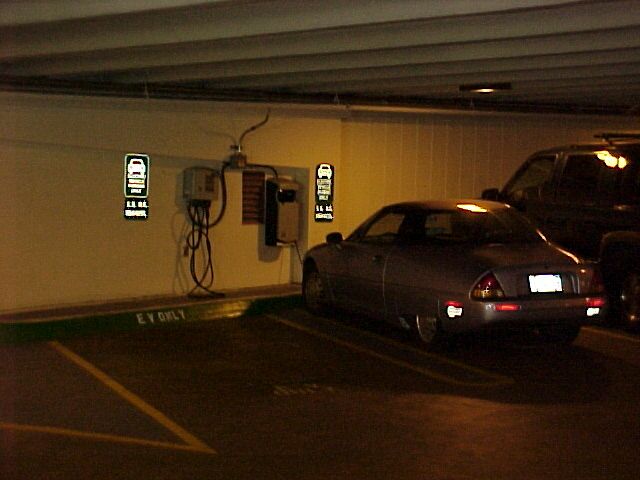 by Tom Dowling
---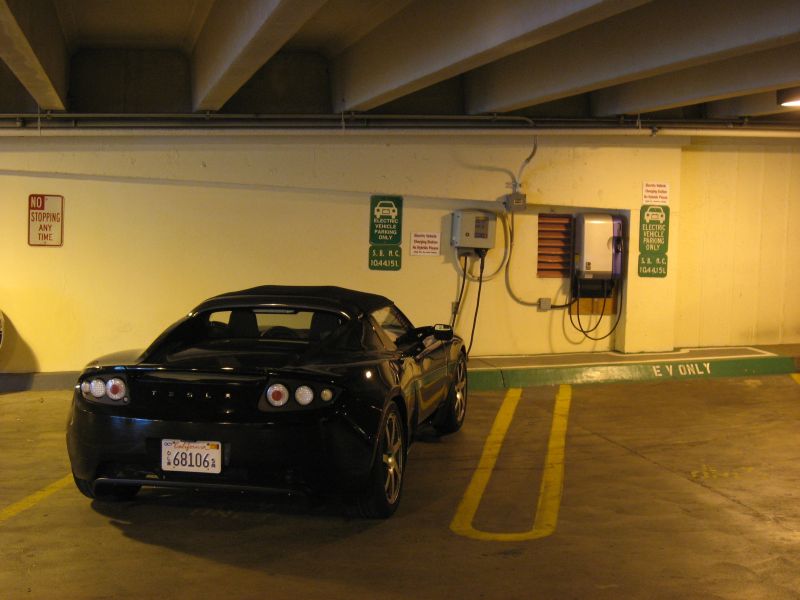 by JB Staubel, Tesla Motors, 5/25/08
---
Check out the "I Was There" reports for this site, or leave one of your own, using the EVChargerMaps system. "I Was there" reports are important, even (or perhaps especially) if all is well. Please submit a report whenever you visit a charging station.
You can also use this feature to find nearby charging stations.
Back to top of page
View the

information for this site. (Historical -- no longer updated.)

---
Generated on Sunday, 1/30/2011, at 11:11:44 PM PT from evcnall.fp7.

Revision History:
8/8/06: Rav charged OK -BT
3/26/06: RAV Charged OK -BT
2/7/06: added IWT from 7/23/05 - Bruce
1/25/04:Added ToDo,Comment per Mike Kane email 1/6/04, Updated rating per Michael Cross email 11/26/03, Added chloc per Ron Freund email 11/29/03. - Gil
10/20/03: LPI changed to SPI per Ed Miller email 10/17/03. - Gil
7/3/03: Added DrivDir per Makoto Tsuada IWT 11/24/03. - Gil
6/2/02: Changed LL, added altitude, action chg rec, removed hard coded iwt report, added 2 pix. TWD
Do you see any discrepancies or have any information for us about this page?
Please add comments, using the EVChargerMaps system. Click here.