EV Charger News
Charging Station Site Number 93030_1

Status as of 1/30/2011: Entire location is out of service.

Important! There may be more recent status comments in the "I Was There" reports and comments.
Click here to view or to add a comment.

Costco Oxnard
2001 East Ventura Blvd.
Oxnard, California 93030

Site ID: 93030_1 Thomas Bros. Maps Page and Grid™: 523-A2


Charging facilities at this site:
Inductive:
2 - Small paddle
Conductive:
1 - Avcon

<!- MapCase parameters: Keep list: CSH, DS, CSF, MapCase (Custom.jpg, Tiger, Costco): NNY Case number: 7-->

MAP OF CHARGING STATION LOCATION


Drag the map with your mouse, or double-click to center.





Costco Warehouse number 420
Click on the Costco map above to go to the Costco Web page for this site, with store hours, phone numbers, and warehouse features.

---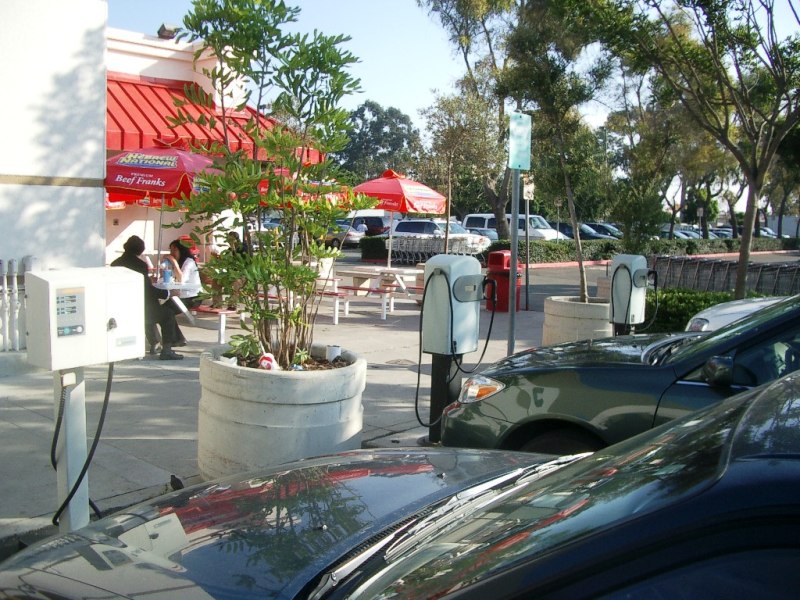 Photo by Bill Garner 11/19/05
---

Lat:  34.22510 (N 34°13.506') (N 34°13'30.4")   (WGS 84 datum)
Lon:-119.14888 (W119°08.933') (W119°08'56.0")
         
(V: Determined by GPS site visit.)

Status:
Two SPIs are nonfunctional. One with a broken paddle. Error codes on second. AVCON now inop as of 6/2008.

Comments:
Left SPI - cracked paddle now demolished. Right SPI giving E6 error code - but some have gotten full charge.

Driving directions:
North side of 101 Freeway between Rose Ave. Exit to the West and Rice Ave. Exit to the East.
Go to Google Local for driving directions to/and from any location, and to find points of interest.


How to find the charging station location once you have found the site:
Chargers are located at Southwest corner of store, adjacent to outside eating area.

Nearby charging locations:

Use the EVChargerMaps system to find nearby charging sites, and to leave comments about this site.


Things to do:
Shopping & many fast food outlets nearby, including Olive Garden. Frys electronics nearby.



---
Check out the "I Was There" reports for this site, or leave one of your own, using the EVChargerMaps system. "I Was there" reports are important, even (or perhaps especially) if all is well. Please submit a report whenever you visit a charging station.
You can also use this feature to find nearby charging stations.
Back to top of page
View the

information for this site. (Historical -- no longer updated.)

---
Generated on Sunday, 1/30/2011, at 10:57:17 PM PT from evcnall.fp7.

Revision History:
6/23/08: AVCON inop as per Bill Garner -BT
10/19/06: Right SPI no longer works. - Bruce
4/16/06: Right SPI may work as per Sheldon K. -BT
3/9/06: Both SPI down. -Bruce
11/19/05 Right SPI has error code E6-not charging. Left hand charger has cracked paddle per Bill Gardner - Bruce
9/1/05: 1 of 2 SPI cracked per Bob Seldon IWt - Bruce
11/3/03: Chgd status per Bob Seldon IWT 10/30/03. - Gil
10/20/03: Changed status per Marvin Campbell IWT 10/13/03. - Gil
8/30/03: Updated status per Charles McColl email 8/13/03. - Gil
3/27/03: Noted both SPIs are INOP per Charles McCollister email 3/5/03. --Gil
9/17/02: Added info from 9/5 iwt. -- Gil
6/4/02: Verified LL, added photo, added iwt report. Twd.
4/21/02: 2LPI chgd to 2SPI per Magnecharge list dated 02/01/27.
4/13/02 GD: Input from Ventura County ZEV Group Excel File.
Do you see any discrepancies or have any information for us about this page?
Please add comments, using the EVChargerMaps system. Click here.