EV Charger News
Charging Station Site Number 93023_1

Status as of 1/30/2011: In service.

Important! There may be more recent status comments in the "I Was There" reports and comments.
Click here to view or to add a comment.

Ojai City Hall
401 S. Ventura Bl.
Ojai, California 93023

Site ID: 93023_1 Thomas Bros. Maps Page and Grid™: 441-H7


Charging facilities at this site:
Conductive:
1 - Avcon
Nominal supply voltage for this site: 240V

<!- MapCase parameters: Keep list: , MapCase (Custom.jpg, Tiger, Costco): NNN Case number: 8-->

MAP OF CHARGING STATION LOCATION


Drag the map with your mouse, or double-click to center.





Lat:  34.44487 (N 34°26.692') (N 34°26'41.5")   (WGS 84 datum)
Lon:-119.24748 (W119°14.849') (W119°14'50.9")
         
(C: Computed from Address using MapBlast.)

Comments:
SPI removed, probably at time City of Ojai returned its RAV4EV. AVCON is still operational but may be blocked by City of Ojai's Ford Escape hybrid, but there is adjacent access to the charger.

Driving directions:
From Ojai Ave. (State Hwy 150) turn south on Ventura St. (2 blocks) then West on Santa Ana St. for 1/2 block. Charger is immediately in front of City Hall on north sided of Santa Ana Street.
Go to Google Local for driving directions to/and from any location, and to find points of interest.


How to find the charging station location once you have found the site:
Chargers are on Santa Ana St. across from City Hall.

Nearby charging locations:

Use the EVChargerMaps system to find nearby charging sites, and to leave comments about this site.


Things to do:
Adjacent to Libbey Park. Shopping & restaurants within walking distance.

Contact information:
Linda Fisher-Helton (805) 640-2564
ojaitrolley@juno.com

Rating:
4 Raters:
BT
---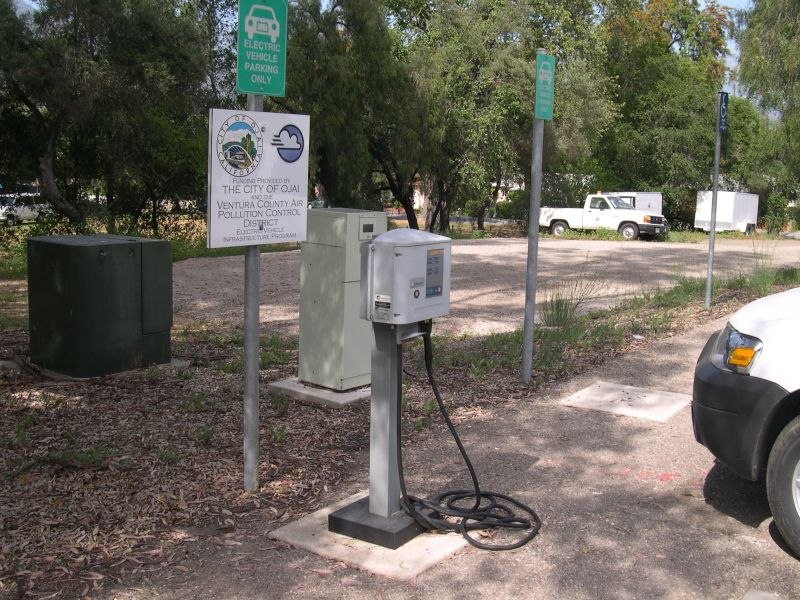 Photo by B. Tucker 5/14/2006
---
Check out the "I Was There" reports for this site, or leave one of your own, using the EVChargerMaps system. "I Was there" reports are important, even (or perhaps especially) if all is well. Please submit a report whenever you visit a charging station.
You can also use this feature to find nearby charging stations.
Back to top of page
View the

information for this site. (Historical -- no longer updated.)

---
Generated on Sunday, 1/30/2011, at 10:57:16 PM PT from evcnall.fp7.

Revision History:
5/15/06: SPI Removed per Bruce Tucker - BT 11/04/02: Chgd from LP to SP per Mike Regan email 10/23/02. -- GD 4/13/02 GD: Input from Ventura County ZEV Group Excel File. LL recomputed from driving directions using MapBlast.
Do you see any discrepancies or have any information for us about this page?
Please add comments, using the EVChargerMaps system. Click here.