EV Charger News
Charging Station Site Number 92806_1

Status as of 1/30/2011: One or more small-paddle chargers at this location have a problem. Some small-paddle service may be available here, however. Other facilities may also be available here. Check status and comments below.

Important! There may be more recent status comments in the "I Was There" reports and comments.
Click here to view or to add a comment.

Edison Field/ Metrolink/ Amtrak/ Sun Theater
2150 E. Katella Ave.
Anaheim, California 92806

Site ID: 92806_1 Thomas Bros. Maps Page and Grid™: 799-D2


Charging facilities at this site:
Inductive:
3 - Small paddle
Conductive:
1 - Avcon
Nominal supply voltage for this site: 208V

<!- MapCase parameters: Keep list: , MapCase (Custom.jpg, Tiger, Costco): NNN Case number: 8-->

MAP OF CHARGING STATION LOCATION


Drag the map with your mouse, or double-click to center.





Lat:  33.80336 (N 33°48.202') (N 33°48'12.1")   (WGS 84 datum)
Lon:-117.88150 (W117°52.890') (W117°52'53.4")
         
(S: Calculated using MS Streets & Trips.)

Status:
SPI in center position lights LEDs when paddle is inserted in vehicle, but does not appear to initate charging sequence. All other chargers appear to work correctly.

Comments:
Edison field was once Anaheim Statium and, before that, Angel Stadium. 2000 East Gene Autry Way is the western entrance to the stadium. Amtrak and Metrolink stations are near each other.

Driving directions:
To get to 2150 E. Katella Ave take the Katella exit from the 57 Orange Freeway and go west about two blocks. Or take the Orangewood Ave exit from the 57, go west on Orangewood, north on S. State College Blvd, then east on Katella Ave.
Go to Google Local for driving directions to/and from any location, and to find points of interest.


How to find the charging station location once you have found the site:
The chargers are adjacent to the sidewalk that runs in front of and to the east of the station entrance.

Nearby charging locations:

Use the EVChargerMaps system to find nearby charging sites, and to leave comments about this site.


Things to do:
There are rest rooms in the train station.

Rating:
4 Raters:
David Shelton

Equipment model and serial number info:
TAL TCG2000 Serial# S0001031
TAL TCG2000 Serial# S0001029
TAL TCG2000 Serial# S0101027
Avcon ICS200B Serial# TR1299043
---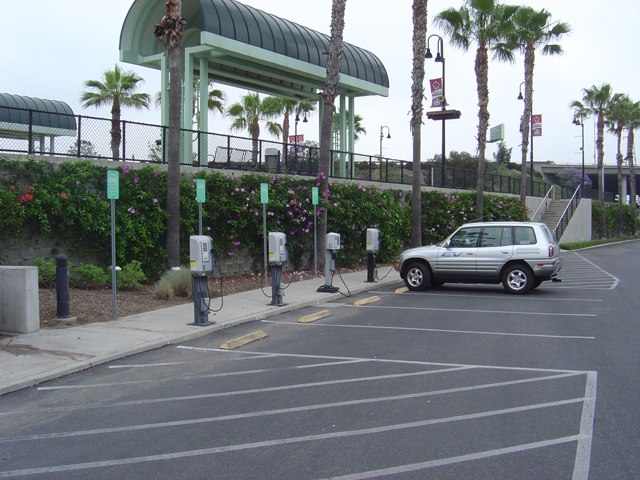 Charger Location - Mike Kane - Jun 06
---
Check out the "I Was There" reports for this site, or leave one of your own, using the EVChargerMaps system. "I Was there" reports are important, even (or perhaps especially) if all is well. Please submit a report whenever you visit a charging station.
You can also use this feature to find nearby charging stations.
Back to top of page
View the

information for this site. (Historical -- no longer updated.)

---
Generated on Sunday, 1/30/2011, at 11:00:32 PM PT from evcnall.fp7.

Revision History:
8/8/06: Chgd Lat/Lon per precisifier - mwk
6/20/06: Added new photo - mwk
4/13/06: Fixed M&S, chgd Action, Status per Mike Kane email 4/9/06. - Gil
3/22/05: Added serials, chgd ChLoc per Upgeya Pew IWT 3/13/05. - Gil
11/23/03: Cosmetic - Gil
11/18/03: Un-nixed (and nixed 92802_5), chgd name, L/L, added comments, IWT per TWD email 11/6/03 and David Shelton IWT 10/2/02. - Gil
9/19/02: Changed address per http://www.metrolinktrains.com, added DrivD. -- Gil
5/5/02: added note per TD msg 2/11/02
Do you see any discrepancies or have any information for us about this page?
Please add comments, using the EVChargerMaps system. Click here.