EV Charger News
Charging Station Site Number 92677_2

Status as of 1/30/2011: One or more small-paddle chargers at this location have a problem. Some small-paddle service may be available here, however. Other facilities may also be available here. Check status and comments below.

Important! There may be more recent status comments in the "I Was There" reports and comments.
Click here to view or to add a comment.

Costco Laguna Niguel Marketplace
27220 Heather Ridge
Laguna Niguel, California 92677

Site ID: 92677_2 Thomas Bros. Maps Page and Grid™: 952-A1


Charging facilities at this site:
Inductive:
1 - Small paddle
Conductive:
1 - Avcon

<!- MapCase parameters: Keep list: CSH, DS, CSF, MapCase (Custom.jpg, Tiger, Costco): NNY Case number: 7-->

MAP OF CHARGING STATION LOCATION


Drag the map with your mouse, or double-click to center.





Costco Warehouse number 690
Click on the Costco map above to go to the Costco Web page for this site, with store hours, phone numbers, and warehouse features.


Lat:  33.56752 (N 33°34.051') (N 33°34'03.1")   (WGS 84 datum)
Lon:-117.71059 (W117°42.635') (W117°42'38.1")
         
(T: Adjusted to apparent location on Tiger map.)

Status:
SPI works but appears to exhibit TAL "cycling" problem which may increase charge times.

Driving directions:
From 73 Tollway exit La Paz Rd and turn south. Turn right on Pacific Park Dr then left on Heather Ridge Rd. Costco entrance will be on your left.

Note: If you exit the 73 tollway at La Paz you will pay again to enter. Going south this is an unmanned booth that requires 75 cents, coins only.
Traveling from LA to San Diego, the 73 tollway is shorter but has a steep hill.
You are probably better off staying on the 405/5 Fwys.
Go to Google Local for driving directions to/and from any location, and to find points of interest.


How to find the charging station location once you have found the site:
Chargers are located to the left of the Tire Shop

Nearby charging locations:

Use the EVChargerMaps system to find nearby charging sites, and to leave comments about this site.


Things to do:
There is a shopping center on the other side of Heather Ridge with a Vons, Coco's and several retail stores.

Equipment model and serial number info:
TAL TCG2000 SN:S0207116
Avcon ICS200-B, Serial# TR11-00-108
---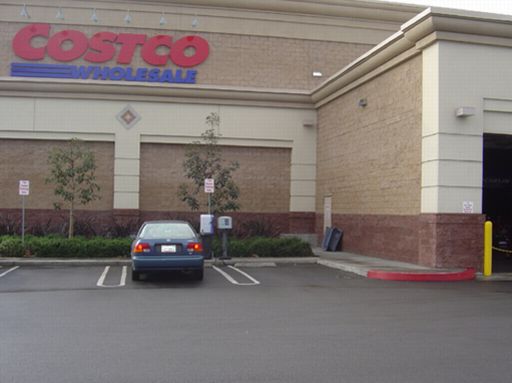 Mike Kane
---
Check out the "I Was There" reports for this site, or leave one of your own, using the EVChargerMaps system. "I Was there" reports are important, even (or perhaps especially) if all is well. Please submit a report whenever you visit a charging station.
You can also use this feature to find nearby charging stations.
Back to top of page

---
Generated on Sunday, 1/30/2011, at 11:00:51 PM PT from evcnall.fp7.

Revision History:
8/8/06: Chgd Lat/Lon per precisifier - mwk
3/20/05: Chgd Status, Action, added Ms&Ss per Mike Kane email 3/15/06. - Gil
12/31/05: Moved Comments to DrivDir. - Gil
2/18/04: Added StoreNum, adjusted L/L from (33.56733,-117.71058,T) to better match store map. - Gil
2/17/04: Added 1AVC, DrivDir, ChLoc, Comments, toDo, photo per Mike Kane email 2/2/04. - Gil
11/18/03: Chgd L/L per email (had copied from 92677_1), and deleted Pic1 per TWD email 11/6/03 - Gil
11/03/03: Created per Pete Prossen email 10/31/03 - Gil
Do you see any discrepancies or have any information for us about this page?
Please add comments, using the EVChargerMaps system. Click here.