EV Charger News
Charging Station Site Number 92660_2

Status as of 1/30/2011: One or more small-paddle chargers at this location have a problem. Some small-paddle service may be available here, however. Other facilities may also be available here. Check status and comments below.

Important! There may be more recent status comments in the "I Was There" reports and comments.
Click here to view or to add a comment.

Irvine Ranch Fashion Island
550 Newport Center Drive
Newport Beach, California 92660

Site ID: 92660_2 Thomas Bros. Maps Page and Grid™: 889-F7

Restricted parking. Details: Gated parking lot usually open after business hours and on weekends.

Charging facilities at this site:
Inductive:
3 - Small paddle

<!- MapCase parameters: Keep list: , MapCase (Custom.jpg, Tiger, Costco): NNN Case number: 8-->

MAP OF CHARGING STATION LOCATION


Drag the map with your mouse, or double-click to center.




---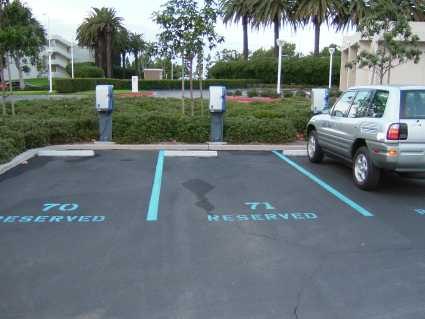 Photo: Wil Travel 11/04
---

Lat:  33.61648 (N 33°36.989') (N 33°36'59.3")   (WGS 84 datum)
Lon:-117.87084 (W117°52.250') (W117°52'15.0")
         
Lat/Lon notes:
Precisifier, based on DrivDir, ChLoc
Status:
One SPI does not power up when the paddle is removed.
Driving directions:
From Pacific Coast Hwy: Turn north (inland) on Newport Center Dr. Turn right to stay on Newport Center Dr. Turn right on Santa Rosa. Turn right into the Irvine Company Parking Lot.
From I-405S: Exit onto CA-73 "San Diego via Toll Road" (no toll necessary). Exit MacArthur Blvd toward Newport Beach. Turn right on San Joaquin Hills Rd. Turn left on Santa Rosa Rd. Turn left into Irvine Co. parking lot.
From I-405N: Exit Jamboree Rd and turn left. Turn left on MacArthur Blvd. Turn right on San Joaquin Hills Rd. Turn left on Santa Rosa Rd. Turn left into Irvine Co. parking lot.
Go to Google Local for driving directions to/and from any location, and to find points of interest.

How to find the charging station location once you have found the site:
Near entrance of parking lot on Santa Rosa Road, behind a large office building.
Nearby charging locations:

Use the EVChargerMaps system to find nearby charging sites, and to leave comments about this site.

Things to do:
Fashion Island Shopping Mall. Theaters. Restaurants.
Equipment model and serial number info:
TAL TCG2000 SN:S0001109
TAL TCG2000 SN:S0001122
TAL TCG2000 SN:S0001125
---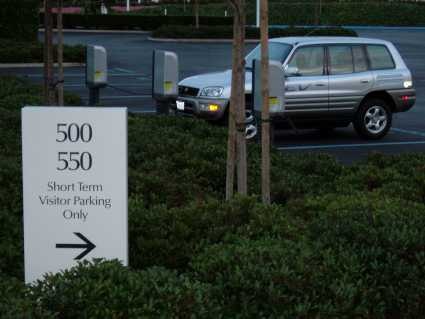 Photo: Wil Travel 11/04
---
Check out the "I Was There" reports for this site, or leave one of your own, using the EVChargerMaps system. "I Was there" reports are important, even (or perhaps especially) if all is well. Please submit a report whenever you visit a charging station.
You can also use this feature to find nearby charging stations.
Back to top of page

---
Generated on Sunday, 1/30/2011, at 11:00:54 PM PT from evcnall.fp7.

Revision History:
4/13/06: Deleted AVC, Chgd Action, Status, added DrivDir, ToDo, M&S per Mike Kane email 4/7/06. - Gil
. 3/13/06: Chgd 1 LPI to 3 SPI per Mike Kane email 3/9/06. - Gil
12/31/05: Moved Comments to Rpk. - Gil
10/31/05: Chgd 3 SPI to 1 AVC 1 LPI, Status, Action to LPI PROB per Avi Hershkovitz email 9/7/05. - Gil
5/13/05: Added TBMap per address, added to Rpk, ChLoc per Harvey Mushman IWT 4/29/05. - Gil
11/23/04: Added site per Wil Travel email 11/16/04. - Gil

Do you see any discrepancies or have any information for us about this page?
Please add comments, using the EVChargerMaps system. Click here.