EV Charger News
Charging Station Site Number 92660_1

Status as of 1/30/2011: In service.

Important! There may be more recent status comments in the "I Was There" reports and comments.
Click here to view or to add a comment.

Newport Fashion Island
1117 Newport Center Drive
Newport Beach, California 92660

Site ID: 92660_1 Thomas Bros. Maps Page and Grid™: 889-E7


Charging facilities at this site:
Conductive:
4 - Other
Other types: Two Coulomb J1772 see comments. Dual stations, 30A J1772 and 5-20 receptacle.
Nominal supply voltage for this site: 208V

<!- MapCase parameters: Keep list: , MapCase (Custom.jpg, Tiger, Costco): NNN Case number: 8-->

MAP OF CHARGING STATION LOCATION


Drag the map with your mouse, or double-click to center.




---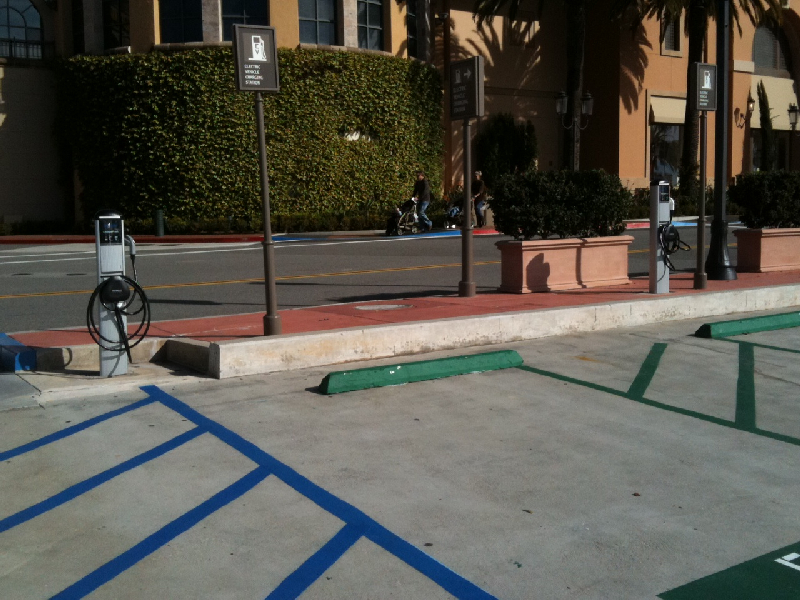 Photo: David Shelton, 12/2010. New Coulomb Level 1 and 2 stations.
---

Lat:  33.61486 (N 33°36.892') (N 33°36'53.5")   (WGS 84 datum)
Lon:-117.87717 (W117°52.630') (W117°52'37.8")
         
(V: Determined by GPS site visit.)

Status:
LPI upgraded to SPI 6/06; SPI replaced with Coulomb J1772 12/2010.

Comments:
12/24/10: david.shelton reports: IMPORTANT - I went yesterday morning to charge using the remaining Avcon, and found both chargers lying on the ground, uninstalled. I found the electrician, and it looks like 2 new Columb J1772 chargers will be installed there (should be there as of this writing). I don't know if they'll be part of ChargePoint and/or a pay-to-charge spot. It's somewhat sad, an end of another chapter, but definitely with a brighter future.

Driving directions:

Go to Google Local for driving directions to/and from any location, and to find points of interest.


How to find the charging station location once you have found the site:
In front of P F Chang's China Bistro

Nearby charging locations:

Use the EVChargerMaps system to find nearby charging sites, and to leave comments about this site.


Things to do:
Close to PCH. Lots to do. Shopping, Restaurants, Movies, etc...
---

Charger Location - Mike Kane - Jan 07 Previous configuration.
---
Check out the "I Was There" reports for this site, or leave one of your own, using the EVChargerMaps system. "I Was there" reports are important, even (or perhaps especially) if all is well. Please submit a report whenever you visit a charging station.
You can also use this feature to find nearby charging stations.
Back to top of page
View the

information for this site. (Historical -- no longer updated.)

---
Generated on Sunday, 1/30/2011, at 11:00:55 PM PT from evcnall.fp7.

Revision History:
12/24/2010: Changed SPI and AVC to zero. Changed OC to 2, pending database changes to include J1772. See comments.
5/12/07: Updated Photo info so it will display correctly - mwk
8/6/06: Changed LPI to SPI - mwk
10/31/05: Deleted Pic1 per Upgeya Pew IWT 10/9/05. - Gil
5/24/05: Chgd Address, ChLoc, Status, Action, Rating, Rater per Butch Pash IWT 5/14/05. - Gil
10/20/03: Chgd Status per Kevin Taylor email 10/8/03. - Gil
8/30/03: Avcon added, status inop, per Bud Raymond email 8/11/03. - Gil
2/21/03: Removed DOWN LOC flag per Mike Kane email 1/2/03. --Gil
5/5/02: Down per MK iwt 4/15/02
Do you see any discrepancies or have any information for us about this page?
Please add comments, using the EVChargerMaps system. Click here.