EV Charger News
Charging Station Site Number 91502_2

Status as of 1/30/2011: In service.

Important! There may be more recent status comments in the "I Was There" reports and comments.
Click here to view or to add a comment.

Burbank Public Works/ Community Development Dept.
333 E. Olive Ave.
Burbank, California 91502

Site ID: 91502_2 Thomas Bros. Maps Page and Grid™: 533-H7

Restricted parking. Details: Per Bob Van Hazelen, charger is open to the public after 6pm M-F and all day Sat & Sun

Charging facilities at this site:
Inductive:
1 - Small paddle

<!- MapCase parameters: Keep list: , MapCase (Custom.jpg, Tiger, Costco): NNN Case number: 8-->

MAP OF CHARGING STATION LOCATION


Drag the map with your mouse, or double-click to center.




---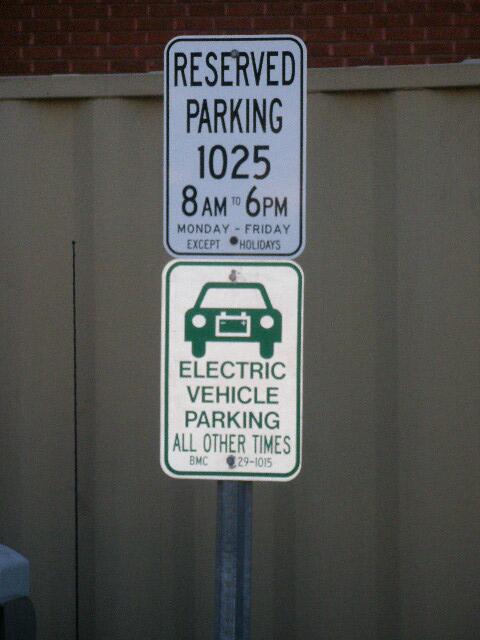 Signage detail. Bill Hopkins 12/07
---

Lat:  34.18261 (N 34°10.957') (N 34°10'57.4")   (WGS 84 datum)
Lon:-118.30734 (W118°18.440') (W118°18'26.4")
         
Lat/Lon notes:
Precisifier
Driving directions:
The chargers are in a large public parking lot behind the City Hall Annex building, which is on the corner of Olive and Third Streets. Entrance to the parking lot is from Olive Street, Third Street, or Orange Grove Avenue.
Go to Google Local for driving directions to/and from any location, and to find points of interest.

How to find the charging station location once you have found the site:
Access to the charger from 301 E. Olive parking lot is no longer possible, A large metal storage container has been moved into that corner of the lot. It just means charging can only be done from the 333 lot with no option if that space were iced.
Nearby charging locations:

Use the EVChargerMaps system to find nearby charging sites, and to leave comments about this site.

Things to do:
This lot is in the middle of downtown Burbank. There are restaurants and such on Olive and on the cross streets a few blocks west of the site.
Contact information:
Bob Van Hazelen, Manager of Public Works, 818.238.3838
Equipment model and serial number info:
Magnecharger Gen2+ SN:SM5276P0116010C
---

Entrance to 333 Lot. Charlie Martinez, 5/07
---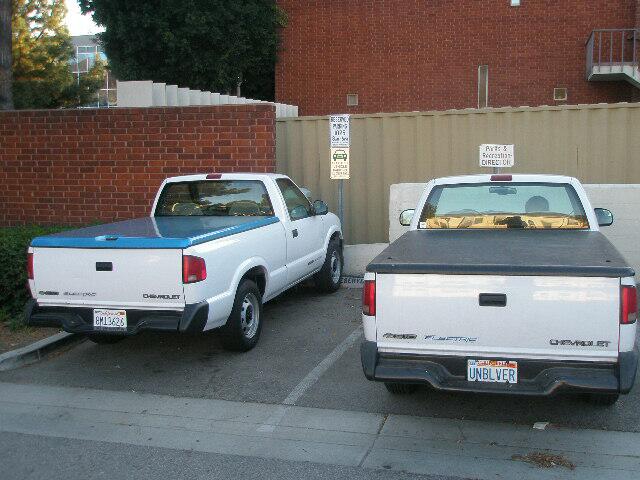 Charger site (charger is in front of left truck.) Bill Hopkins 12/07
---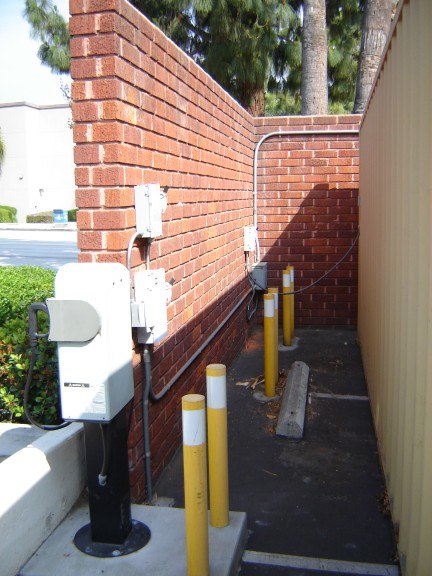 Old chargers location, now blocked. Charlie Martinez, 5/07
---
Check out the "I Was There" reports for this site, or leave one of your own, using the EVChargerMaps system. "I Was there" reports are important, even (or perhaps especially) if all is well. Please submit a report whenever you visit a charging station.
You can also use this feature to find nearby charging stations.
Back to top of page
View the

information for this site. (Historical -- no longer updated.)

---
Generated on Sunday, 1/30/2011, at 10:49:16 PM PT from evcnall.fp7.

Revision History:
1/24/08: Added new photos per Bill Hopkins email 12/10/07. - Gil
11/18/07: Deleted Comment, added Rpk per Bill Hopkins email 11/5/07. - Gil
6/27/07: Chgd ChLoc, Address, Site name per Charlie Martinez's email 5/16/07. - Gil 3/20/06: Chgd L/L, LLV, LLNote per Precisifier. Chgd ChLoc, added Ms&Ss per Mike Kane email 3/18/06. - Gil
10/20/05: Chgd Comment per site visit. - Gil
7/1/04: Added ToDo per Steve Greenberg IWT 5/14/04. - Gil
9/19/02: Changes per site visit today. -- GD
Do you see any discrepancies or have any information for us about this page?
Please add comments, using the EVChargerMaps system. Click here.