EV Charger News
Charging Station Site Number 91360_4

Status as of 1/30/2011: In service.

Important! There may be more recent status comments in the "I Was There" reports and comments.
Click here to view or to add a comment.

National Park Service
401 W Hillcrest Dr.
Thousand Oaks, California 91360

Site ID: 91360_4 Thomas Bros. Maps Page and Grid™: 526-E7


Charging facilities at this site:
Inductive:
2 - Small paddle
Conductive:
4 - Avcon

<!- MapCase parameters: Keep list: , MapCase (Custom.jpg, Tiger, Costco): NNN Case number: 8-->

MAP OF CHARGING STATION LOCATION


Drag the map with your mouse, or double-click to center.





Lat:  34.18528 (N 34°11.117') (N 34°11'07.0")   (WGS 84 datum)
Lon:-118.88333 (W118°53.000') (W118°53'00.0")
         
(V: Determined by GPS site visit.)

Status:
9/6/04: Park Service reports both SPI chargers are operating properly.
Second small-paddle charger (the one to the west) was dead. I reported this to the Park Service office. - Michael Cross 11/29/03.

Driving directions:
Follow the brown signs to the National Park Service. Take the Lynn Rd exit off the Ventura Fwy (101), turn east (right) onto Hillcrest. Take the first left you can (second stoplight) onto McCloud Ave. Go one short block to the Visitor Center driveway (A.K.A. Civic Center Drive) and drive to the parking lot at the top of the hill. The charging station is immediately to the right.
Go to Google Local for driving directions to/and from any location, and to find points of interest.


How to find the charging station location once you have found the site:
There is one parking stall for each of the SPIs, but there is a green striped stall between the two you could squeeze another car into. Each Avcon station is mounted between two stalls, and has two heads to service both.

Nearby charging locations:

Use the EVChargerMaps system to find nearby charging sites, and to leave comments about this site.


Things to do:
There is a nice view, and you can visit the Visitor Center during business hours, or walk down the hill to the Oaks Mall (maybe 1/2 mile total). Of course, you have to walk back UP the hill afterwards.

Rating:
4 Raters:
Michael Cross
---

Entrance to Lot
---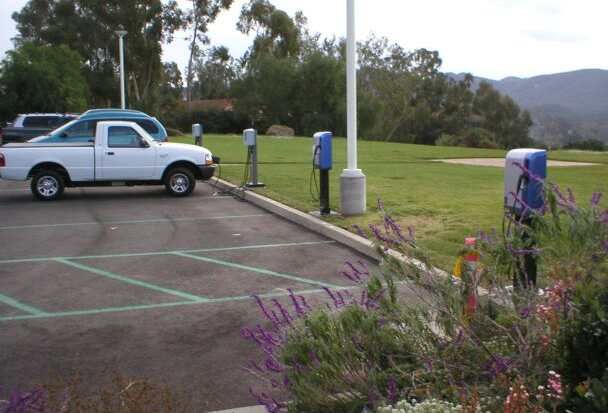 Charger Heaven
---
Check out the "I Was There" reports for this site, or leave one of your own, using the EVChargerMaps system. "I Was there" reports are important, even (or perhaps especially) if all is well. Please submit a report whenever you visit a charging station.
You can also use this feature to find nearby charging stations.
Back to top of page

---
Generated on Sunday, 1/30/2011, at 10:57:21 PM PT from evcnall.fp7.

Revision History:
10/24/05: Chargers operational -Bruce
9/6/04: Changed status to OK - twd
1/25/04: Added Status, Prob Loc. - Gil
2/20/03: Added per Bruce Tucker email 1/23/03. --Gil
Do you see any discrepancies or have any information for us about this page?
Please add comments, using the EVChargerMaps system. Click here.