EV Charger News
Charging Station Site Number 91355_3

Status as of 1/30/2011: In service.

Important! There may be more recent status comments in the "I Was There" reports and comments.
Click here to view or to add a comment.

Valencia Town Center Mall - near Penny's
24201 W. Valencia Blvd.
Valencia, California 91355

Site ID: 91355_3 Thomas Bros. Maps Page and Grid™: 4550-F


Charging facilities at this site:
Inductive:
1 - Small paddle

<!- MapCase parameters: Keep list: , MapCase (Custom.jpg, Tiger, Costco): NNN Case number: 8-->

MAP OF CHARGING STATION LOCATION


Drag the map with your mouse, or double-click to center.




---

Bill Hopkins 12/06. Note "JCPenny" top right behind tree.
---

Lat:  34.41645 (N 34°24.987') (N 34°24'59.2")   (WGS 84 datum)
Lon:-118.55769 (W118°33.461') (W118°33'27.7")
         
Lat/Lon notes:
Precisifier
Driving directions:
Come into the mall from Magic Mtn Parkway, down a little ways into the parking lot, and then a left and right and head down between the two sides of the mall buildings.
Go to Google Local for driving directions to/and from any location, and to find points of interest.

How to find the charging station location once you have found the site:
Between the back of JCPenny and the back of another part of the mall, near the entrance to a food court. Right next to a "Police Cruiser Parking Area". It's also by one of the areas where all the mall trash goes so the rolloff can pick it up. It does seem to be well-lit.
Nearby charging locations:

Use the EVChargerMaps system to find nearby charging sites, and to leave comments about this site.

Contact information:
(661) 254-0213, Jim Ward, Westfield Shopping
---

Bill Hopkins 12/06.
---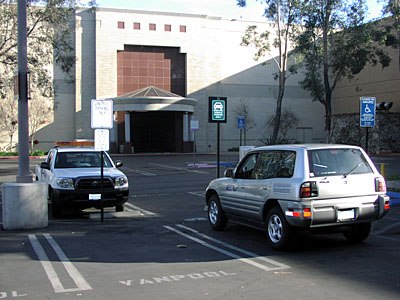 Bill Hopkins 12/06. Note in background pink slots for expectant mothers.
---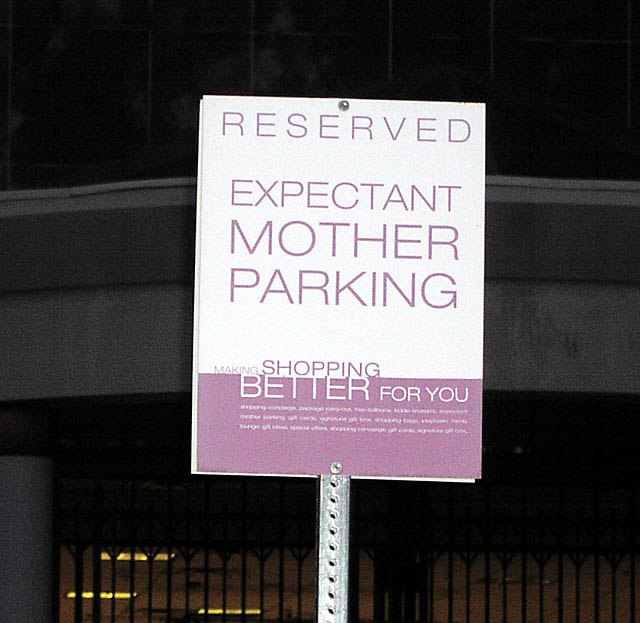 Bill Hopkins 1/07. Closeup of pink sign.
---
Check out the "I Was There" reports for this site, or leave one of your own, using the EVChargerMaps system. "I Was there" reports are important, even (or perhaps especially) if all is well. Please submit a report whenever you visit a charging station.
You can also use this feature to find nearby charging stations.
Back to top of page

---
Generated on Sunday, 1/30/2011, at 10:51:10 PM PT from evcnall.fp7.

Revision History:
2/18/07: Chgd L/L, LLV, LLNote, ChLoc per Bill Hopkins email 1/29/07. - Gil
1/29/07: Removed RpkNote. - Gil
1/28/07: Removed leading "3 " from the address field per TWD email 1/2/07. - Gil
12/30/06: New Location per several Bill Hopkins emails 12/2006. - Gil

Do you see any discrepancies or have any information for us about this page?
Please add comments, using the EVChargerMaps system. Click here.