EV Charger News
Charging Station Site Number 91342_2

Status as of 1/30/2011: In service.

Important! There may be more recent status comments in the "I Was There" reports and comments.
Click here to view or to add a comment.

Lake View Terrace Branch LA Library
12002 Osborne Ave
Sylmar, California 91342

Site ID: 91342_2 Thomas Bros. Maps Page and Grid™: 482-G6


Charging facilities at this site:
Inductive:
1 - Small paddle
Conductive:
1 - Avcon

<!- MapCase parameters: Keep list: , MapCase (Custom.jpg, Tiger, Costco): NNN Case number: 8-->

MAP OF CHARGING STATION LOCATION


Drag the map with your mouse, or double-click to center.




---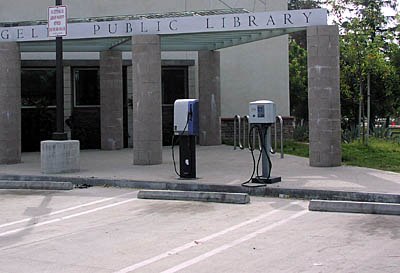 Bill Hopkins 8/07
---

Lat:  34.27272 (N 34°16.363') (N 34°16'21.8")   (WGS 84 datum)
Lon:-118.39417 (W118°23.650') (W118°23'39.0")
         
Lat/Lon notes:
Converted from email

Elevation: 9999 feet.
Comments:
Often ICEd during Library hours.
Driving directions:
Take Osborne exit off 210 Freeway, head south towards dam on Foothill blvd/Osborne, turn left on Osborne Ave, Library is on SE corner of intersection.
Go to Google Local for driving directions to/and from any location, and to find points of interest.

How to find the charging station location once you have found the site:
Corner of Foothill and Osborne Near intersection of 210 and 118 freeways.
Nearby charging locations:

Use the EVChargerMaps system to find nearby charging sites, and to leave comments about this site.

Things to do:
Library and Hansen Dam recreation area including public swimming pool for $1.50 per person. Kayaking and paddleboating on their pond. Great Park and children's playgrounds. Liquor store within walking distance.
Library opens 10AM except 12 PM Tue & Thu. Closed Sun. 210 Fwy close.
Rating:
5 Raters:
John Spradley
Equipment model and serial number info:
TAL S0210105 AVC ?
---
Check out the "I Was There" reports for this site, or leave one of your own, using the EVChargerMaps system. "I Was there" reports are important, even (or perhaps especially) if all is well. Please submit a report whenever you visit a charging station.
You can also use this feature to find nearby charging stations.
Back to top of page

---
Generated on Sunday, 1/30/2011, at 10:51:04 PM PT from evcnall.fp7.

Revision History:
4/17/08: Added Commentt per ab6oh email 3/25/08. - Gil
10/8/07: Chgd Action, Status, IWT per Bill Hopkins email 10/3/07. - Gil
9/1/07: New site per Earl email 8/16/07, added IWT, Rating, Raters pe John Spradley IWT 8/23/07. --Gil
Do you see any discrepancies or have any information for us about this page?
Please add comments, using the EVChargerMaps system. Click here.