EV Charger News
Charging Station Site Number 91320_3

Status as of 1/30/2011: In service.

Important! There may be more recent status comments in the "I Was There" reports and comments.
Click here to view or to add a comment.

Satwiwa Parking Lot
Via Goleta
Newbury Park, California 91320

Site ID: 91320_3 Thomas Bros. Maps Page and Grid™: 555-D5

Restricted parking. Details: Available 8am-Sunset

Charging facilities at this site:
Inductive:
1 - Small paddle

<!- MapCase parameters: Keep list: , MapCase (Custom.jpg, Tiger, Costco): NNN Case number: 8-->

MAP OF CHARGING STATION LOCATION


Drag the map with your mouse, or double-click to center.





Lat:  34.15290 (N 34°09.174') (N 34°09'10.4")   (WGS 84 datum)
Lon:-118.96541 (W118°57.925') (W118°57'55.5")
         
(V: Determined by GPS site visit.)

Driving directions:
Satwiwa is located in the Santa Monica Mountains Recreation Area - Rancho Sierra Vista - in the Dos Vientos area of Newbury Park. It opens at 8am and the gates are locked at sunset.

From the northbound Ventura Fwy (101), take the Lynn Road Exit and turn left.
Travel southwest 5.6 miles. Lynn Road will become Potrero Road just before the park entrance (but you won't notice the change). Turn Left (South) into Park (at Via Goleta) and pass under wooden archway.

From the southbound Ventura Fwy, take the Wendy Rd exit.
Follow Wendy for 4 miles until it intersects Lynn Rd
Turn right (west), and follow Lynn Rd for 1.7 miles to the park entrance.

Turn south at the brown park entrance sign onto the (unmarked) Via Goleta Rd, passing under a big entry arch. Follow the road for about .8 miles until it ends at a (usually locked) gate.
Turn left into the parking lot.
Go to Google Local for driving directions to/and from any location, and to find points of interest.


How to find the charging station location once you have found the site:
There is one SPI charger in front of the rest room building in the parking lot.

Nearby charging locations:

Use the EVChargerMaps system to find nearby charging sites, and to leave comments about this site.


Things to do:
Hike Big Sycamore Canyon and Rancho Sierra Vista
---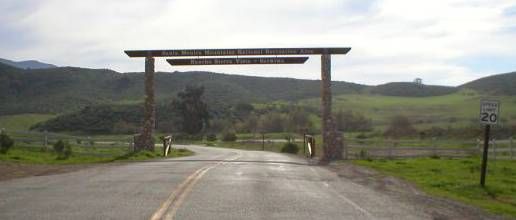 Park Entrance
---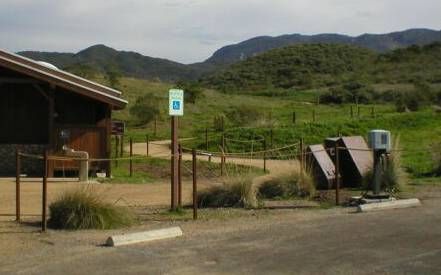 Trailhead & Charger
---

SPI Charger
---
Check out the "I Was There" reports for this site, or leave one of your own, using the EVChargerMaps system. "I Was there" reports are important, even (or perhaps especially) if all is well. Please submit a report whenever you visit a charging station.
You can also use this feature to find nearby charging stations.
Back to top of page

---
Generated on Sunday, 1/30/2011, at 10:57:15 PM PT from evcnall.fp7.

Revision History:
01/08/08 Power on as per B Tucker 12/10/07 Power off to charger as per B Tucker 10/19/06 SPI added, AVC deleted, changed address, updated lat/lon. -Bruce
8/7/04: Deleted Nixed record same ID, Thousand Oaks address. 2/21/03: Added per Bruce Tucker email 1/23/03. --Gil
Do you see any discrepancies or have any information for us about this page?
Please add comments, using the EVChargerMaps system. Click here.