EV Charger News
Charging Station Site Number 90731_2

Status as of 1/30/2011: Entire location is out of service.

Important! There may be more recent status comments in the "I Was There" reports and comments.
Click here to view or to add a comment.

LA Harbor Dep't HQ
425 S. Palos Verdes St
San Pedro, California 90731

Site ID: 90731_2 Thomas Bros. Maps Page and Grid™: 824-C5


Charging facilities at this site:
Inductive:
1 - Small paddle
2 - Large paddle
Conductive:
1 - Avcon
1 - Other
Other types: 110V

<!- MapCase parameters: Keep list: , MapCase (Custom.jpg, Tiger, Costco): NNN Case number: 8-->

MAP OF CHARGING STATION LOCATION


Drag the map with your mouse, or double-click to center.





Lat:  33.74024 (N 33°44.414') (N 33°44'24.8")   (WGS 84 datum)
Lon:-118.28146 (W118°16.887') (W118°16'53.2")
         
Lat/Lon notes:
Geocode from address
Status:
7/29/10: doug reports: CHARGERS GONE. Problem reported by Bill Kostman, POLA claims they are moving to the new chargers and removed the old ones proactively. They are 'getting rid' of their RAV4-EV; Officer Al Pilitsis will contact Director Geraldine Knatz about this issue and copy me on the email.
Comments:
The entrance to the garage says "Employees Only" however once inside, there is a "Public Parking for Charging EV's" sign pointing at the chargers.
To properly exit from the parking structure, use the EXIT at the other end from where you came in
Driving directions:

Go to Google Local for driving directions to/and from any location, and to find points of interest.

How to find the charging station location once you have found the site:
In the first floor garage, entrancefrom Palos Verdes Street between 3rd and 5th.
Nearby charging locations:

Use the EVChargerMaps system to find nearby charging sites, and to leave comments about this site.

Things to do:
Near Ports o' Call village
Driver reports requested Kinds of chargers, parking restrictions
Equipment model and serial number info:
Magnecharger Gen2+ SN:SM5276P0113003C
Avcon ICS200A SN:F0298020
Magnecharger Gen1 SN:FM2009744002R
Magnecharger Gen1 SN:FM2009744014R
---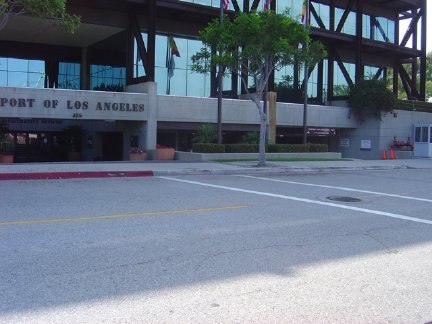 Mike Kane 6/12/05
---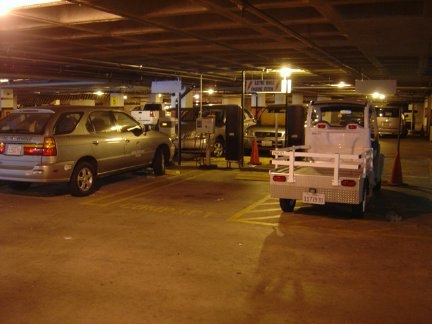 Mike Kane 4/2/06
---
Check out the "I Was There" reports for this site, or leave one of your own, using the EVChargerMaps system. "I Was there" reports are important, even (or perhaps especially) if all is well. Please submit a report whenever you visit a charging station.
You can also use this feature to find nearby charging stations.
Back to top of page

---
Generated on Sunday, 1/30/2011, at 10:50:46 PM PT from evcnall.fp7.

Revision History:
11/05/2010: changed to DOWN. See status.
10/21/09: Corrected County to Los Angeles (was Placer, in error). twd 2/25/08 Added IWT, comment per Bill Hopkins IWT 2/7/08. - Gil
4/6/06: Added Pic1, 1a, 1 OC, M&S per Mike Kane email 4/3/06. - Gil
5/24/05: Chgd SPI, LPI, AVC per Mike Kane email 5/23/05 - Gil
3/11/05: New per Brenda Nason email 3/7/05. - Gil
Do you see any discrepancies or have any information for us about this page?
Please add comments, using the EVChargerMaps system. Click here.