EV Charger News
Charging Station Site Number 90069_3

Status as of 1/30/2011: There is a problem at this location, but this location is partially in service. Check status and comments below.

Important! There may be more recent status comments in the "I Was There" reports and comments.
Click here to view or to add a comment.

West Hollywood Park
647 N. San Vicente Bl.
West Hollywood, California 90069

Site ID: 90069_3 Thomas Bros. Maps Page and Grid™: 592-H7


Charging facilities at this site:
Inductive:
1 - Small paddle
1 - Large paddle
Conductive:
2 - Avcon

<!- MapCase parameters: Keep list: , MapCase (Custom.jpg, Tiger, Costco): NNN Case number: 8-->

MAP OF CHARGING STATION LOCATION


Drag the map with your mouse, or double-click to center.





Lat:  34.08212 (N 34°04.927') (N 34°04'55.6")   (WGS 84 datum)
Lon:-118.38454 (W118°23.072') (W118°23'04.3")
         
Lat/Lon notes:
Precisifier
Status:
LPI missing center puck. Both Avcons are down. One has a missing cable, the other has a damaged Avcon connector (but can be made to work.) SPI works.
Comments:
Signs posted for 2 hour parking for park users, although city officials have indicated that the policy does not apply to EVs. Site frequently ICEd.
Driving directions:
From the 10, take Robertson Blvd. north. Turn right on Melrose, then left on San Vicente, then left into the parking lot.

From the 101, take Santa Monica Blvd. west to San Vicente and make a left. Go a hundred feet down the block and make a left into the parking lot.
Go to Google Local for driving directions to/and from any location, and to find points of interest.

How to find the charging station location once you have found the site:
Chargers are on the north edge of the parking lot south of the auditorium building.
Nearby charging locations:

Use the EVChargerMaps system to find nearby charging sites, and to leave comments about this site.

Adopt-a-Charger sponsor info:
Eric Bauer
---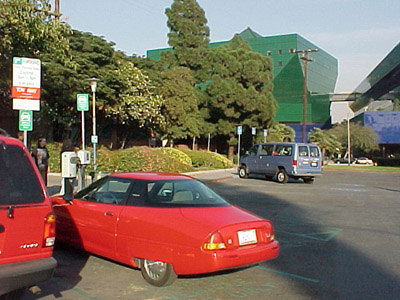 Photo by Tom Dowling 12/12/99
---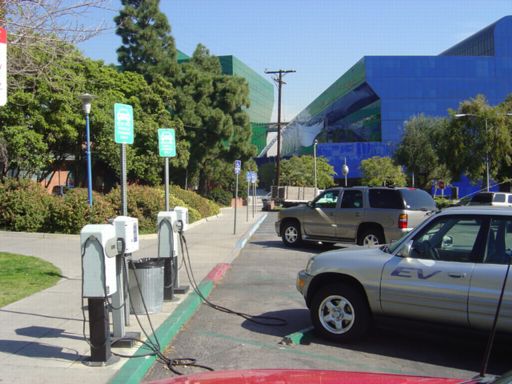 Photo by Mike Kane 2/14/04
---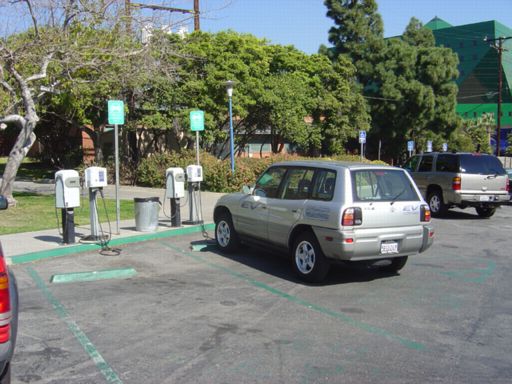 Photo by Mike Kane 2/14/04
---
Check out the "I Was There" reports for this site, or leave one of your own, using the EVChargerMaps system. "I Was there" reports are important, even (or perhaps especially) if all is well. Please submit a report whenever you visit a charging station.
You can also use this feature to find nearby charging stations.
Back to top of page
View the

information for this site. (Historical -- no longer updated.)

---
Generated on Sunday, 1/30/2011, at 10:51:17 PM PT from evcnall.fp7.

Revision History:
5/5/08: Added to Status per klim666 email 4/30/08. - Gil
4/17/08: Chgd Action, Status per site visit 4/4/08 and Chris Bangma email 6/28/07. - Gil
. - Gil
2/19/07: Added ICEing comment per Eric Bauer email 2/18/07. - Gil
2/18/07: Chgd Action, Status per Eric Bauer IWT 2/8/07. - Gil
1/27/07: Added SP Down per Bill Hopkins email 1/16/07. - Gil
7/27/06: Added Eric Bauer to adopta. -- Gil
12/13/05: Chgd L/L per Precisifier. - Gil
12/8/05: Chgd 2LPI to 1LPI 1SPI per TWD email 12/2/05. - Gil
2/17/04: Changed 2SPI to 2LPI, status note per Sam Thurber email 1/27/04, photos per Mike Kane email 2/14/04. - Gil
1/25/04: Added Status per Noel Adams IWT 11/27/03. - Gil
11/27/03: Noel Adams IWT 11/27/03 implies inductives are SPI. 2LPI chgd to 2SPI, DReq added and confirmation requested. - Gil
9/20/02: Added Comment. -- GD
Do you see any discrepancies or have any information for us about this page?
Please add comments, using the EVChargerMaps system. Click here.