EV Charger News
Charging Station Site Number 90045_7

Status as of 1/30/2011: One or more small-paddle chargers at this location have a problem. Some small-paddle service may be available here, however. Other facilities may also be available here. Check status and comments below.

Important! There may be more recent status comments in the "I Was There" reports and comments.
Click here to view or to add a comment.

LAX Lot 6
1 World Way Lot 6
Los Angeles, California 90045

Site ID: 90045_7 Thomas Bros. Maps Page and Grid™: 702-G5


Charging facilities at this site:
Inductive:
12 - Small paddle
7 - Large paddle
Conductive:
1 - Avcon

<!- MapCase parameters: Keep list: , MapCase (Custom.jpg, Tiger, Costco): NNN Case number: 8-->

MAP OF CHARGING STATION LOCATION


Drag the map with your mouse, or double-click to center.





Lat:  33.94327 (N 33°56.596') (N 33°56'35.8")   (WGS 84 datum)
Lon:-118.40315 (W118°24.189') (W118°24'11.3")
         
Lat/Lon notes:
Precisifier
Status:
Charger #14 is unreliable: ERR lights up after a while. Charger #15 is down: lights up but does not start to charge.
Comments:
In order to exit without payment, you must present EV information to the attendant. Print something up that says:
EV Driver Information for Free Parking in LAX:

Name
Address
Phone Number
CA Driver's License Number
Vehicle License Number
Make/Model of Vehicle

- Bill Mason 8/10/2001

Driving directions:
Enter Lot 6 from the Arrivals level and go all the way to the right. Take another right just before you get to the exit and you'll see them.

Alternatively, Enter Lot 5 on the Arrivals level from the N-S road, then drive straight through to Lot 6.
Go to Google Local for driving directions to/and from any location, and to find points of interest.


How to find the charging station location once you have found the site:
Follow Arrivals level road just PAST the Theme Restaurant, then turn LEFT into LOT 5/6, then enter Lot 5 just before the stoplight.
Proceed straight through to Parking Structure 6. Chargers are straight ahead.

Nearby charging locations:

Use the EVChargerMaps system to find nearby charging sites, and to leave comments about this site.


Things to do:
The restaurant "Encounters" is in the center of LAX in the circular top of the "Theme Building." Not cheap, but great food, great service, and impressive ambiance.

For a no-frills meal, also in the Theme Building but on the ground level 90° to the right of the main entrance, the employees cafeteria has OK food at good prices. Airport employees with ID's get 20% off.

---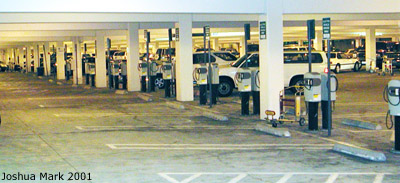 LAX Lot 6 (south row)
---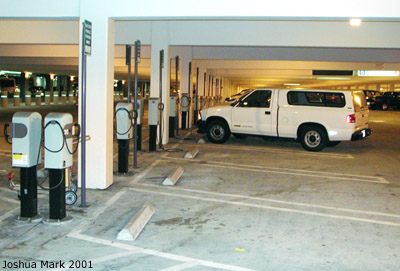 LAX Lot 6 (north row)
---
Check out the "I Was There" reports for this site, or leave one of your own, using the EVChargerMaps system. "I Was there" reports are important, even (or perhaps especially) if all is well. Please submit a report whenever you visit a charging station.
You can also use this feature to find nearby charging stations.
Back to top of page
View the

information for this site. (Historical -- no longer updated.)

---
Generated on Sunday, 1/30/2011, at 10:50:04 PM PT from evcnall.fp7.

Revision History:
1/24/08: Chgd Status per Larry Paul email 1/18/08. - Gil
10/8/07: CHgd Action, Status per Chris Yoder email 9/14/07. - Gil
9/1/07: Chgd Action, Status per malcolm Field email 7/25/07. - Gil
6/8/06: Chgd ChLoc per Bruce Tucker IWT 5/26/06. - Gil
12/31/05: Adjusted L/L per Precisifier. - Gil
3/24/05: Added Status per John Alto IWT 3/23/05, LLV to T. - Gil
11/04/02: Changed LL per TB Map loc. --Gil
10/02/02: Changed SiteName. -- Gil
9/20/02: Added ChLoc. -- Gil
9/5/02: Changed SPI/LPI counts per my visit this morning. - Gil
9/2/02: Added free parking instructions - Gil
5/20/02: 10(!) Spi, not 2 LPI, per magnecharge list
Do you see any discrepancies or have any information for us about this page?
Please add comments, using the EVChargerMaps system. Click here.