EV Charger News
Charging Station Site Number 90024_2

Status as of 1/30/2011: One or more conductive charging stations at this location have a problem. Some conductive charging service may be available here, however. Other facilities may also be available here. Check status and comments below.

Important! There may be more recent status comments in the "I Was There" reports and comments.
Click here to view or to add a comment.

Westwood Village Garage
1036 Broxton Ave.
Los Angeles, California 90024

Site ID: 90024_2 Thomas Bros. Maps Page and Grid™: 632-A3

Restricted parking. Details: Hours of operation:
Closes Sun - Thurs at 12:00am
Closes Fri and Sat at 2:30am


Pay parking. Details: First TWO hours free.
Each 20 min $1.50
Merchant validation may be used
Daily max $8.00
Entering after 6:00pm any day is $3.00 flat rate (no free hours nor merchant validation apply)
Operated by City of Los Angeles Parking Services.

Charging facilities at this site:
Inductive:
1 - Small paddle
Conductive:
2 - Avcon
1 - Other
Other types: 5-15 120v 15a GFI duplex receptacle

<!- MapCase parameters: Keep list: , MapCase (Custom.jpg, Tiger, Costco): NNN Case number: 8-->

MAP OF CHARGING STATION LOCATION


Drag the map with your mouse, or double-click to center.




---

The entrance from Broxton. -- Bill Hopkins 10/2007
---

Lat:  34.06190 (N 34°03.714') (N 34°03'42.8")   (WGS 84 datum)
Lon:-118.44644 (W118°26.786') (W118°26'47.2")
         
Status:
One Avcon is broken.
Driving directions:

Go to Google Local for driving directions to/and from any location, and to find points of interest.

How to find the charging station location once you have found the site:
After entering the parking structure, drive generally straight ahead and DOWN, then immediately right. If you swing wide on that turn, you should be able to glide in to the SPI with one pass. LPI is 8 spaces away.
Nearby charging locations:

Use the EVChargerMaps system to find nearby charging sites, and to leave comments about this site.

Contact information:
Maintenance contact is Jose Flores (213) 216-9813.
Equipment model and serial number info:
TAL: S0310084
AVCON #1 (next to TAL, broken): F0398025
AVCON #2: F0398027
(Note: could not tell if that second digit was a "3" or a "9"on the AVCON serial numbers. At first look, they appeared to be 9s. Any help?)

GEN1: WM2009728014R
---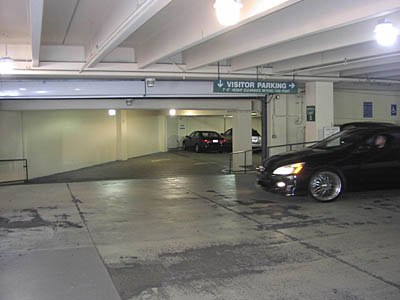 On entering. Chargers are down then right -- Bill Hopkins 10/2007
---

Chargers on wall, cars exiting on right -- Bill Hopkins 10/2007
---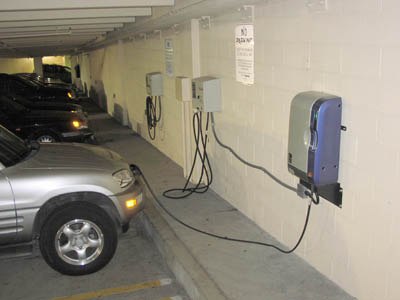 Chargers. LPI is at left in far background. -- Bill Hopkins 10/2007
---
Check out the "I Was There" reports for this site, or leave one of your own, using the EVChargerMaps system. "I Was there" reports are important, even (or perhaps especially) if all is well. Please submit a report whenever you visit a charging station.
You can also use this feature to find nearby charging stations.
Back to top of page
View the

information for this site. (Historical -- no longer updated.)

---
Generated on Sunday, 1/30/2011, at 10:50:18 PM PT from evcnall.fp7.

Revision History:
1/2/2011: /changed LPI from 1 to 0 per report from citroenroen.
12/2/07: Deleted Dreq, fixed M&S & Caption. - Gil
11/18/07: Chgd Action to AVC PROB, AVC from 1 to 2, Status, Added Rpk & PPk, OC, OCx, ModelsAndSerials, chgd ChLoc per Bill Hopkins email 10/17/07. - Gil
11/5/06: Chgd 2 LPI to 1 LPI & 1 SPI per Tom Dowling email 10/22/06. - Gil
6/20/06: Chgd Action, Status per Richard Kelly IWT 6/9/06. - Gil
5/16/06: Chgd Action, Status, Contact per Richard Kelly email 5/14/06. - Gil
06/05/04: Chgd SiteName from "Westwood Village" per William Kostman fax - Gil
3/29/03: Chgd 5LPI, 5AVC to 2LPI, 1AVC per KFried email 3/28/03. --Gil
9/20/02: Changed Sitename, added ChLoc. -- GD
Do you see any discrepancies or have any information for us about this page?
Please add comments, using the EVChargerMaps system. Click here.