EV Charger News
Charging Station Site Number 90012_5

Status as of 1/30/2011: In service.

Important! There may be more recent status comments in the "I Was There" reports and comments.
Click here to view or to add a comment.

LADWP Parking
111 North Hope St.
Los Angeles, California 90012

Site ID: 90012_5 Thomas Bros. Maps Page and Grid™: 634-F3


Pay parking. Details: Parking is free for EVs.

Charging facilities at this site:
Inductive:
13 - Small paddle
Conductive:
1 - Other
Other types: 5-20 14-50

<!- MapCase parameters: Keep list: , MapCase (Custom.jpg, Tiger, Costco): NNN Case number: 8-->

MAP OF CHARGING STATION LOCATION


Drag the map with your mouse, or double-click to center.





Lat:  34.05845 (N 34°03.507') (N 34°03'30.4")   (WGS 84 datum)
Lon:-118.24895 (W118°14.937') (W118°14'56.2")
         
Lat/Lon notes:
Precisifier
Comments:
Parking is free for EVs.
1/11/04: Directions from the lot attendant if there during the day was to take a ticket and write "Here for charging EV" and your license plate number on the back.-- Mike Kane
11/14/03: Twice, we've charged at the LADWP building. Both times, the guard let us in free when we said we were there to charge. I don't know if that's their normal rule, but it was pretty easy to convince them. -- Paul Scott
Driving directions:
The lot is located on the west side of Hope Street, just south of Temple. It's a public parking lot associated with the large LADWP building. The entrance is on Hope street directly across from the Music Center Bldg (the old one, not the new Disney Music Hall located two blocks further up Hope).
Go to Google Local for driving directions to/and from any location, and to find points of interest.

How to find the charging station location once you have found the site:
The Chargers are located under the high-rise building at the south end of the parking lot. More chargers are along the outside wall near post D-27.
Nearby charging locations:

Use the EVChargerMaps system to find nearby charging sites, and to leave comments about this site.

Things to do:
Both the Music Center and the new Disney Music Hall are a short walk and many of the high-rises in the financial district are within walking distance.
Rating:
5 Raters:
Paul Scott
---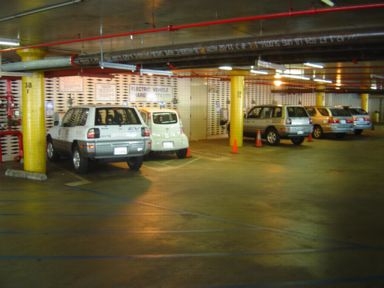 Photo by Mke Kane
---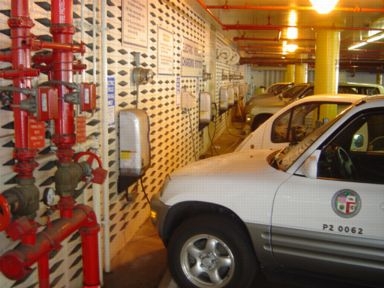 Photo by Mke Kane
---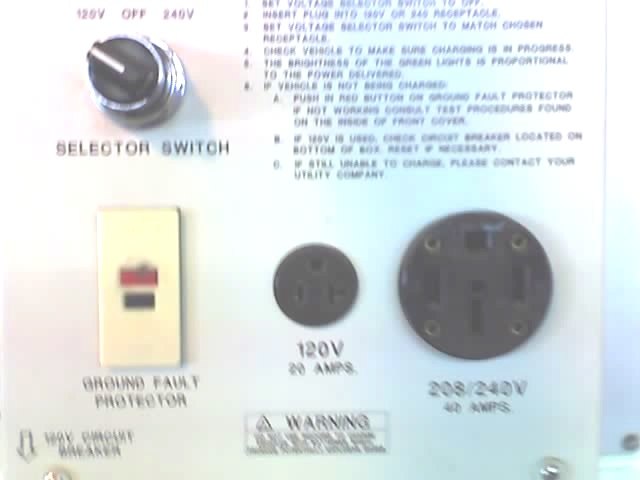 Charging connector panel - 5/23/06
---
Check out the "I Was There" reports for this site, or leave one of your own, using the EVChargerMaps system. "I Was there" reports are important, even (or perhaps especially) if all is well. Please submit a report whenever you visit a charging station.
You can also use this feature to find nearby charging stations.
Back to top of page
View the

information for this site. (Historical -- no longer updated.)

---
Generated on Sunday, 1/30/2011, at 10:50:03 PM PT from evcnall.fp7.

Revision History:
10/20/06: Chgd Status per site visit. -- Gil
9/1/06: Chgd 8 SPI to 13, Action, Status per Bill Hopkins IWT 8/23/06. - Gil
5/25/06: Added 1 OC, OCx, chgd L/L, LLV, LLNote, Status per site visit. - Gil
2/12/05: Added Rating per Paul Scott email 2/7/05. - Gil
1/25/04: Added DrivDir, ChLoc, ToDo, photos, updated Comments per Mike Kane email 1/11/04. - Gil
11/21/03: Added comment. - Gil
11/7/02: Deleted PROB LOC, adjusted LL. --GD.
9/17/02: Deleted Security comment. -- Gil
9/10/02: Changed to PROB LOC, added COMMENT per Charles H McColllister email 9/8/02.
4/21/02: 7LPI chgd to 8SPI per Magnecharge list dated 02/01/27.

Do you see any discrepancies or have any information for us about this page?
Please add comments, using the EVChargerMaps system. Click here.